Now You Can Buy Giant Shoe Beds for Dogs Who Love Chewing on Slippers
Dogs who love chewing on shoes, boots, slippers, sneakers, crocs, can get a chance to bite off more than they can chew with these beds.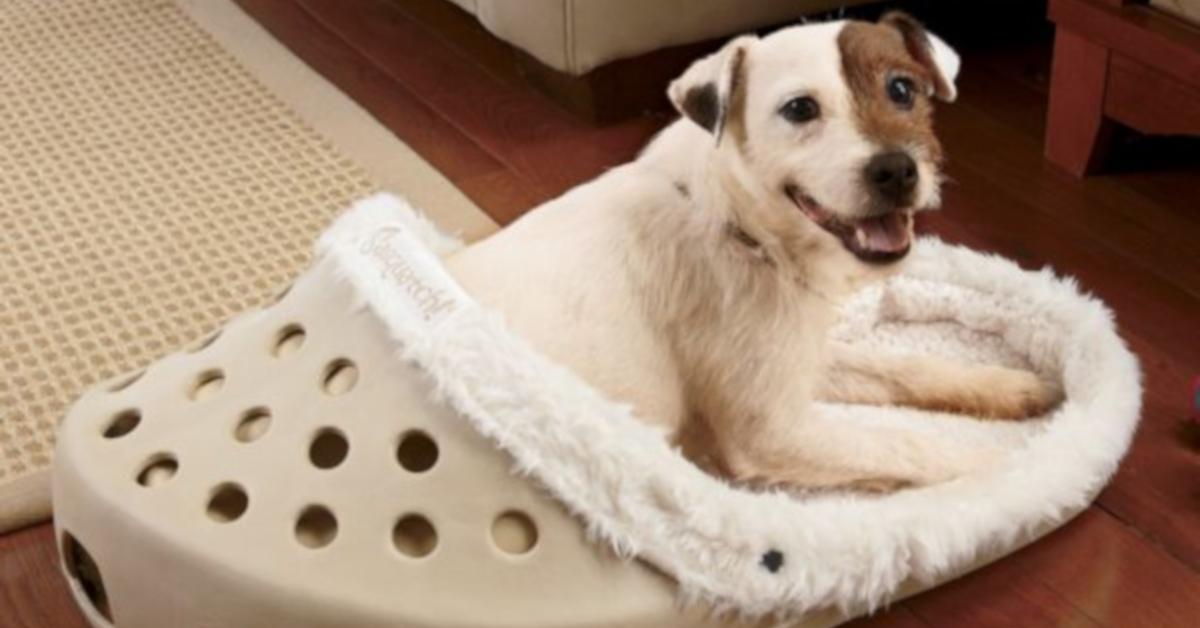 For some reason, pets love destroying shoes. I don't know if it's an evolutionary trait, or they're upset at the entire idea of footwear because they scamper around everywhere on their bare paws, but I've seen both dogs and cats utterly destroy sandals, slippers, sneakers, boots, you name it, with malicious intent. Well, maybe it's not malicious, but they have a certain amount of enthusiasm in the destruction of things we put on our feet.
Article continues below advertisement
If you've ever wanted to feel the full strength of your dog in a high-stakes tug of war match, just try and pry that sneaker they're eating in front of you from their mouth.
And while it's kind of funny to dwell on their shoe-chewing obsession, it's really annoying, and expensive, to have to constantly replace your favorite pair of kicks just because Rover wanted something to munch on.
If your pet is the kind of animal whose idea of heaven is being locked inside of a Foot Locker while everyone went home for the night, then I've got some great news for you: there are companies out there producing pet beds that are essentially ginormous versions of popular shoe designs. So maybe they'll chew, and sleep in these instead of ruining your trainers.
These Sasquatch pet beds are basically giant, fleece-lined Crocs.
Article continues below advertisement
Article continues below advertisement
While the idea of rocking a pair of furry Crocs seems like an absolute nightmare for people who have an iota of self-awareness and self-respect, these cozy designs are just the thing for pets who like being warm and snuggly and chewing on your footwear.
The Jersey Dog Company Sasquatch Pet Bed is currently out of stock on Amazon, so you'll have to order them from somewhere else. They come in four separate colors: Fawn (tan), Firehouse (red), Hunter Green, and Midnight (black).
They're best suited for small to medium-sized pets, so if you've got a St. Bernard or tiger roaming around your house, getting one of these is probably a bad idea. Unless you're trying to get them to wear these as actual shoes, then that might work.
Article continues below advertisement
Article continues below advertisement
The best part about the fleece-liner is that it is removable, so when your dog or cat gets all excited about the prospect of sleeping in what they love to destroy and pee all over it, you can wash it with relative ease. The base of the beds are also odor-resistant and are non-skid, so the shoes won't be slipping and sliding and stinking up the place when your pet is feeling extra frisky.
If you're wondering what "small to medium" means, Sasquatch defines it as 31 inches long, 14 inches wide and 9 inches tall. It's a "multi-seasonal" item too, meaning that fleece lining will come in handy in the winter time for your cute little pet.
The Sasquatch brand does seem to be sold out but there are other manufacturers who rock similar designs as well - you just have to head on ebay to find them.
Article continues below advertisement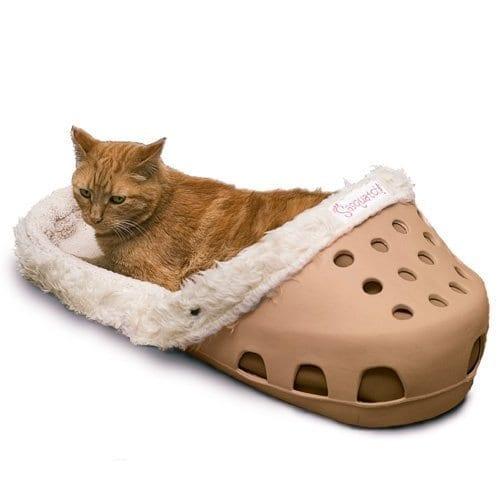 Article continues below advertisement
Article continues below advertisement
Which one of these would you get your pet? Or is your dog or cat more prone to destroying your finer footwear? Not sure if they make a bed that looks like a pair of Ferragamo pumps, but if your pet chews those, then I'd wager they wouldn't be your pet for much longer.