A Girl Scout Created "Jason Samoas" And Everyone Wants A Bite
One young entrepreneur decided to slap Jason Momoa on the side of their cookies and sales are through the roof.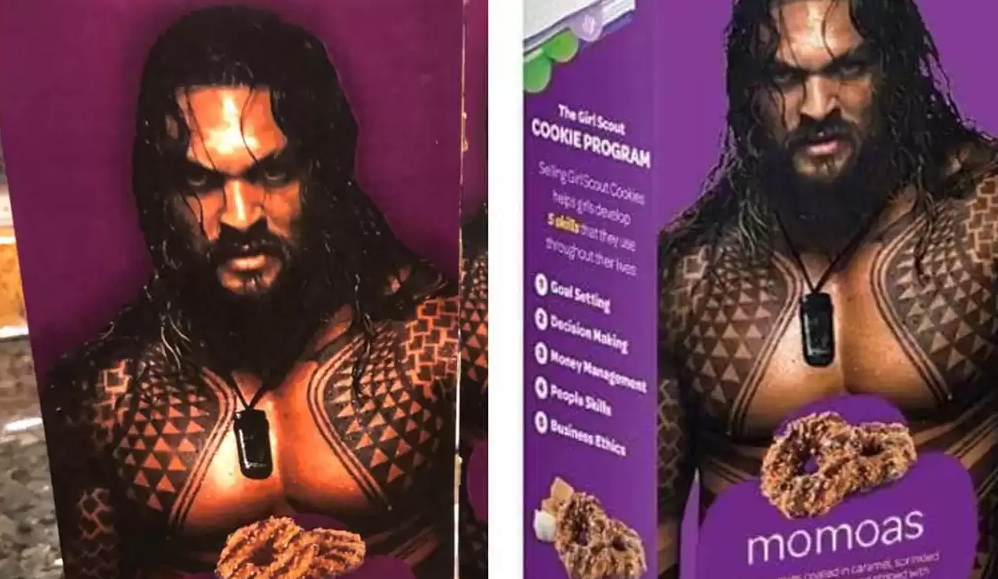 Maintaining your New Year's resolution of losing a few pounds is so hard when every Girl Scout in the country is trying to push delicious cookies on you.
Girl scouts have found some pretty interesting ways to increase their sales in the past. Whether it was the young entrepreneur who had the idea to sell cookies outside a weed dispensary, or the six-year-old who remixed 'Redbone' and ended up selling 5,000 cookies, including 113 to Donald Glover himself, they've all had very creative methods.
Article continues below advertisement
And whether you like Thin Mints, S'mores, or Samoas, we can all agree on thing — Jason Momoa is a handsome man. That's why one fifth-grader's idea to put a photo of Jason Momoa from Aquaman on her cookie boxes is so ingenious. The best part? They're called "Jason Momoas," get it?
Article continues below advertisement
According to KUSA, Charlotte Holmberg knows that most of the time, a $4 box of cookies is an impulse buy. So, she decided to help people along by pasting a photo of the movie star on the side of every box. Though the pun probably wouldn't work in the parts of the country where the same cookies are called Caramel deLites.
Charlotte Holmberg is already a Top Cookie CEO for the Girl Scouts, an award given to Girl Scouts who consistently sell a lot of cookies. And it's easy to see why, after she employed the help of her mother, a marketing professional, to create the boxes.
Article continues below advertisement
They put a photo of their creation on Facebook, and the orders started coming in. "The moms are getting really excited and they're saying that they need them," Charlotte said. And Charlotte says she's even getting orders from other Girl Scouts who want a box.
"The girls will wanna buy some because he's on the front. And the boys will also wanna buy some because he's like, he might be like they're favorite character," she added.
Article continues below advertisement
A few followers of the Girl Scouts of Colorado Facebook page, where the images were reposted, weren't impressed by the boxes.
"I doubt ANYONE got permission to do this," one Facebook commenter wrote. "Objectification has always been a one way street. If the Boy Scouts put Victoria Secret Models on their popcorn cans people would flip their lids."
Others found the idea to be pretty clever.
"Oh my gosh people calm down," a user wrote. This little girl sold lots of yummy cookies. I'm sure Jason would find it funny. It's certainly not going to hurt him. Please back off the 'sexist' comments . If she had used a cute little kitten or bunny there'd be no comments but the boxes wouldn't have sold as well. I call it smart."
National Girl Scout Cookie Weekend starts this Friday, so please, try to be strong. Don't leave the house all weekend if that's what you need to do. But if you do decided to stay inside to beat the temptation, you better stay off Amazon, where you can by every variety of Girl Scout cookie and have them delivered to your door.