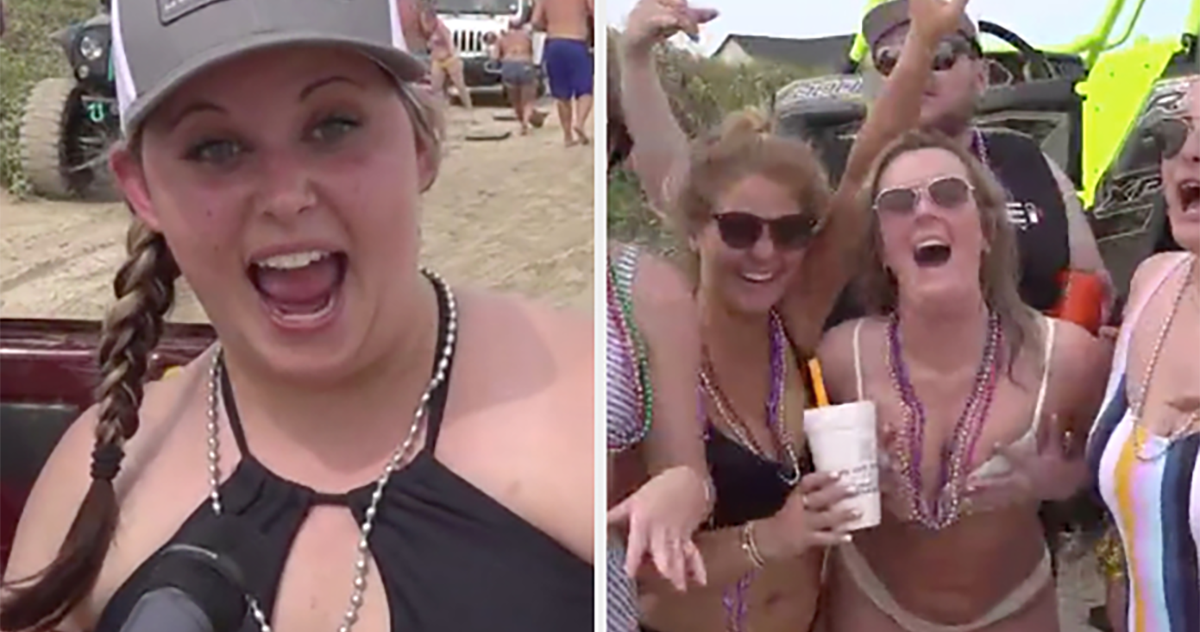 News Report from 'Go Topless Jeep Weekend' Goes Viral Because 'Not Even SNL Could Write Something This Ridiculous'
Following global lockdowns as a result of the coronavirus, many aspects of ordinary life are beginning to reopen carefully. Restaurants are opening in some states with reduced capacity, hair and nail salons are making us feel a little human again, and of course, Go Topless Jeep Weekend in Southeast Texas went ahead.
Article continues below advertisement
Thousands of people descended on the Bolivar Peninsula to take part in the tradition, and judging by this local news report that has since gone viral; it was a pretty crazy time.
Article continues below advertisement
"I've been in quarantine, and I need to party," one attendee said. "Wash them hands for 20-seconds and keep them clean with Germ-X!!."
While another woman cheered: "What's better than beach, and a few drinks, and jeeps. It doesn't get any better than that!"
Yes, there's still a global pandemic going on, and yes, we should still be practicing social distancing, but that didn't seem to have been a concern for many at the beach.
"It's not possible to do this [social distancing] on this beach with the amount of people we have on this beach here," Sergeant Mark McGaffey told 12newsnow. "When you start acting silly, we got a jail that's got a whole lotta empty holes."
Article continues below advertisement
"The cops are doing their job, and as long as they don't be mean to people who are actually being innocent, then I'm all gravy baby," one partygoer concluded.
According to NBC, the event got pretty crazy. Nearly 200 people were arrested, and two people were hospitalized following a shooting.
Galveston County Sheriff Henry Trochesset said the shooting took place following an argument between a group of men and women. The conditions of the two men who were hospitalized haven't been released.
More than 180 people were arrested on unrelated charges, which included assault, driving without wearing a seat belt, DWI and public intoxication.
Article continues below advertisement
Justin Weaver, a local resident, told KBMT that he was disappointed by the behavior.
"I don't know why it's so hard for people just to show up and have fun these days," he said. "It disappoints me to see that kind of violence come here because it's usually real quiet here."
Weaver said that he hopes next year attendees "respect the beach and respect the people that live here."
Social media users seemed equally shocked by the behavior, especially given the whole global pandemic situation.
"I guess you can say I had an interesting time at the beach," said reporter Jordan James who had filmed the segment.
Article continues below advertisement
One commenter simply wrote: "I feel 50% dumber for having watched that."
Article continues below advertisement
While another added: "Imagine life from another planet watching this and judging us by it."
Article continues below advertisement
Others compared the event to reopenings around the world. "By contrast, beer gardens reopened in Munich this week," one user wrote. "One by my apartment requires guests to register as a safety precaution."
Article continues below advertisement
And this user compared the situation to a park in Switzerland.
Article continues below advertisement
The best way to prevent contracting or spreading coronavirus is with thorough hand washing and social distancing. If you feel you may be experiencing symptoms of coronavirus, which include persistent cough (usually dry), fever, shortness of breath, and fatigue, please call your doctor before going to get tested. For comprehensive resources and updates, visit the CDC website. If you are experiencing anxiety about the virus, seek out mental health support from your provider or visit NAMI.org.