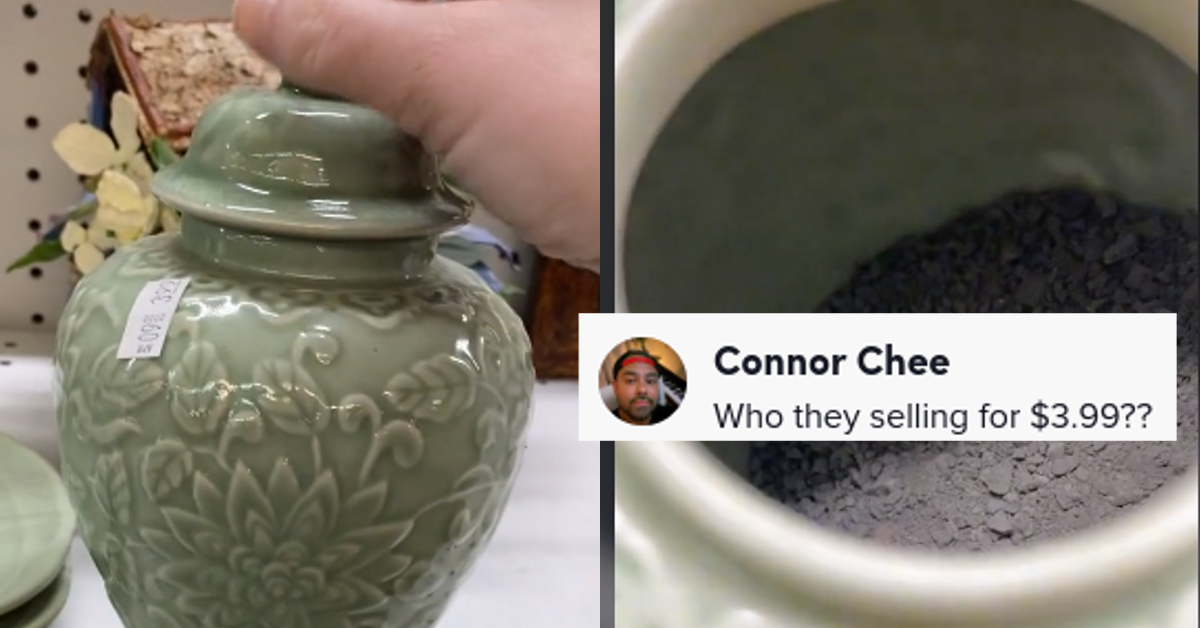 Goodwill Shopper Spots Cute Vase, Looks Inside and Finds Out It's Not a Vase
Part of the fun of shopping at thrift stores is that you can come across some truly bespoke, one-of-a-kind finds that you definitely wouldn't be able to locate anywhere else.
Oftentimes, folks dream about acquiring a priceless item (that can very well have a price placed on it) that they're able to purchase for pennies on the dollar.
Article continues below advertisement
And there have been some truly remarkable instances where this very phenomenon occurred. From people finding a Picasso, to couches with an entire hidden art collection, to a diamond hidden in a painting, to a gag gift of an "ugly painting" that ended up being an original Jackson Pollock, thrift stores are rife with legendary tales of sudden-riches-no-one-could-see-coming to constant proof that painting is a highly subjective art form.
But sometimes not all surprising secondhand store finds pack the type of bombshells that'll suddenly make you very rich. No, sometimes the surprises are a little dark and borderline creepy.
Like what this one TikToker reportedly found inside of what they thought was a ginger jar at a Goodwill location.
Article continues below advertisement
User @macymweeks was checking out the jade colored-vase and decided to remove its topper. And while that's a pretty normal thing for anyone to do whenever they're shopping, it's not like one ever expects to find anything inside the vase except for some literature about the product or maybe a bunch of coiled up cloth snakes that'll pop out at us while employees peek from behind a wall and whisper, "yes!" to themselves.
Article continues below advertisement

But what Macy found made her recoil a bit: it appears that whoever owned the jar previously decided to use it as an urn, because it contained a bunch of ashes in it.
And then the previous owner decided to sell the urn with the ashes inside, for whatever reason, and now it ended up on TikTok.
Article continues below advertisement

Macy gave a bit more background information in the comments section of the now-viral video: "It's a ginger jar that still had a stein mart sticker on it. Technically it's not an 'urn'… which is why I wanted it to begin with."
Article continues below advertisement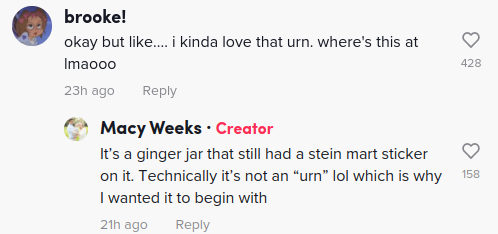 So no, Macy isn't someone who heads over to Goodwill stores and collects urns, it's not like she's trying to manage the Undertaker or anything. "​​I collect ginger jars and don't usually see ashes in them," she continued.
Article continues below advertisement

Article continues below advertisement

The question remains though, did Macy buy the Ginger Jar/Urn and just rinse that bad boy out and start filling it up with sugar or tea bags? She says that she didn't purchase the jar and informed Goodwill staff about her ashy find. They went and took it off the shelf and Macy lost out on her chance of possibly reviving an ancient curse.
Article continues below advertisement

While many TikTokers joked about the situation, others found it extremely depressing and suggested that Macy buy the urn and spread the ashes somewhere. Others said that there are ministers and holy folks who will bless ashes and disperse them as well.
What would you have done if you saw a jar that caught your eye and it contained what looked like ashes in them? Was it a cremated person's remains? Or the final ash tray of a fancy cigarette smoker?