Grown Man Calls 5-Year-Old Girl "Beautiful" — and Her Mom Responds With a Teaching Moment
When a man calls a 5-year-old girl "beautiful," her mom takes the opportunity to teach her about boundaries, while being a protective mom.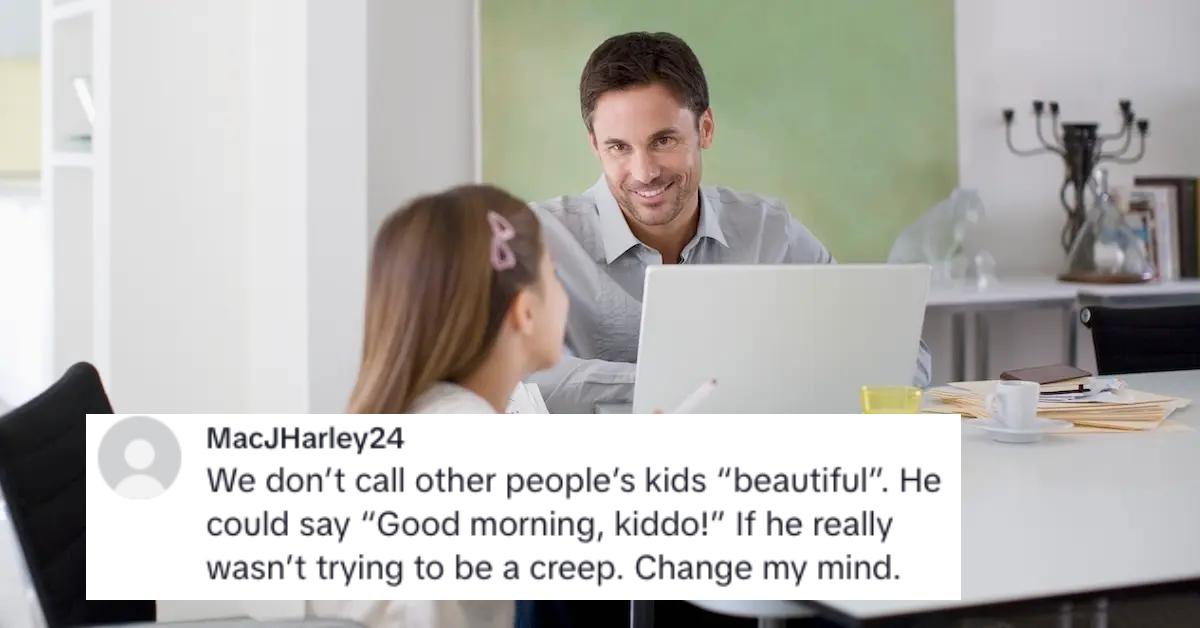 We talk about getting "the ick" all the time in dating, but if there's any story on TikTok to give you the ick, it's this one. A mother, TikToker @fionaxwho, shared a story about how one of the classroom dads at her daughter's school calls her 5-year-old daughter "beautiful" every morning.
Article continues below advertisement
Upon sharing the story, most commenters were rightfully outraged at the father, while they were impressed with OP's ability to stand her ground and teach her daughter how to act in uncomfortable situations. As she updates us throughout the saga, many of us also learn about ourselves in our outrage toward the icky dad.
Article continues below advertisement
A grown man called a 5-year-old "beautiful" every day until her mom noticed.
Already, we're grossed out — grown men should never call children beautiful, especially if they single them out. But that's exactly what this dad did, and exactly what the girl's mother described. "I'm teaching my 5-year-old daughter to see the world the way I see the world because I don't want her to be groomed," OP said.
"There's a dad at her school who I've noticed for the past few days has said 'Good morning, beautiful' only to her as we're walking in," the mom continued. (Ew!) "His kids are in her class, so he knows her name, so if he wanted to say good morning to her he could just say her name, but instead he chooses to reference her looks." (Double ew!)
Article continues below advertisement
While this is a gross situation, it's also something women face on a daily basis. And words matter! This is the sort of thing that gets programmed into us at a young age that then turns into insecurity about our looks and internalized misogyny. So instead of just chastising the father, OP took this opportunity to teach her daughter how to respond to this since she'll likely need to deal with this sort of behavior her entire life.
Article continues below advertisement
"I pulled her aside and told her, 'I know that he's your friend's dad and he seems like he's just trying to be nice, but it's weird for a grown-up to call a kid beautiful like that. Like, you are, but it's weird for a grown-up who's not your mom or somebody that you know to tell you that you're beautiful like that. It's creepy. I don't like it.' And she said, 'I don't like it either.'"
Article continues below advertisement
Commenters are commending OP on her response to the situation and remembering their own childhood creeps.
While some people actually had the gall to suggest that the man was just being nice, it's clear that his remarks made both the mother and daughter uncomfortable, which is not OK. If anyone makes you uncomfortable for any reason, then they're in the wrong. OP taught her daughter what to say the next time he made a remark, and as we awaited an update, she shared what happened next.
OP explained that whenever she sees him, she "instantly goes into overprotective mode." She shared further, "The way I look at him, the way I stand around my daughter, the way I interact with people when he's around is different … My energy shifting like that has made his energy shift to leave me the f--- alone … Now, the teacher knows and I am still going to be very on high alert."
Article continues below advertisement
By teaching her daughter how to recognize when someone is being predatory or is attempting to groom her, OP was able to stop the situation from escalating. "You are ready," one commenter wrote. "And have allies (teacher, daughter). Well done. While confrontation may still happen, you've already intervened."
Article continues below advertisement
"It will help make her look unsafe to groom," another pointed out. "It also helps her understand that her voice is important too!" So many women are encouraged to just smile and people please, but in the wise words of My Favorite Murder, "F--- politeness!"