Man Gets Back at Trolls Online With Revenge Tattoos
A man online dealt with cyberbullies by researching their social media and then vengefully getting tattoos to spite them. Recommended? Probably not.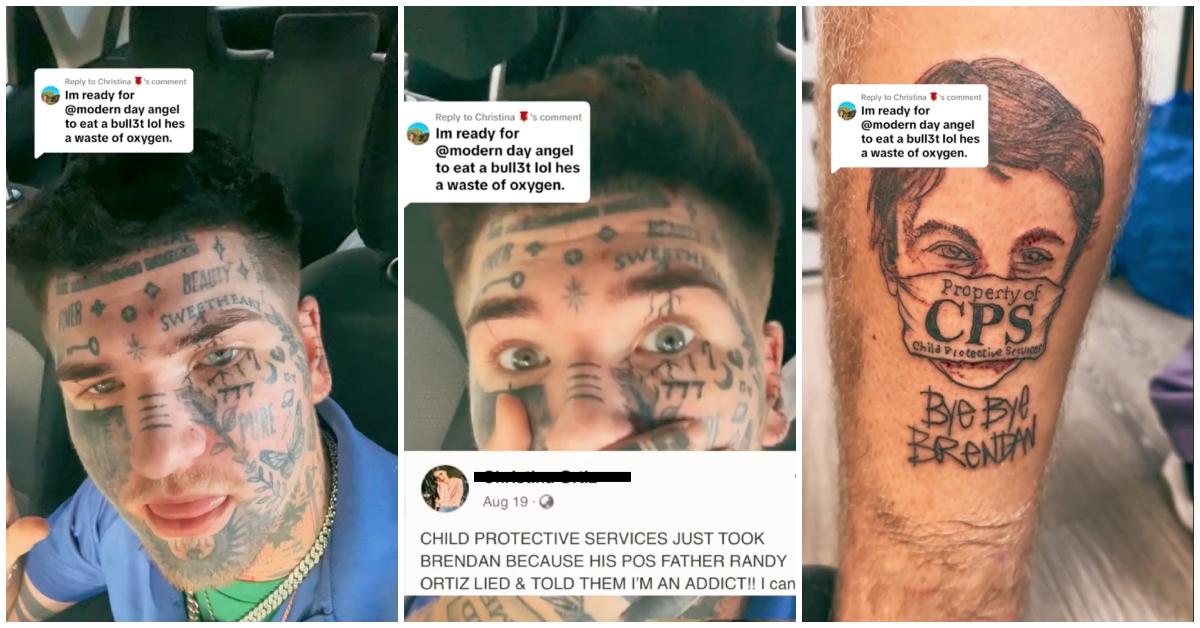 If you're a TikTok creator who has ever gotten mean comments left on your videos, here's one hack to get folks to stop leaving them: Get a tattoo dedicated to them in the most savage way possible. Is this the most recommended strategy? Probably not.
Article continues below advertisement
That's the bold strategy of TikTok creator Internet Sweetheart (real name, Ethan), who is currently operating under the handle @modern_day_angel. He has been gaining momentum on the platform for his petty yet genius ways. Keep scrolling to learn more about him and his massive tattoo collection dedicated to online trolls.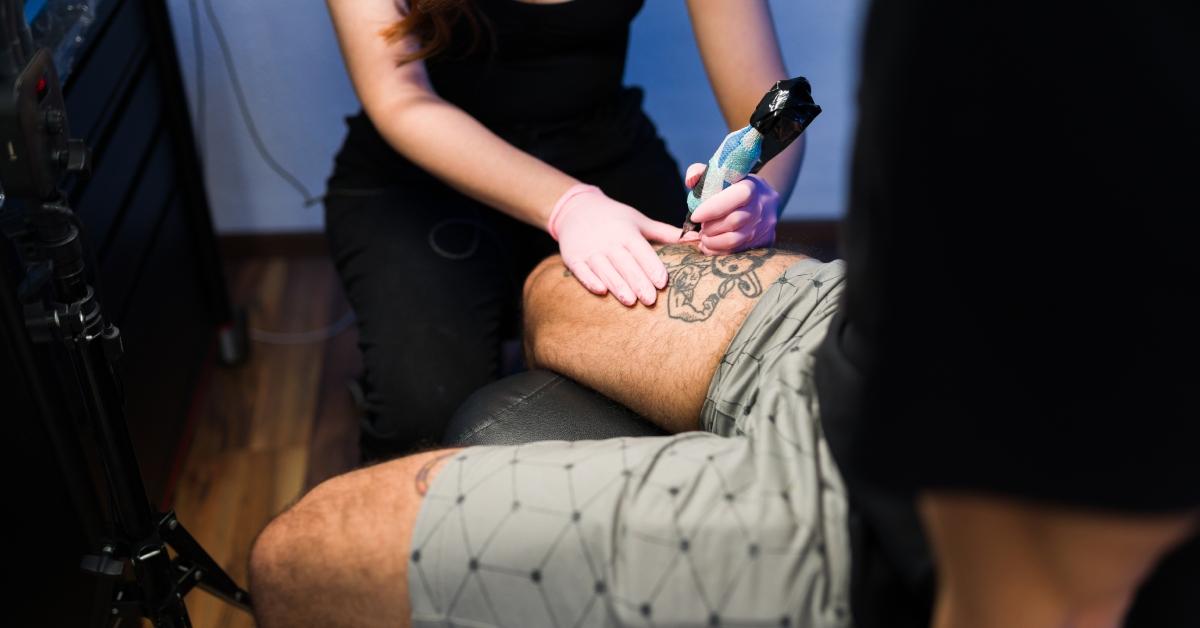 Article continues below advertisement
A man on TikTok trolls his haters by getting tattoos to spite them.
Ethan is a heavily tattooed creator from Tampa, Fla., who has been banned over 20 times for his brash approach to getting even with trolls. His current TikTok handle is @modern_day_angel, but he has operated under multiple usernames.
In an interview with Vice, Ethan revealed that when he first joined TikTok, he openly discussed his religious upbringing and homosexuality in his videos.
This attracted the attention of online trolls, who began leaving hurtful comments about his appearance and sexuality. Instead of ignoring them, he decided to troll them back. To do this effectively, he began stalking their social profiles looking for any bit of personal information that he could use against them.
Article continues below advertisement
Ethan told the outlet that when he started doing this, he saw a significant uptick in TikTok viewers. "The first vid that popped off was about some guy saying I'd never get a girlfriend, so I found his Facebook and posted a response saying 'I don't want a girlfriend, but I am about to go hookup with your son now,' with a picture of his son I got off Facebook," he said.
Article continues below advertisement
Those videos did well, but Ethan wanted to up the ante, so he started getting tattoos. This extreme move hasn't just infuriated his cyberbullies, but it has also given him even more clout online.
Ethan got a tattoo of one woman's child who was allegedly taken away by Child Protective Services.
When a TikTok user named Christina commented on one of Ethan's videos calling him a "waste of oxygen" and insinuating that he should end his life, he decided to get a tattoo of her son Brendan to spite her.
You see, he found a status on her Facebook page she had allegedly written claiming that her son was taken away by Child Protective Services because her son's father claimed she was an addict.
Article continues below advertisement
In the tattoo Ethan got, the little boy has a piece of tape on his mouth that read, "Property of Child Protective Services." Underneath the image of the boy's face, it read, "Bye Bye Brendan."
Article continues below advertisement
In the comment section of his video, users were astounded by the fresh ink. Many applauded him. "Just when I think you've reached maximum savagery, I open up TT and you surpass my expectations," wrote one user.
Another commented, "You are a walking piece of possibly the best art in progress I've ever encountered."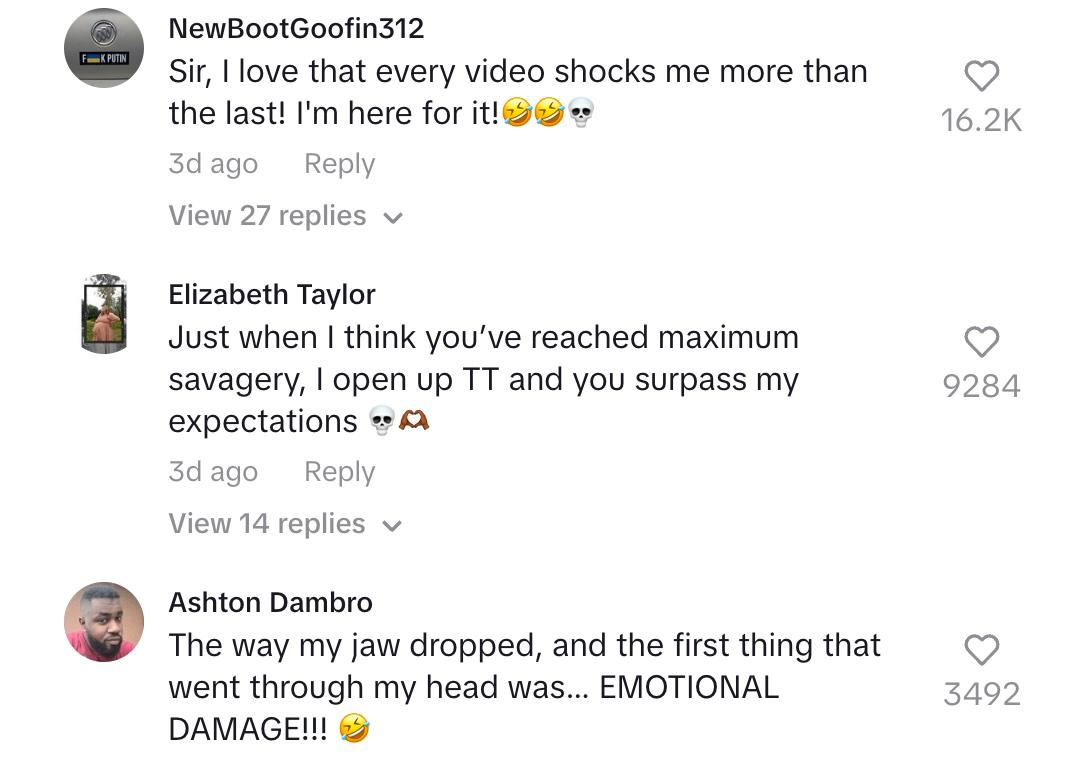 Article continues below advertisement
Ethan also got some negative comments. "I get clapping back, truly, but to cover your body in a billboard of the vitriol of others seems...bad energetically, to me," wrote one user. Another person said, "You live a sad life."
But as most people who watch Ethan's videos know, leaving negative comments on his page will only cause chaos at their expense.
Other tattoos Ethan has gotten for revenge include a picture of an old woman's face next to Lucifer after she scolded him for his "demonic practices."
He also got a tattoo of a user's late father with the Grim Reaper behind him on his arm after that user commented that he hoped Ethan would relapse.