"This Ur Daughter?" — Internet "Menace" Sends Teens' Questionable Videos to Their Parents
A TikTok "Menace" shows the questionable videos teens post online and sends them to their parents, creating mayhem at home.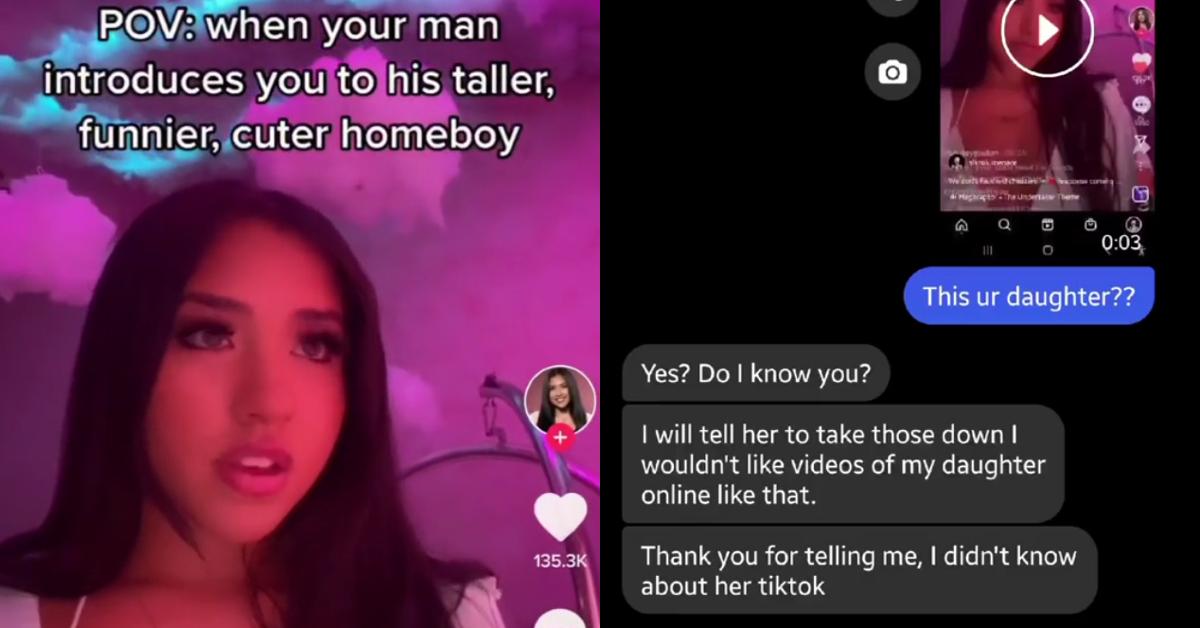 There are probably tons of folks who are very happy they didn't grow up with social media accounts and the prevalence of the internet readily available in the palm of their hands.
Article continues below advertisement
Growing up requires withstanding a lot of embarrassment, going through awkward phase after awkward phase, and constantly testing situations that ultimately mold your ever-evolving character.
And going through all that in your adolescence with just your family, friends, and classmates at school is one thing, but then being subjected to the scrutiny of potentially millions of strangers on the internet is a different animal entirely.
Article continues below advertisement
This reality of social media, however, doesn't stop folks from posting opinions, jokes, and videos online that they may've thought twice about uploading if they knew one of their parents was watching.
It is dynamic that the TikTok account nobody is safe @tiktok.menacev2 plays with a series of videos where they find the identities of people who post videos online, and then send them to their parents.
Article continues below advertisement
They set the videos to WWE legend The Undertakes's theme, documenting his process behind uncovering the identities of these individuals who are posting their clips to social media.
They did this with TikTok user @shirleygrullon, who uploaded a clip she posted with a text overlay that reads: "POV: when your man introduces you to his taller, funnier, cuter homeboy" followed by another video where she writes: "when they say these things i melt...'good girl'...'that's my girl'"
Article continues below advertisement
The TikTok "menace" then goes on to scroll through Shirley's social media pages, finding her Facebook account to see her followers, ultimately discovering her mother, Chanita Bella's page.
Article continues below advertisement
With Shirley's TikTok video downloaded, he messages her mom, asking if the woman in the video is her daughter.
"This ur daughter??" the TikToker asks in a follow-up video detailing their conversation with Chanita.
The mom replies: "Yes? Do I know you?"
Followed by another message that reads: "I will tell her to take those down I wouldn't like videos of my daughter online like that. Thank you for telling me, I didn't know about her tiktok"
Article continues below advertisement
Viewers who saw the clip were shocked at the lengths the TikToker went to to get Shirley in trouble with her mom, writing: "Imagine a complete stranger gets you grounded"
Someone else penned: "U are healing a family god bless brother"
In another video he features a clip from user @itstreylander.
Article continues below advertisement
Trey says in the clip: "Naw cuz I hate when ppl be like you're so fine, you're too fine, like this and that. Like okay, then come over here and get railed, or quit the cap."
The "Menace" TikToker then finds his mother, Beth Lander, and messages her: "This ur son???"
Beth ultimately replied to the snitch account writing, "Yes what is his account please I will contact tiktok"
Article continues below advertisement
In another video, the Menace called out another woman who posted a clip joking about her bodily fluids. It didn't take long for them to locate the social media user's mom, who didn't seem to appreciate the humor in the video.
Article continues below advertisement
The young woman's mom appeared horrified that her daughter would be putting that type of content on the internet: "Hi Yes? What is it the video some joke? Why would she post that How many people have seen that???"
The TikToker didn't mince words with his response: "Couple hundred thousand" followed by a skull emoji.