Guy Gets Sweet Revenge on "Spoiled Brat" Crying for a Chocolate Bar
While shopping at the dollar store, this man came overheard a child yelling obscenities at their mother over a lousy chocolate bar. Then he got an idea.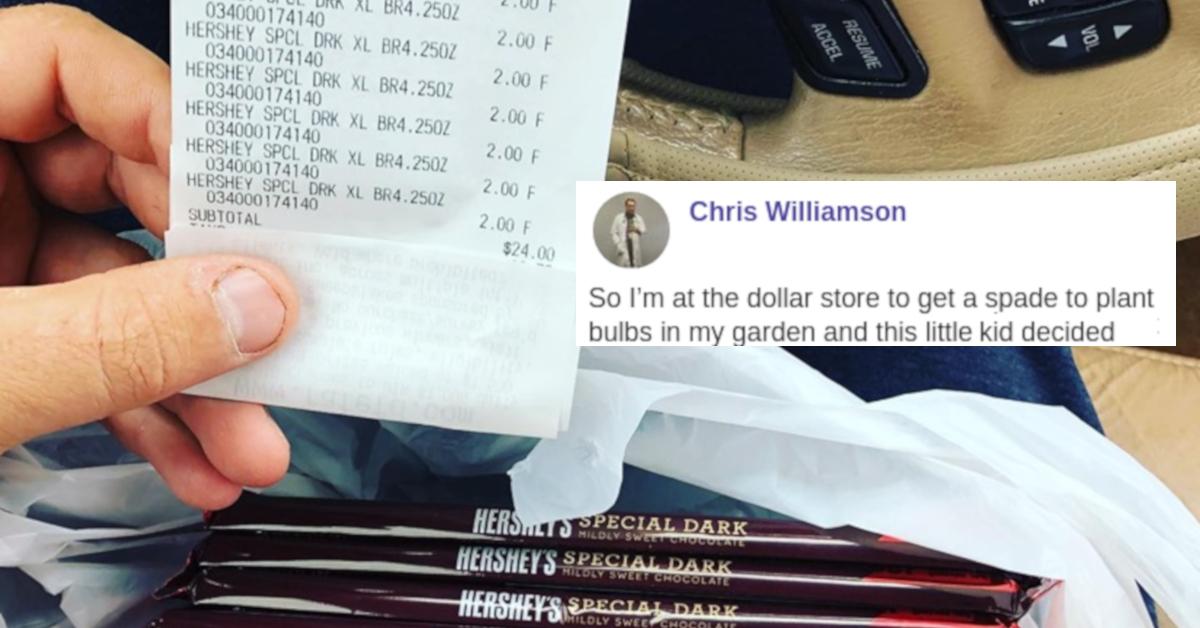 A man became the toast of Facebook after posting about the petty revenge he enacted against a young boy who gave his mother a hard time over a stinkin' chocolate bar.
It's natural for children to test their parents' boundaries. Specifically when it comes to what can "get" out of them and how they treat their folks in the process.
Article continues below advertisement
But I'd argue that it's up to parents or anyone helping to rear those kids to curb that kind of behavior and deliver the "harsh life lesson" that you can't always get what you want.
I would argue that Facebook user Chris Williamson taught this young man such a lesson. And if the little terror didn't get the memo from his brush-in with Chris at the Dollar Store, then at least the internet got a hilarious story out of it.
It all starts with Chris shopping for a spade to plant some bulbs in his garden, when he hears a child throwing a horrible temper tantrum.
Article continues below advertisement
This isn't your run-of-the-mill tantrum where he's simply crying for his mom to buy him something. No, this kid is straight-up being disrespectful. He calls his mother a "b---h" and continues to just be a miserable human being, all because she wouldn't buy him a specific kind of chocolate bar.
Article continues below advertisement
To Chris' surprise, the woman doesn't discipline her son for his behavior, so he decided to take matters into his own hands.
What a person is willing to spend their money on says a lot about them, and for Chris, it's evident that teachable moment was worth a few bucks.
Article continues below advertisement
Chris uploaded a photo of the chocolate bars that he snatched up before the young boy's mother could buy him one. It certainly looks like his story is the real deal — the man's got the literal receipt to prove it. Either that or he has a Hershey's Special Dark addiction and had to spin a yarn to justify buying that much candy.
Either way, people loved the way he went about robbing the child of his cocoa fix.
Article continues below advertisement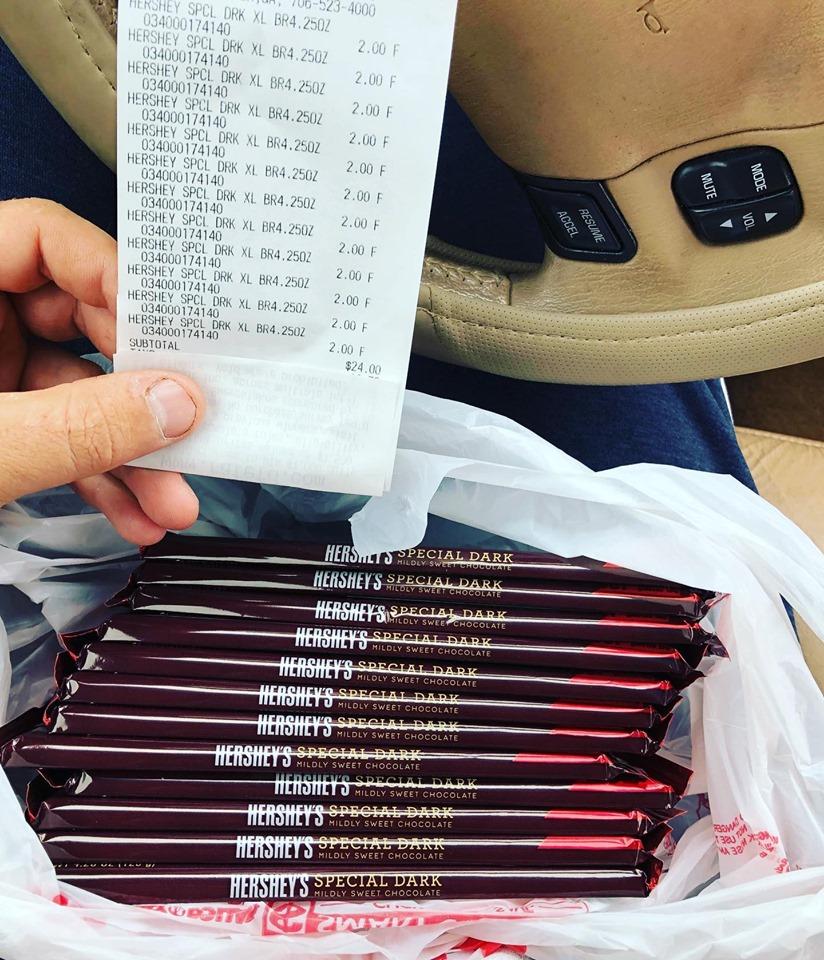 Article continues below advertisement
Some people weren't buying Chris' story one bit, however. Others thought it was kind of petty to go after a child like that, even if the story was true. While it's technically not taking candy from a baby, it's in the same ballpark, isn't it?
Article continues below advertisement
Chris' story isn't the only tale of a grown-up denying a rowdy and disrespectful kid of the food they love. Reddit user NeokratosRed3 regaled the internet with the story of their parents' wedding anniversary lunch where shrimp was being served.
As they tell it, the lunch had a variety of different foods per person on each plate, and there was only one shrimp per person. Because they loved this particular food so much, they saved it until the very end.
Article continues below advertisement
However, there was another kid who gobbled up their shrimp and was pining for more. When he saw our storyteller still had his, he pointed to their plate and basically demanded he give it to him. Neokratos, however, had other plans.
Article continues below advertisement
What do you think of "teaching" a spoiled kid a lesson when they're being disrespectful little monsters? Is that a job reserved solely for parents? Or is it OK when a stranger takes an active role in not letting a child get away with poor manners?