Man Blasts Gym After He Was Charged for Someone Walking in Behind Them Without Swiping
A gym is getting heat on social media after blaming one of its members for someone else sneaking into the facility.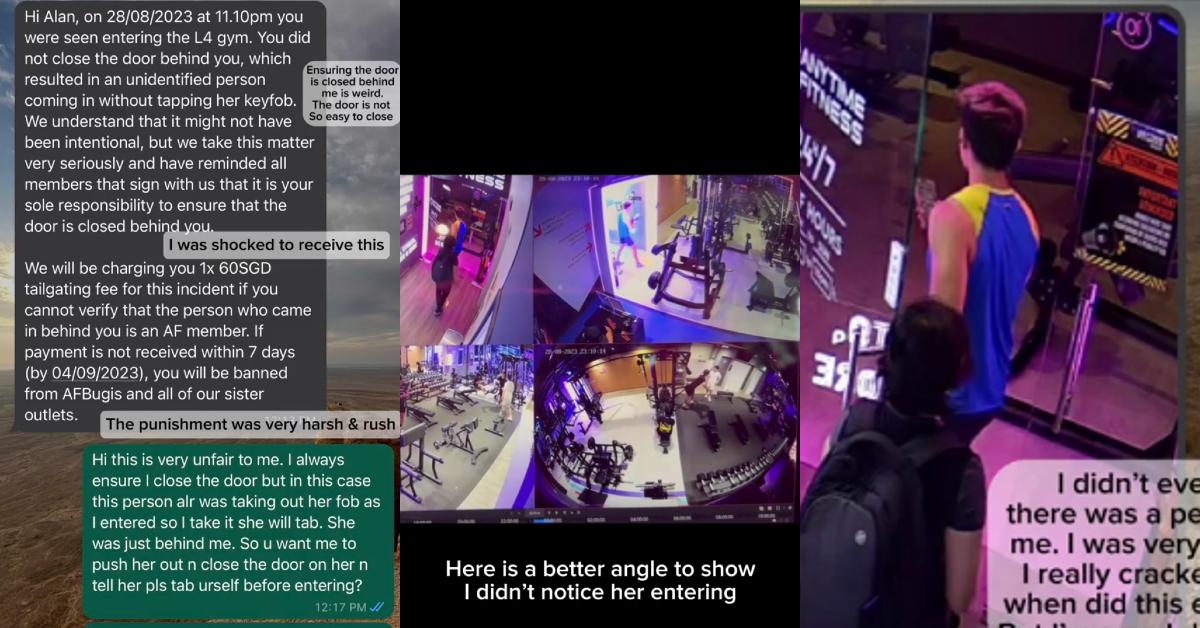 One of the perks of 24-hour gym clubs like Anytime Fitness is that members can use their keyfobs to "tap" themselves into the facility at any time they like in order to get a workout in. There's no need to check in with someone at the front or worry about opening/closing times — as long as you have your fob, you're good.
Article continues below advertisement
Naturally, with access/entry models in businesses like that, there's going to be a concern that there may be some folks who are trying to get in who aren't paying for these services — one only has to worry about getting caught and being hit with charges for trespassing or theft of services.
Which is something that paying customers shouldn't have to worry about. At least, that's what a TikToker who goes by Alaness thought until the Anytime Fitness location he frequents in Singapore sent him a series of messages questioning another guest who used its facilities without keying in.
Article continues below advertisement
Alaness posted his interaction, along with the camera footage in a viral TikTok clip that's garnered over 1.4 million views on the popular social media platform.
Article continues below advertisement
The video begins with a WhatsApp message conversation initiated by gym management which reads: "Hi Alan, on 28/08/2023 at 11.10pm you were seen entering the L4 gym. You did not close the door behind you, which resulted in an unidentified person coming in without tapping her keyfob."
Management goes on to concede that while the errant gym-goer may've gained access to the facility at no fault of the TikToker, the business nonetheless appears to put the onus of identifying this free-gym-user on their paying customer, threatening an additional charge if they fail to prove this person (the mystery woman in question) is a fellow paid member.
Article continues below advertisement
The business' message continues to threaten that OP will be banned from using all of their facilities if they cannot procure either payment or proof of the woman's identity.
OP must've found this policy to be pretty bogus, writing back: "Hi this is very unfair to me, I always ensure I close the door but in this case the person alr was taking out her fob as I entered so I take it she will tab."

Article continues below advertisement
He then adds: "So u want me to push her out n close the door on her n tell her pls tab urself before entering?" He then tells gym management that they have the gym outfitted with CCTV cameras, and that if they're unable to identify the woman, then how are they going to be able to figure out who she is?
Gym management then shared image stills of the woman that they were able to capture on CCTV, stating that yes, he should've made sure that the woman didn't enter the facility and he should've "urged her to exit and tap the keyfob before coming in behind [him]," adding that this was actually the gym's policy and one that he agreed to follow upon signing up for their services.
Article continues below advertisement
OP writes in a text overlay of the video that he wasn't even aware of the woman coming in behind him and that he "was very confused" by the entire situation.
Thus, he continued to let the business know how "unfair" it was and that he planned to appeal their decision, necessitating an in-person visit to the gym in the process.

Article continues below advertisement
He also asks the business for a full clip of the CCTV footage that they were referring to, which he appears to have gotten his hands on, as the TikTok clip then transitions to video of him using his keyfob to enter the gym.
OP contests that in the video, he doesn't even look behind him once, indicating that it was impossible for him to know whether or not there was someone "tailing" him from behind.
Article continues below advertisement
He even provides "a better angle to show [he] didn't notice her entering," and more footage of the mystery woman working out. OP goes on to say that due to the way she immediately goes to stretching and selecting certain equipment to use upon entering the facility, that she is very well acquainted with it.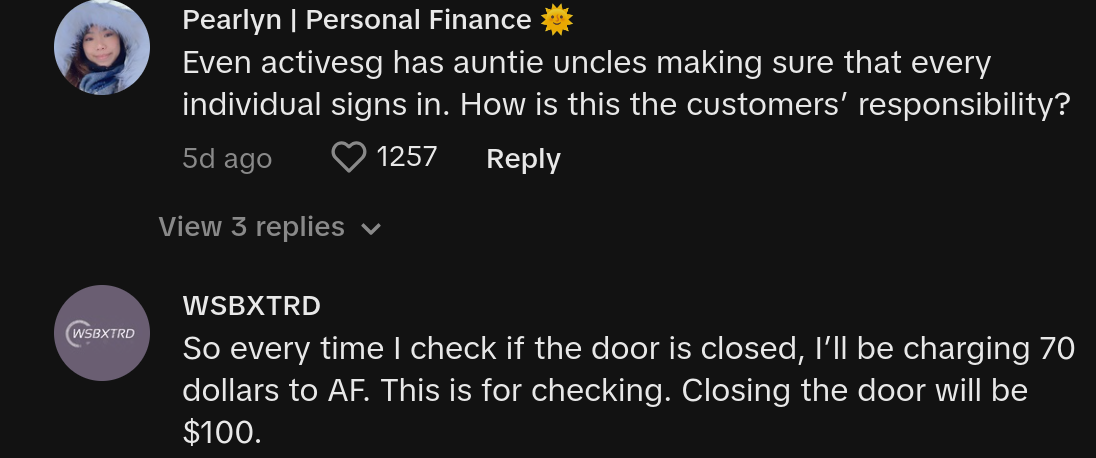 Article continues below advertisement
Despite the video evidence and OP's exhortations against their penalty, he states, "I appeal for leniency as I said I really didn't notice her. They insisted it was my responsibility to ensure the door closed. All written in the terms..."
Not wanting to be banned from the gym, the TikToker said that they ultimately forked over the cash because they would be traveling for a week and didn't want to miss their payment window and risk getting banned for life.
Article continues below advertisement
The entire experience seems to have hardened him a bit, writing that anytime he visits the gym in the future, he will be retentive about ensuring no one trails behind without using their fob.

Article continues below advertisement
Users who saw the post shared in the TikToker's outrage: one person remarked that it didn't seem fair for paying gym members to act as the business' "security" guards.
Another mentioned that because they have CCTV cameras then they should accuse the woman of unlawful entry themselves instead of asking OP to do that.
Who do you think is at fault in this scenario? Should OP have made it a practice to routinely check behind him, knowing that these are the restaurant's policies? Or was the gym being a little too draconian in administering this penalty to one of their verified paying customers?