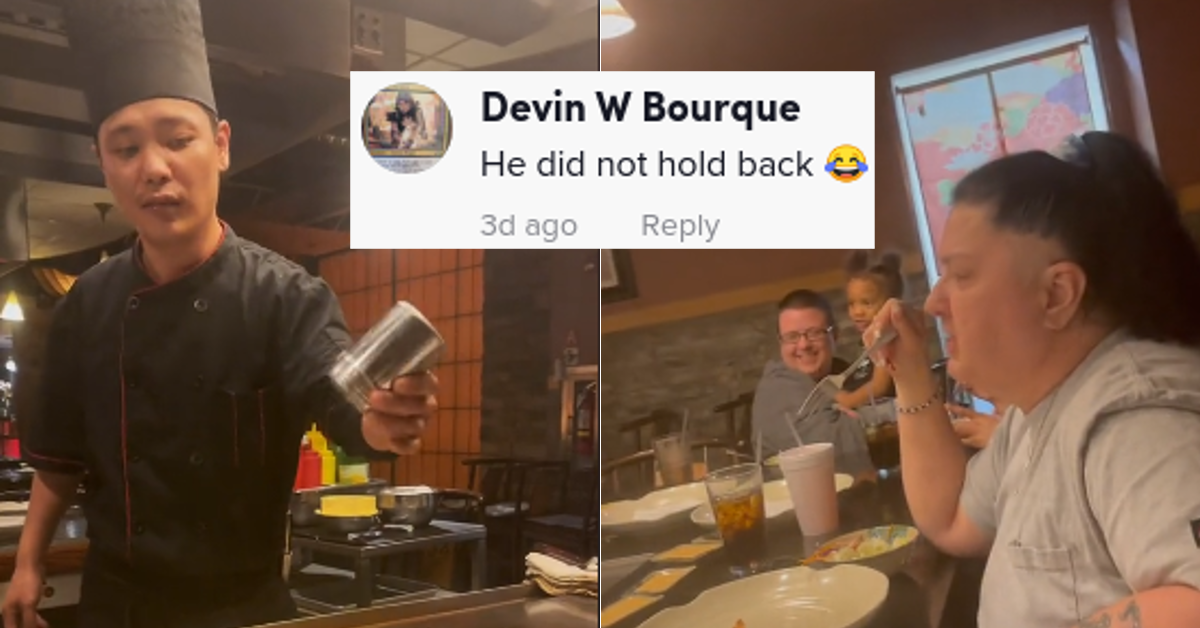 Hibachi Chef Angers Woman After Making Kobe Bryant Comment While Cooking
Going to a Hibachi restaurant is part meal part pageantry. There's an expectation that your chef is going to grill up your food on that hot plate using a variety of flashy/quick movements, onion towers, and maybe even a few personal quips, jokes, or anecdotes of their own in the process.
Article continues below advertisement
Now it's a generally understood concept in the restaurant business that you simply do NOT go after the person who is making your food. Sure, there are some folks who say that the reason for this is because you don't want whoever is working in the kitchen behind closed doors to pull out a variation of this scene from Road Trip on your meal.
But even if the chef is cooking up your grub right in front of you, as the ones at Hibachi joints do, you probably shouldn't be hassling them just because folks tend to do things better when they're having a good time. A happy chef will have you "taste the love" so being miserable around them and forcing them into awkward situations isn't doing you any favors.
This is exactly what many people are saying a customer did in this viral TikTok.
Article continues below advertisement
Uploaded by @bankrollll704, the clip sports a text overlay that reads: "This lady made our dinner awkward." The woman is seen asking the cook where he's from, and he replies that he's of Mongolian descent. He then goes on to tell someone at the table: "Watch this my bro," before flipping the pepper shaker into the cart.
Article continues below advertisement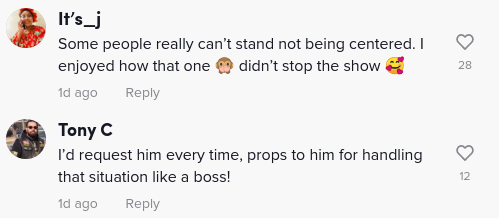 "Kobe," he says and then points up to the sky, paying respect to the NBA legend. He follows up by saying "I'm talking about the Black Mamba, man, R.I.P."
The woman seemed to be perplexed by what he was saying, "You gotta bring the black man into this," she says.
Article continues below advertisement

The Hibachi worker was taken aback by her comment, "Black man, what?" He tells the woman that Black Mamba is Kobe's nickname, but the customer still appeared to not like the fact that he was referencing the Lakers star player.
"Leave him alone," she says.
Article continues below advertisement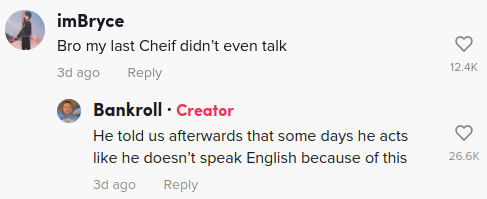 At this point, it's beginning to look like a scene out of Curb Your Enthusiasm as the Hibachi employee has to then explain the phenomenon that is saying Kobe's name before taking a shot.
Article continues below advertisement

"Are you getting it? Are ya'll getting it? It's not an insult or anything," the Hibachi worker says. A follow-up video shows the Hibachi worker further professing his love for the late Bryant. He holds up an illustration of Kobe along with his daughter Gianna.
Article continues below advertisement
"I drew this, I drew this for him. She's saying over here to leave him alone," he points up at the sky once again before another customer says, "Tell her to shush her face." To which the Hibachi worker cracks a joke, mollifying the situation, stating that he doesn't want to ruin his chances with the woman.
Article continues below advertisement

The TikToker wrote in the caption, "He had my family laughing and she was big mad." Some commenters didn't like the fact that the woman said, "The Black Man" directly after asking the Hibachi worker where he was from.
Others also couldn't believe that she had what seemed to be a problem with the employee giving props to Bryant.
Article continues below advertisement
What do you think? Was the woman trying to start a problem? Or was it an honest case of just a strange misunderstanding at the local Hibachi house? And are you impressed with how the man was able to keep the situation light while still not being apologetic and going after having a great time?