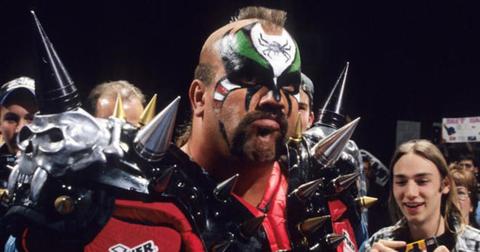 WWE Legend Road Warrior Animal Dies at 60
By Mustafa Gatollari

Sep. 23 2020, Published 2:05 p.m. ET
If you ask any long-time pro wrestling fan about the old-school days, then their face will probably light up with a warm nostalgic grin and they'll rattle off a bunch of names that sound like an amalgamation of '50s gangsters, pirates, and circus performers. And while there were a ton of high-profile tag team outfits in the world of professional wrestling, there are some that stood above the rest, like Hawk and Animal of the Road Warriors. The WWE legends died sadly, but how did it happen?
Article continues below advertisement
How did Road Warrior Animal die?
TMZ Sports reported that Joseph Laurinaitis, also known as Road Warrior Animal from the Road Warriors and the Legion of Doom, passed away due to "natural causes" at just 60 years of age on Sept. 22, 2020.
The professional wrestling icon who was a mainstay of '80s and '90s WWE programming, died at the Tan-Tar-A resort in Osage Beach, Mo.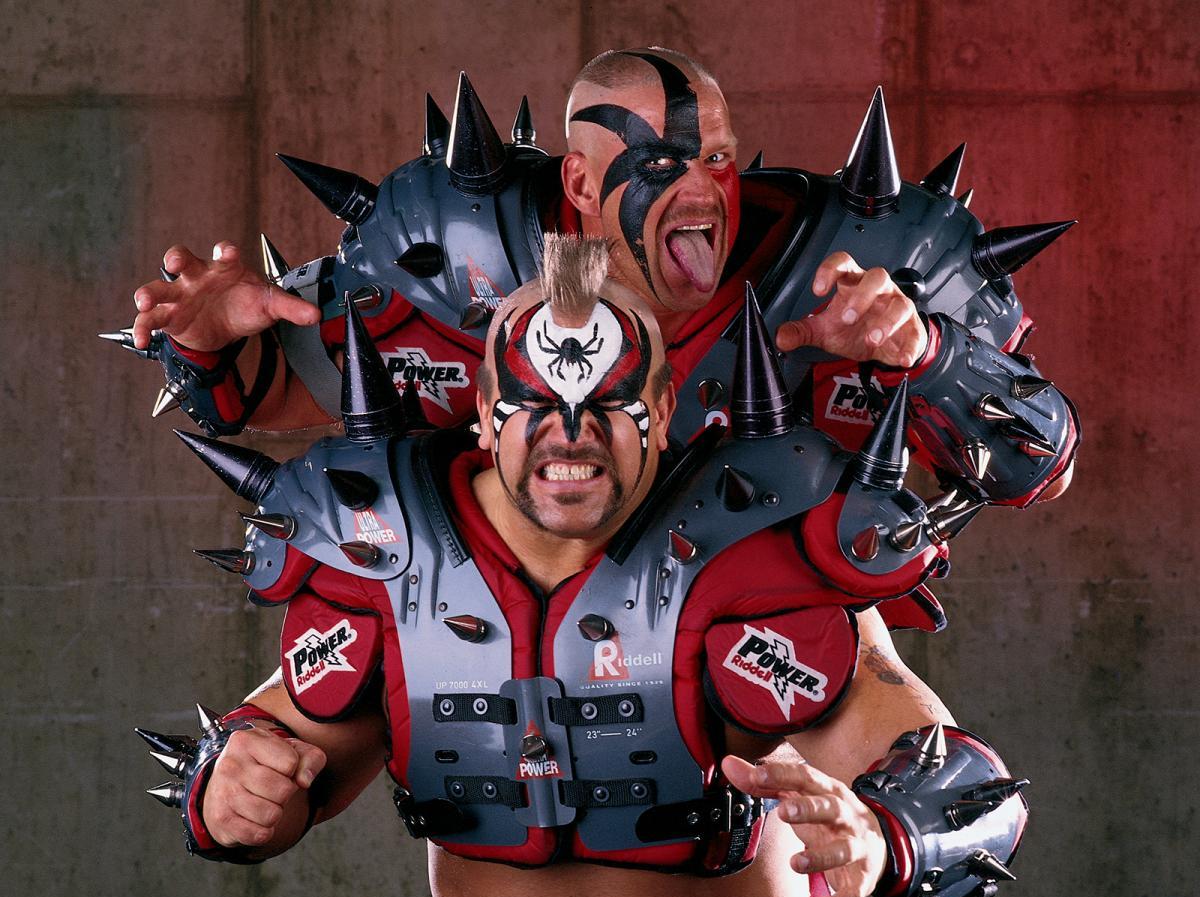 Article continues below advertisement
Laurinaitis' wife called authorities at around 11:49 p.m., informing them that her husband was unresponsive. When emergency services arrived on the scene, they declared the former Superstar deceased.
Animal was considered one of the greatest in-ring performers ever and both he and his tag partner, Hawk, were no-holds-barred type wrestlers who blurred the lines between kayfabe and real life.
And that included the fighting.
The Road Warriors reportedly would give a little extra "oomph" to their moves if you were wrestling with them, and other pro-wrestlers would dread to go up against them, especially during the early days.
They won several tag team championships in the WWE, but their time with the promotion came to a head in the late '90s when they became part of what's considered one of the most "tasteless" storylines in sports entertainment history.
Article continues below advertisement
And that's saying a lot, considering this is the Attitude Era we're talking about, where fat-shaming, homophobia, and other controversial topics were all fair game. Road Warrior Hawk, whose real name is Michael Hegstrand, was battling with substance abuse issues. Instead of encouraging the man to seek help and giving him a dignified exit to take a much-needed hiatus to get his mind right, his abuse was written into the storyline.
At this time, we would like to confirm the passing of Joseph Laurinaitis aka Road Warrior Animal at the age of 60. The family is planning to release a statement later today. At this time we ask for you to keep everyone in your thoughts and prayers. #OhWhatARush

— RoadWarriorAnimal (@RWAnimal) September 23, 2020
Article continues below advertisement
Darren Drozdov, a former NFL player who joined the Legion of Doom (The Road Warriors rebrand) as a third member, actually encouraged Hawk to partake in substance abuse, and the storyline culminated in a supposed suicide attempt when Hawk jumped off the Titan Tron.
Laurinaitis and Hegstrand felt uncomfortable with the angle and must've found it difficult to work with WWE leadership any further, so they terminated their contracts with the organization.
Animal had a short stint in the WCW, but ultimately returned to the WWE for a few appearances here and there. His final match was in 2012 against Heath Slater, in which he participated in a storyline that had Slater attacking a bunch of Hall of Famers as some sort of serial, retiree attacker.
Article continues below advertisement
Both John Laurinaitis and Michael Hegstrand were inducted into the WWE Hall of Fame in 2011.
Road Warrior Hawk passed away in 2003, just a few years after his too-close-to-home storyline. He was 43 years old when he died of a heart attack. Laurinaitis was just 60 when "natural causes" claimed his life in Missouri.
The professional wrestling world shared their condolences and paid tribute to Road Warrior Animal all over social media.
Article continues below advertisement
Shocked to hear of the passing of @RWAnimal.

An iconic figure in our business who I was looking forward to seeing this Saturday night in Jackson, Tennessee at the @JerryLawler celebration.

Condolences to Joe's family and friends. 🙏🤠

— Jim Ross (@JRsBBQ) September 23, 2020
Just found out that Road Warrior Animal has left us. Very sad to hear this, always such a nice guy whenever I would see him. So, I have a Tasmanian Devil tattoo on my right arm, he was my inspiration to get that before I started wrestling training. #RIP pic.twitter.com/iynxmE8pkb

— TAZ (@OfficialTAZ) September 23, 2020
Article continues below advertisement
RIP to the legendary Animal. I don't have the proper words right now, but thank you for goofing off with me at Cons. Thanks for all the years of entertainment and thanks letting this fan become a friend. pic.twitter.com/eUk2SafVkO

— Hurricane Helms (@ShaneHelmsCom) September 23, 2020
Article continues below advertisement
I've often been asked ...

"Who is the greatest Tag Team of All Time?"

The answer has always been the same.

Rest in Power brother. 💪🏽

My sincere condolences to family, friends and fans of Animal all around the world. #RIPAnimal pic.twitter.com/hQ2Av7xw1X

— Bully Ray (@bullyray5150) September 23, 2020
Article continues below advertisement
RIP Animal,love you my brother, I know you and Hawk have a lot of unfinished business to take care of! God speed and blessings to your beautiful family,one love4Life. HH

— Hulk Hogan (@HulkHogan) September 23, 2020
I Am More Than Saddened To Hear Of The Loss Of My Good Friend And GREAT Opponent Joe Laurinaitis Of The Legendary Road Warriors. They Were Iconic! The Road Warriors And The Four Horsemen Drew More Money And Had More Fun And Entertained Fans Worldwide At The Highest Level. RIP 🙏🏻 pic.twitter.com/eiZ2udqGNm

— Ric Flair® (@RicFlairNatrBoy) September 23, 2020
Laurinaitis is survived by three children: James, Jessica, and Joseph. James was actually one of the best football linebackers in the country and was drafted to the St. Louis Rams' for the franchise's final season in Missouri. He then played out the rest of his football career with the New Orleans Saints.