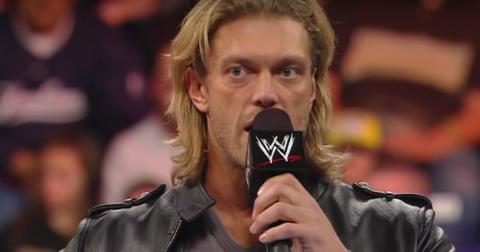 Edge Made His Triumphant Return to the WWE at Royal Rumble, and He May Be Back for Good
By Chrissy Bobic
The months leading up to a WWE pay-per-view is often full of rumors about returning wrestlers coming back into the fray. And while there were plenty of rumors about who would return at Royal Rumble, not everyone suspected that Edge would return to the WWE. After he slid into the ring during the epic Royal Rumble match at the end of the event, the crowd went wild. And now fans everywhere need to know if it means he is back and here to stay.
Is Edge back in the WWE? The Superstar returned at Royal Rumble.
The main event at Royal Rumble was well underway and WWE Superstars were dropping left and right in the 25-man match. Suddenly, Edge emerged as entrant 21 and the crowd was shocked. He was one of a handful of surprise returning wrestlers at the event and he proved he could hold his own after spending years out of commission. Naturally, he sparked tons of questions and hopeful tweets among fans who are more than ready to welcome him back as a formidable foe to some of the big WWE stars of today.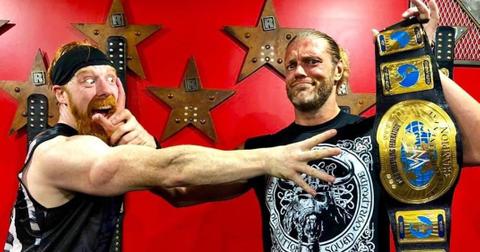 Edge's neck injuries forced him to step back from the WWE for 9 years.
In 2011, Edge left the WWE after 15 years as a premier wrestler for the company. In an episode of Raw, he explained to fans that his multiple neck injuries had been the catalyst for him retiring earlier than he may have wanted to. Because he was diagnosed with cervical spinal stenosis and he wasn't cleared by WWE doctors to continue to wrestle, he informed fans that he was retiring from the WWE at the time.
While he was retired, he landed a role on 'Vikings.'
While Edge was out of commission from the WWE, he continued to work in the world of entertainment. Some of that work included WWE-related TV specials, but he was also in a few different shows. Most recently, Edge landed the role of Kjetill Flatnose on Vikings, credited under his real name, Adam Copeland. Since Vikings is coming to an end, it would make sense for Adam to now have the time to transition back to the WWE.
He denied all rumors of coming back to the WWE leading up to Royal Rumble.
In an August 2019 episode of the podcast E&C's Pod of Awesomeness, Edge was totally mum about his return to the WWE. He admitted that he felt physically able to wrestle, but that he didn't think he was up to par with the WWE's standards. At the time, it seemed like he wouldn't be returning anytime soon.
"To be perfectly honest, I think I could do a match tomorrow," he said on the podcast. "I might be blown up, but I'd be OK. It's just from what I know with the WWE medical staff, they won't allow. It is what it is, right?" Clearly, his go-ahead from the WWE medical staff came after, or he was just playing coy.
The wrestler might have signed a new WWE contract.
It has been nine years since he fought in the ring for a WWE title, but after Royal Rumble, there are already rumors that Edge signed a new WWE contract. WrestleVotes tweeted that he signed a new three year contract with the WWE. The alleged contract could mean that Edge will show up on either Raw or SmackDown to secure his place in the current lineup.