"I Went to School for No Reason" — Teacher Quits After First Day on Job, Hates It
A TikTok user shared a clip explaining why his first day of teaching would also be his last.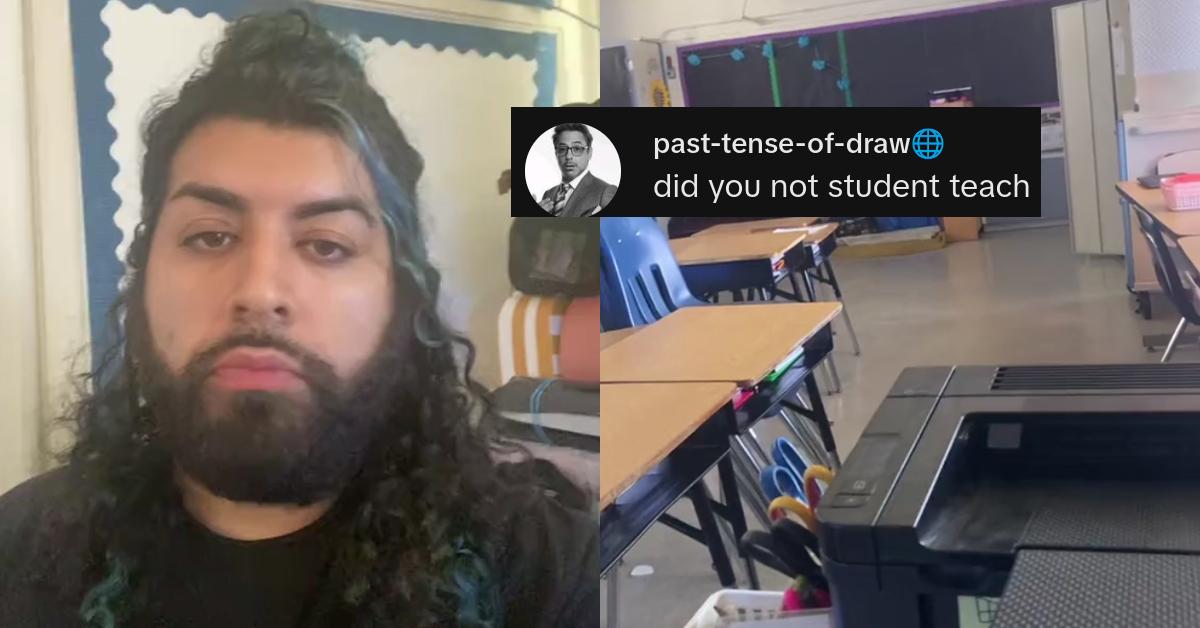 A teacher says that a gaggle of "rude" and "smelly" students prompted their decision to quit teaching after just their first day of work.
Kevin Black, who posts on TikTok under the handle @kevinenvy, records himself in an empty classroom explaining their decision to hand in their walking papers after their first day of teaching.
Article continues below advertisement
In the video, he proclaims that he ultimately went to school "for no reason" and says that his first day on the job would also be his last because although he thought that he could handle the job of being a teacher, he found out that he was mistaken and didn't want to make teaching his career any longer.
Kevin says in his video: "So it's my first day of being a teacher. And I'm quitting. It was my first day. I don't want this. I went to school for no reason, I thought like I can handle it. These kids are just mean, they're rude, they're smelly, they're sneezing everywhere. So today's my last day."
Article continues below advertisement
Kevin isn't the only former educator who has gone viral on TikTok after airing their gripes with the profession. Distractify has formerly written about another teacher, who goes by Millenial Ms. Frizzle (Maggie) online, who has posted several clips about her decision to leave education to work at Costco instead.
Article continues below advertisement
She says that since leaving the classroom, she has been much less anxious about going to work and enjoys her job at the retailer much more, stating that she doesn't bring her work home with her, and that her stress levels have decreased significantly after opting to work with the bulk membership chain.
Posts like the one Kevin and Maggie had uploaded appear to be part of a larger phenomenon that several media outlets have written about pertaining to education as a whole in the United States: and it's that the country's teachers are quitting in droves.
Article continues below advertisement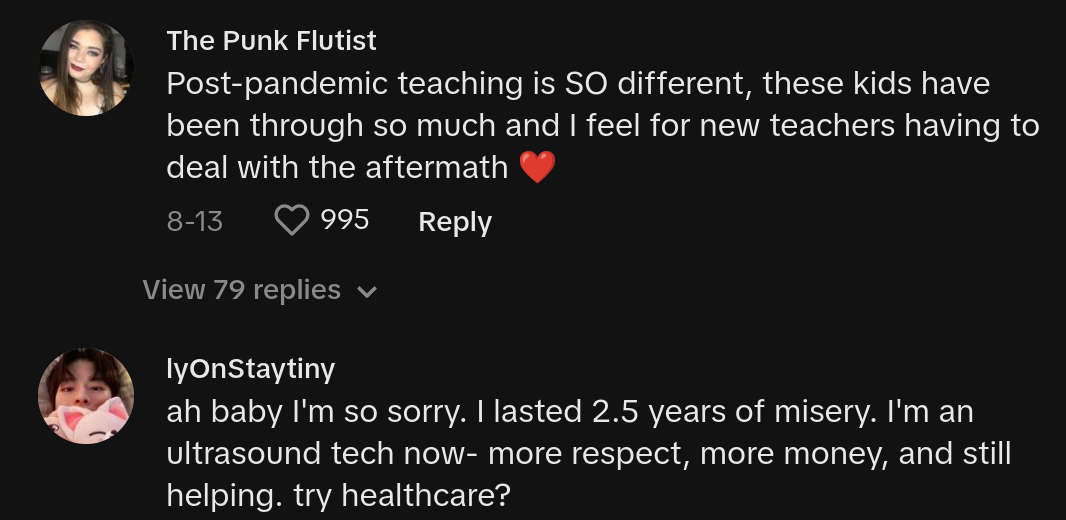 Article continues below advertisement
The outlet went on to highlight a few states where the problem appears to be more widespread than other parts of the country: "In Washington state, more teachers left the classroom after last school year than at any point in the last three decades. Maryland and Louisiana saw more teachers depart than any time in the last decade. And North Carolina saw a particularly alarming trend of more teachers leaving mid-school year."
But why are there so many teachers getting fed up with their jobs and would rather, in the instance of Maggie mentioned above, work at a retail store than educating children?
CNN boiled it down to three main factors: "violence, burnout, and stagnating salaries."
Article continues below advertisement

The media company has stated that resignations have continued to pile in even after the pandemic, and published findings from a survey posted by EdWeek Research Center and Merrimack College that states even teachers who are currently employed will more than likely switch their jobs or outright quit their current roles, yielding unfavorable outcomes for near-future retention rates in institutions all across the country.
Article continues below advertisement
CNN also spoke with Becky Pringle, the president of the National Education Association, who likened the shortage to a "five alarm fire," which was only exacerbated by the COVID-19 pandemic.
It doesn't seem like Kevin is having much luck with other jobs that he's attempted to take on, either, as he uploaded other videos that show him quitting additional jobs he tried his hand at upon leaving teaching as a profession.
Article continues below advertisement
His gig as an Uber driver was short-lived, and he uploaded footage of him arguing with a passenger. He raises his voice at the customer asking him to get out of his vehicle, but the woman yells back at him that she doesn't care and is waiting inside of his vehicle "until the rain stops."
Article continues below advertisement
He went on to say that he quit on his first day of being a dog walker because "no one told [him] that [he] would have to clean up diarrhea."