Police Chief Slammed for Facebook Comment Suggesting Running Over Protesters
Tim Porter of the Sioux Rapids Police Department issued an apology for his post that claimed it was an "accident."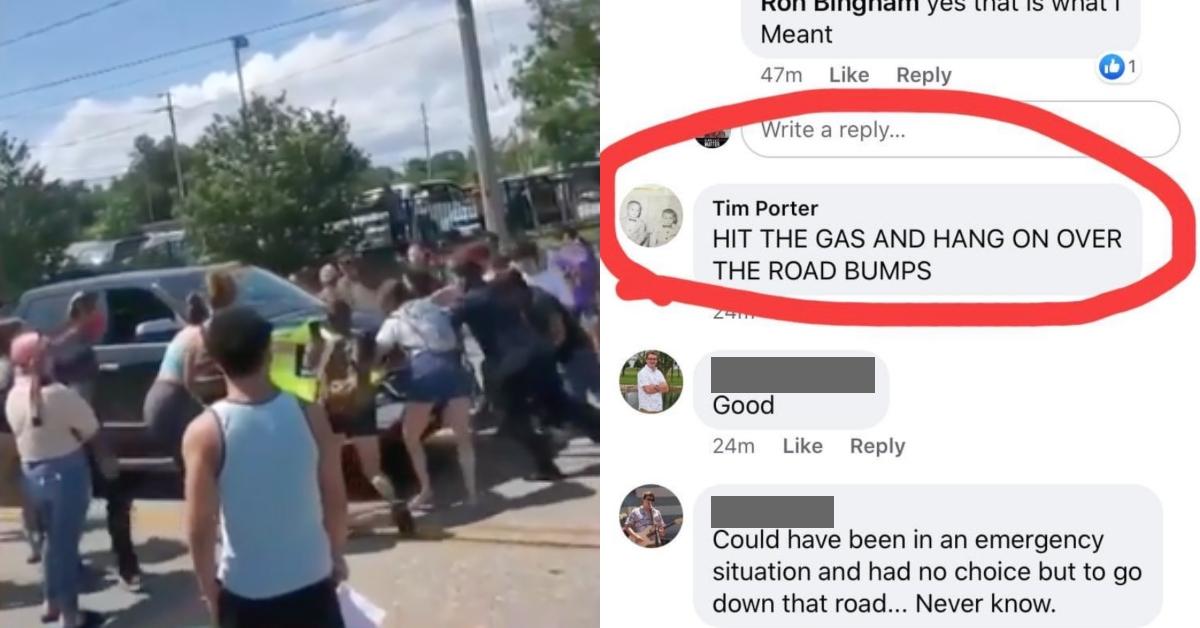 An Iowa police chief has come under fire for a disturbing Facebook comment he made suggesting running over protesters. Sioux Rapids Police Chief Tim Porter issued an apology claiming that, somehow, the comment was an "accident."
Article continues below advertisement
There was an incident in Des Moines during a protest where a truck drove through a crowd of protesters. The driver of the truck, Jeff Boucher, has since been fired from his job. It was on a post showing images from this incident that Police Chief Tim Porter wrote, "HIT THE GAS AND HANG ON OVER THE ROAD BUMPS."
Article continues below advertisement
This screenshot, along with those showing Tim Porter's Facebook profile, went viral on Twitter when @Ollie_XVX posted them with the caption, "Nothing to see here, just the police chief in a small Iowa town talking about murdering protesters." The photos also depict him as an avid Trump supporter and confirm that he is, indeed, a police chief.
The tweet has garnered over 20,000 retweets, over 37,000 likes, and thousands of comments. Because of the immense amount of backlash, Porter has issued a statement of apology.
Article continues below advertisement
According to KCCI, his statement reads, "I have a huge apology to all that saw my Facebook page yesterday of myself making a comment about running over a person in the street holding a USA sign. Someone called me last night and asked me about it, I was just surprised myself.
Article continues below advertisement
"I was on another post working and somehow it accidentally was posted on the wrong post. I just want to publicly apologize for my horrible mistake, my posting was a total accident. I don't want to offend anyone.
"I'm all for peaceful protest, bad cops getting removed. People that know me, know I would never encourage anyone to run over any protester or anyone. I'm for change like everyone. I feel horrible for my mistake. I'm sorry for all the confusion."
Article continues below advertisement
It's a little hard to follow (probably because it sounds like a made-up excuse) but Tim Porter seems to be claiming that he was trying to comment, "HIT THE GAS AND HANG ON OVER THE ROAD BUMPS" on a different post, not one that was about protesters. That seems improbable.
Article continues below advertisement
Was it a post about roadkill? Potholes? The glee in the tone seems to suggest it's something someone should be excited to be running over. But it seems like, at least for now, Tim Porter is done offering his explanation, which really wasn't much of one at all.
Of course, the comment itself and Tim Porter's Facebook page have been deleted since the outcry. Sioux Rapids has also appeared to have disabled the local government's website. According to the Des Moines Register, the mayor of Sioux Rapids and the City Council sent out a statement saying that "an incident involving social media by a member of the police was being investigated, and 'any and all disciplinary action deemed necessary' would be taken."
Article continues below advertisement
"Public trust and accountability are the foundations of policing," the statement read. "When an officer violates that trust, it is our responsibility to ensure that it does not occur again. We are committed to running a police department that respects the rights of every officer and every citizen and guest of our community."
...In that order, though?
There are now calls for Tim Porter to be fired. And many lament that stances like his are probably, unfortunately, much more common than we think, especially in small-town police departments.