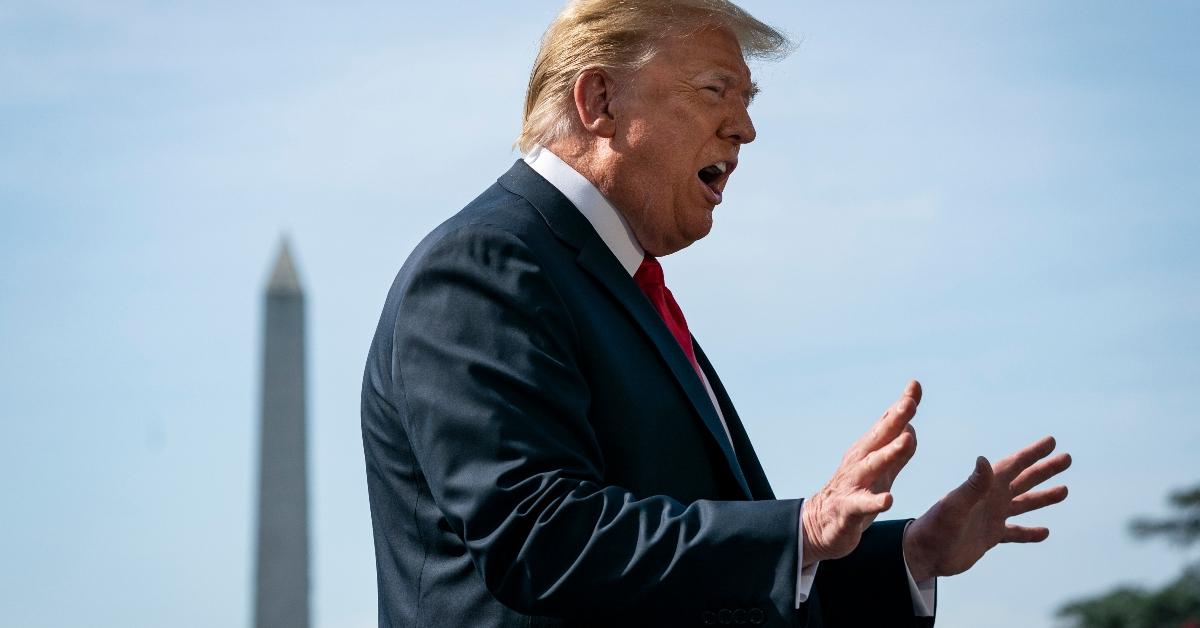 Is Donald Trump Allowed to Play Panic! At the Disco Songs? Well, Kind Of
President Donald Trump drew criticism for using "High Hopes," a hit song by Panic! At the Disco at a campaign rally held in Phoenix, Ariz. on June 23.
Panic! At the Disco frontman Brendon Urie took it to Twitter to express his strong disapproval of the inconsiderate choice on the same day, calling on his followers to join HeadCount, a charity organizing voter registration at concerts and festivals instead.
Is Donald Trump allowed to play Panic! At the Disco songs at all?
Article continues below advertisement
So, is Donald Trump allowed to play Panic! At the Disco songs?
"Dear Trump Campaign, F--k you. You're not invited. Stop playing my song. No thanks, Brendon Urie, Panic! At The Disco & company," Brendon tweeted on Tuesday, June 24.
The singer and songwriter wasn't particularly enthused about the new turn of events. But can he stop President Trump from using the song?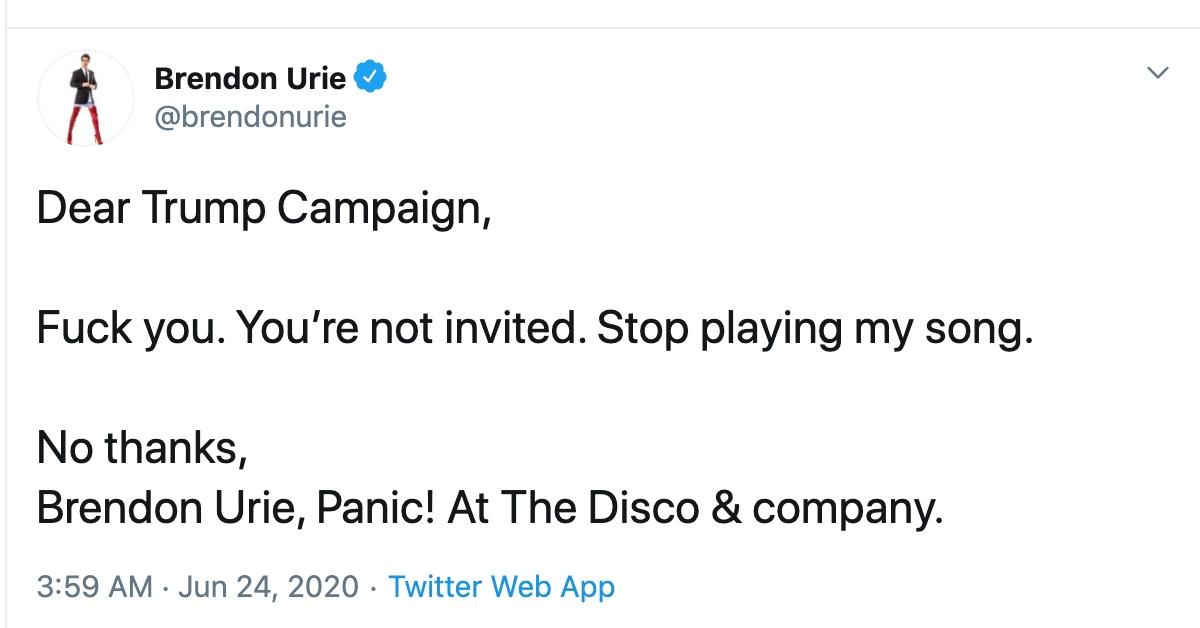 Article continues below advertisement
According to ASCAP, politicians and their campaign staffers have to adhere to specific regulations when it comes to playing different musical works.
Public venues ⁠— such as the Dream City Church in North Phoenix, where the latest Trump rally was held — are legally required to obtain a license for the pieces of music they choose to play to visitors and event attendants.
However, they aren't responsible for ensuring that the right license has been acquired for music played at third-party events. For this reason, most politicians and campaign organizers tend to secure copyrights in advance.
In other words, there's a chance that President Trump and his campaign staffers already obtained the rights to play "High Hopes" at the Arizona rally — and potentially, at their forthcoming events as well.
Article continues below advertisement
ASCAP strongly encourages politicians to get in contact with the artist, their management, and the composer before they choose to play their song at a campaign rally. However, the step isn't considered to be strictly necessary.
Article continues below advertisement
There are ways to stop Donald Trump from playing Panic! At the Disco songs at future rallies.
Should a musician choose to object to their song being played at a campaign rally, they can take several avenues. According to ASCAP, they can make an appeal on the grounds that the campaign threatens their public image.
In addition, they can also refer to the Lanham Act, which was instated to help an artist or brand protect their trademark — such as their name. Lastly, the musician can also claim that using a song is a form of false endorsement.
Article continues below advertisement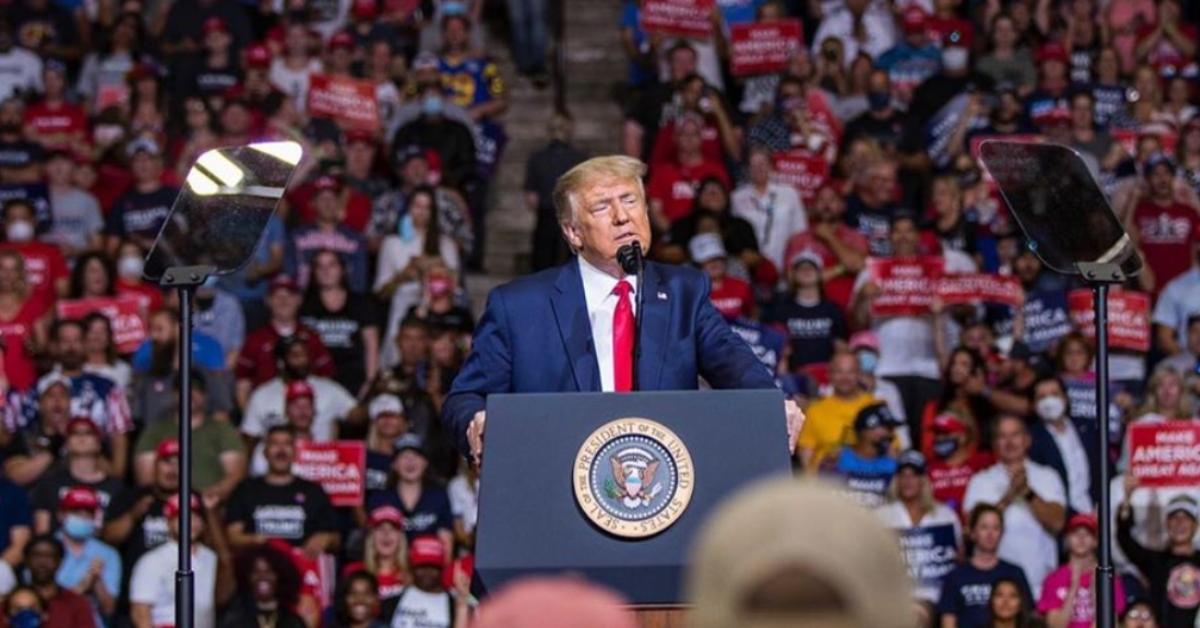 As a previous article by Pitchfork reveals, Brendon Urie is far from the first musician to enter into conflict with President Trump.
Neil Young, Adele, R.E.M., Steven Tyler, and Everlast are just some of the other artists who stood up against President Trump after learning that he used their songs for a political campaign.
"Go f--k yourselves, the lot of you – you sad, attention-grabbing, power-hungry little men. Do not use our music or my voice for your moronic charade of a campaign," reads a previous tweet by Michael Stipe.
The lead guitarist of R.E.M. took a firm stand after discovering that "It's the End of the World as We Know It (And I Feel Fine)" was played at a Trump rally in 2016.