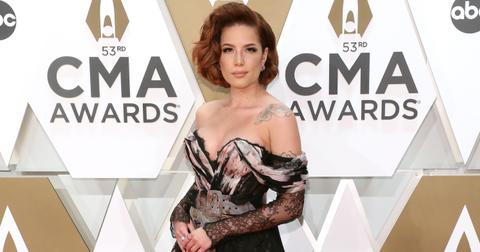 Yes, Halsey's Pregnant... With Pancakes
By Sara Belcher

Updated
Singer Halsey and her boyfriend Evan Peters have only been an item for a short while — they only confirmed they were dating in September. But there's a chance that the couple might be adding one more to the party soon. The internet has been going crazy with pregnancy rumors, to the point that fans are wondering: is she pregnant?
Article continues below advertisement
Is Halsey pregnant? A photo has fans wondering if she's expecting.
An image started circulated around the internet that made fans wonder if maybe the "Without Me" star was actually with child. The image shows Halsey clutching her stomach, while Evan also rests his hand on it. It looks like a loving moment normally shared between a couple who are expecting, which led fans to guess if she was pregnant.
i too would also get pregnant that quickly if i was dating evan peters halsey none of us blame u sis

— Mollie Angel (@mollangelx) November 18, 2019
Article continues below advertisement
Some of her fans were definitely more supportive than others. Twitter user @mollangelx tweeted "i too would also get pregnant that quickly if i was dating evan peters halsey none of us blame u sis."
Other fans thought it would be really exciting news for Halsey to be expecting since she's been open about having Endometriosis — a disorder that forces tissue usually found in the uterine lining to grow outside of the uterus, making it hard to conceive.
Halsey said she's not pregnant — it's just pancakes.
It didn't take long for Halsey to address the rumors personally on Twitter — because, in her mind, there were no rumors to address. "Still not pregnant. Still just allergic to gluten. Still love pancakes," she tweeted on Nov. 19. "Is it a boy? Is it a girl? It's pancakes."
Looks like her supposed baby was actually just a food baby instead.
Article continues below advertisement
But the rumors of her pregnancy encouraged Halsey to speak out about how sometimes, pregnancy rumors can really harm someone who's struggling with reproductive issues.
"Pregnancy is a super sensitive subject," she tweeted. "Some celebrities are open about having any struggles with reproductive health. Some are not. Either way it seems really inappropriate to target someone and speculate about something so precious and personal."
Article continues below advertisement
Halsey has been open about her struggles with Endometriosis since 2016.
Halsey talked openly about her struggle with Endometriosis in 2016, when she tweeted a screenshot from her notes app about her symptoms being bad that day.
"If any of you suffer from Endometriosis please know you're not alone," the note read. "I was recently diagnosed after years of suffering and finding myself doubled over backstage in the middle of my sets, or fighting back tears on an airplane, or even being in so much pain I would vomit or faint."
The note went on to explain how hard it was for her to get diagnosed, and how relieving it was when she finally was, proving that she "wasn't a 'baby.'"
"Just know I'm here if you want to vent. I have managed to live a wild, incredible, and unpredictable life with Endo, and I'm here for you!" she said.
Article continues below advertisement
In 2017, she underwent a series of surgeries to combat her Endometriosis, and she announced at The Blossom Ball in 2018 that she "had the laparoscopic diagnostic surgery and endometriosis ablation. And I walked the red carpet at the Grammy's with stitches in my stomach."
But she says that her diagnosis isn't going to stop her from having kids one day. On an episode of The Doctors, she talked about freezing her eggs, in an effort to protect her fertility with Endometriosis.
It looks like, for now, Halsey won't be having a baby, but a baby is definitely in her future plans. Honestly, we hope it's with Evan — they would have the cutest kids.