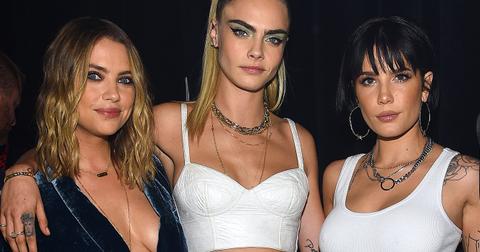 Who Is Halsey Dating Now? Rumors Say She's Hooking up With This Supermodel
By Leila Kozma

Updated
Looks like a new ship is setting sail, and we're here for it! On Sept. 15, Halsey shared a photoshoot with actress Sydney Sweeney, and the shots were straight fire. The Euphoria star previously appeared in Halsey's music video for her song "Graveyard," and the two will star alongside one another in the upcoming series The Players Table, based on the novel They Wish They Were Us.
The picnic date themed photos had some fans asking whether their professional relationship had become something more. With Halsey calling Sydney her "favorite lady" and with Sydney calling the musician "my everything," their fans were declaring their new favorite ship.
Article continues below advertisement
But it looks like Halsey may have a new lady in her life, and that woman may not be Sydney after all. So, who is she dating, then?
Article continues below advertisement
Who is Halsey dating now? Rumors point to her ex's new girlfriend's ex.
Yup, Hollywood is a small place, and the concept of six degrees of separations gets a lot smaller there. Back in 2018, Halsey and rapper G-Eazy, who she had been dating for over a year, split up, and it wasn't pretty. It seems that she all but said outright that her former beau cheated on her.
That same summer that Halsey and G-Eazy broke up, actress Ashley Benson and supermodel Cara Delevingne started dating. Their relationship would last until May of 2020, when it would be confirmed that Ashley and Cara had split. Shortly after the breakup became public, Ashley was spotted out with none other than G-Eazy himself.
Article continues below advertisement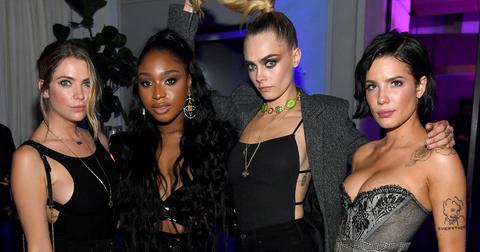 Fast forward to August, and the rumors surrounding Ashley and G-Eazy's relationship got even more wild, when the 30-year-old was photographed on a grocery run with the rapper, while rocking what looks like a large diamond ring. Though the two had never even officially announced that they were dating, suddenly engagement rumors were abound.
Article continues below advertisement
Meanwhile, Cara was rumored to be dating model Kaia Gerber and actress Margaret Qualley (both Pete Davidson's exes, by the way, because, again, Hollywood is really, really small). In both cases, though, Cara never addressed the rumors, and it remains unknown if the relationships were anything more than strong, affectionate friendships.
Kind of like how Sydney and Halsey appear to have a very affectionate friendship, which some feel is really a romantic relationship. However, sources informed The Sun that it's not Sydney and Halsey who are together; it's Cara and Halsey. That's right — rumors say that Halsey has been hooking up with her ex's new girlfriend's ex.
Article continues below advertisement
Cara and Halsey's rumored relationship is reportedly not too serious.
As opposed to G-Eazy and Ashley, it looks like Halsey and Cara's relationship isn't quite as serious, though. The source, who claims to be close to the Carnival Row star, said, "Cara has been hooking up with Halsey in the last few weeks and they've been having a laugh together. It's all very casual and just a bit of fun."
Article continues below advertisement
They clarified, "Neither of them are particularly keen to be tied down and they're fine about seeing other people. They've both been very open about their sexuality and just want to enjoy themselves so they're both on the same wavelength. They're usually so busy and flying around the world, but as they've been stuck in LA in recent months, it's given them a chance to see each other."
"Cara has kissed her in front of friends and stuff. It's not a big deal for either of them," the source said. "It's actually just funny to them that their exes are together now, and there's no hard feelings."