NFL Star Baker Mayfield and Wife Emily Team up in This Funny Ad Campaign
Is that Baker Mayfield's wife in the commercials for Progressive? Read more about the Cleveland Browns quarterback's Progressive endorsement deal.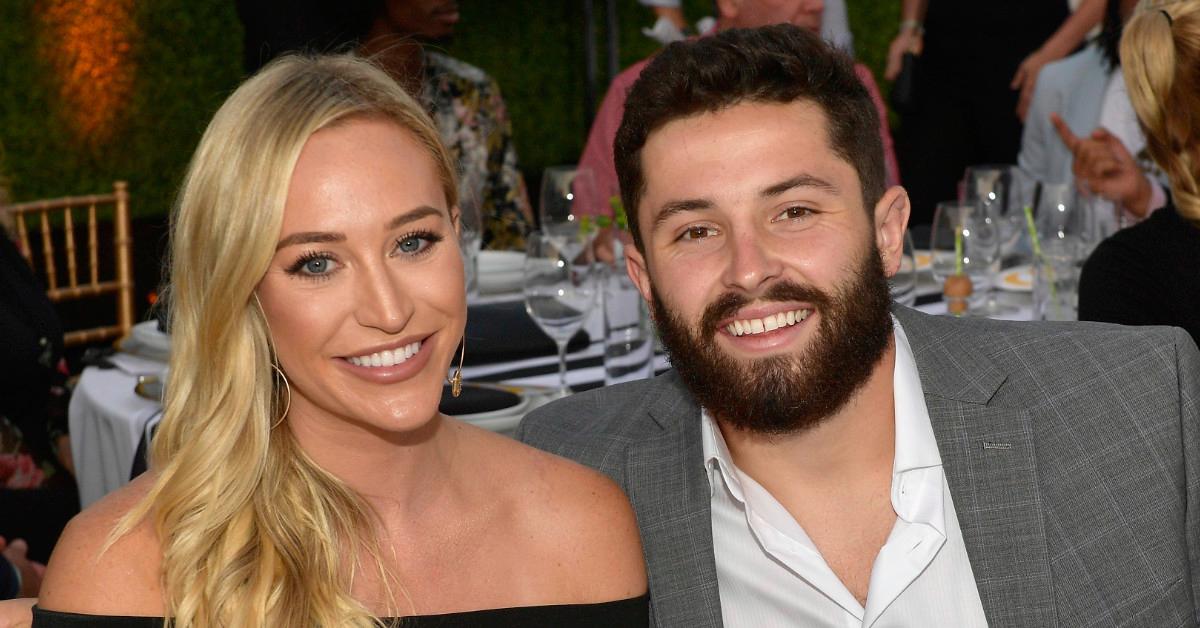 We may not know how much Baker Mayfield makes from his Progressive commercials, but considering recent NFL games had an ad value of $55 million per game, you can be sure that the insurance company is paying a pretty penny to both Baker and the networks that run the games. And yes, that is Baker's wife in the commercials — Emily Wilkinson is in on the Progressive deal, as well!
Article continues below advertisement
"I live with the guy; now I have to work with him?" Emily wrote on Instagram in August 2019, when the deal was announced. "Just kidding... Love you, babe."
In the commercials, Baker and Emily deal with typical home issues … in a massive football stadium.
The news of the couple's marketing partnership with Progressive broke just weeks before their first commercials for the company hit TV. In the first 16-week "At Home With Baker Mayfield" series of ads, the Cleveland Browns quarterback and his wife deal with typical home issues — lawn-mowing, electrical and plumbing issues, etc. — in their "new home," the 67,431-seat First Energy Stadium.
Article continues below advertisement
"I was drawn to Progressive because it's a high-energy, winning team. They thrive on accomplishing what's never been done before and what others say can't be done," Baker said in a news release at the time, per WKYC. "My life story and process have been different from others, so I felt right at home with Progressive because their journey has been a little different, as well. Emily and I both feel like it's OK to be unique, prove doubters wrong, and be proud of it."
Article continues below advertisement
Baker Mayfield underwent a "brutal" tryout for Progressive commercials.
Baker did have to audition for the part, though, participating in a "brutal two-hour combine," according to Jeff Charney, Progressive's head of marketing. In a CNBC interview, Jeff recalled asking Baker questions like, "How much money is in your pocket? Where did you meet your wife? What was your first kiss?"
"We were trying to test him to see if he could be improvisational," Jeff said. "We wanted to make sure he fit our brand and had the right improv skills and would be himself."
Jeff admitted to Crain's Cleveland Business that the "combine" was hard. "But you could see the guy was a natural at it," he added. "We said, 'We have something very special with this guy.' … We went with the guy we really believed in."
Article continues below advertisement
Baker makes filming easing for the company.
Baker is so good at improvising that he doesn't even need a script during filming. "We set the scene up, and we just go," Jeff told CNBC. "It's like one-take bake. He's pretty natural and pretty relatable."
The ads also impressed Scott Rosner, a sports management program professor at Columbia. "He's fun, and he's not afraid to do silly things; to be the punchline of the scenario," Scott observed to CNBC. "And he doesn't take himself too seriously."
The couple filmed a second season of the ad campaign for the 2020 football season. And unlike the first season, they filmed the new spots on location at First Energy Stadium, discussing the need for seat warmers in the stadium and for covers for their "lawn furniture," i.e. the stands.