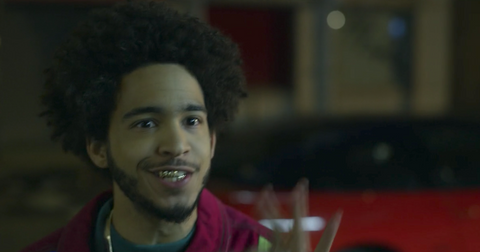 'Wu-Tang: An American Saga's Jah Son Is Kinda, Sorta Based on a Real Wu-Tang Member
By Pippa Raga

Updated
One of the most memorable hip-hop groups of all time is making a nostalgic comeback, thanks to a recent Showtime documentary, Of Mics and Men, and an even more recent scripted Hulu series called Wu-Tang: An American Saga.
The scripted series follows the Wu-Tang members from their early days in Staten Island, but obviously injects a little fictional drama to add to the plot's twists and turns.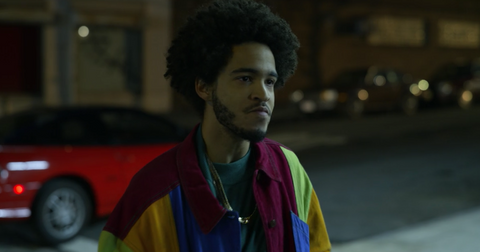 So, who is Jah Son on Wu-Tang: An American Saga?
We first meet Jah Son in the pilot episode of Wu-Tang, "Can It Be All So Simple." He's a drug dealer driving a red sports car in Stapleton, Staten Island, where the series begins after a late-night shooting at Ghostface Killah's house.
Let's say that — without revealing spoilers — the beloved drug dealer has quite the arc over the course of the season's first couple of episodes. 
But while most of the characters on Wu-Tang: An American Saga are based on real members of Wu-Tang, their families, and friends, many viewers are wondering whether the same applies to Jah Son.
And it's hard to get to the bottom of that question because there isn't too much information around about anyone named Jah Son, as far as the Wu-Tang Clan goes. After all, judging from Hulu's promotional materials surrounding the show, only seven of the nine Wu-Tang members are set to appear.
And while Masta Killa and Cappadonna might not make an appearance in An American Saga, many viewers think that Jah Son is a fictional recreation of Cappa. "Okay episode three of the Wu-Tang series," one fan explains on Twitter. "There's a trippy alternate timeline sequence that images what would have happened if a guy named Jah Son had survived a shooting [sic]."
"He completely replaces Cappadonna, in a show produced by other members of Wu-Tang. Very on-brand Cappa," he writes. Another continues unpacking the series' third episode, "All in Together Now," adding, "In the Sliding Doors opening, we see what might've happened if Jah Son was still around."
"You can see this alternate version of Ghostface's Ironman album that features the same cover, but Bobby and Jah Son have been swapped out for Rae and Cap." 
Who plays Jah Son in Wu-Tang: An American Saga?
Jah Son is played by 22-year-old Dominican-born Jorge Lendeborg Jr. 
So far, he's starred as Memo in the Transformers prequel Bumblebee, Spiderman: Far From Home, and the critically acclaimed Love, Simon. But for emerging star Jorge, this is just the beginning. 
"Going forward, yeah, I'm mindful, man," he said in an interview with Black Film. "I got to make sure that I show myself in the best light. Now that people are starting to recognize me just because I've planted myself in pretty good films, I would say, popular films. I got to make sure that the work continues to push forward, to be better, to grow."
Luckily, Wu-Tang: An American Saga does the job of propelling Jorge's career further into the limelight.
Stream Wu-Tang: An American Saga week after week on Hulu.