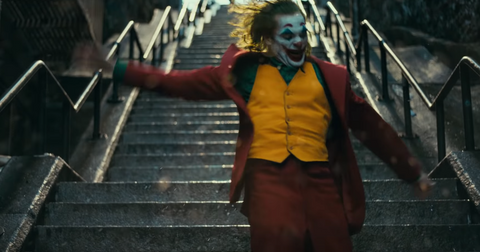 The Controversy Around the 'Joker' Stair Scene Song, Explained
By Gina Vaynshteyn
Joker, which came out October 4, has stirred up its fair share of controversy. Many think the villain origin story's premise is too grim and the plot too violent.
Not only are some viewers not big fans of the writing and direction, but they're now calling out Joker's use of a certain song: Gary Glitter's "Rock and Roll Part 2," which plays when Joker dances down a set of stairs (for two whole minutes) as he descends deeper into madness. Why? Because Gary Glitter is a convicted pedophile — and he could receive royalties.
What did Gary Glitter do?
Um, a lot. In fact, Gary Glitter (his real name is Paul Gadd) is one of Britain's most-hated public figures. In February of 2015, Gary was found guilty of raping a young girl under the age of 13, attempted rape, and four counts of indecent assault.
He was first jailed in 1999 for downloading child porn, and then again in 2006 for assaulting young girls in Vietnam. So, it's understandable that people (especially those in the UK) are disgusted and shocked that Joker used Glitter's music.
One Twitter user wrote, "They're literally paying a paedophile to use his music in a movie about the consequences of child abuse. I'm off the fence - this movie is immoral bullshit."
How much could Gary Glitter stand to make from Joker?
Pretty much any time a film or TV show uses a musician's track, that musician (or the musician's family, or management company, if they've passed) is paid out in royalties. Since Joker has grossed around $94 million in ticket sales (it broke the record for an October opening), Glitter can potentially be making a lot of money — and he's released from jail in 2021, so he could very well get that money soon.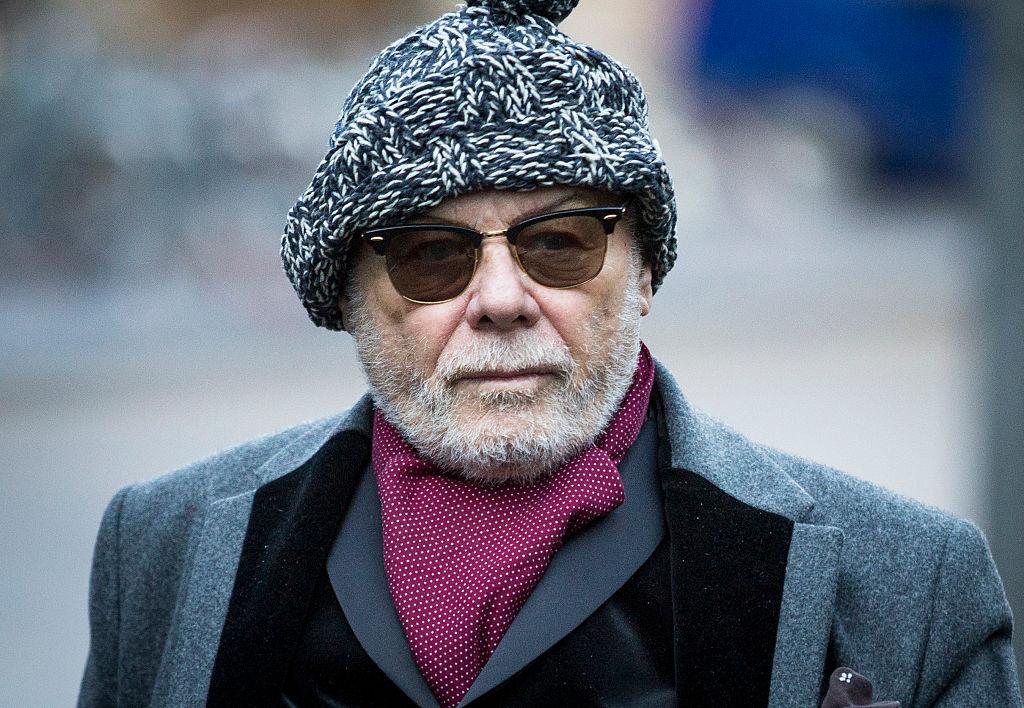 How does it work, exactly? "Artists are usually paid a one-off 'synchronization fee' when their songs are used on movie soundtracks. It can range from £500 for smaller acts, up to £250,000-£500,000, depending on the artist and the importance to the narrative of the film," Ray Bush, the managing director of The Music Royalty Co. told Yahoo News.
What other movies have used Gary Glitter's music?
One Twitter user points out that the same song, "Rock and Roll Part 2" was used in Meet the Fockers, and that nobody really cared.
It was also used in Happy Gilmore, Sudden Death, The Full Monty, and The Replacements. It's also associated with sports (many teams used it during games, but due to Glitter's crimes, the song is way less popular than it used to be).
Maybe it's not too late for Warner Bros. to re-edit the scene. So far, no comments from director Todd Phillips or any of the producers have been made.