Someone Falsely Claimed Jungkook Sexually Assaulted Them — and Then Admitted This Was a Lie
After Kim Woojin was accused of sexual assault, a whirlwind of questionable accusations began circulating the internet. Here's what's going on with the latest against Jungkook.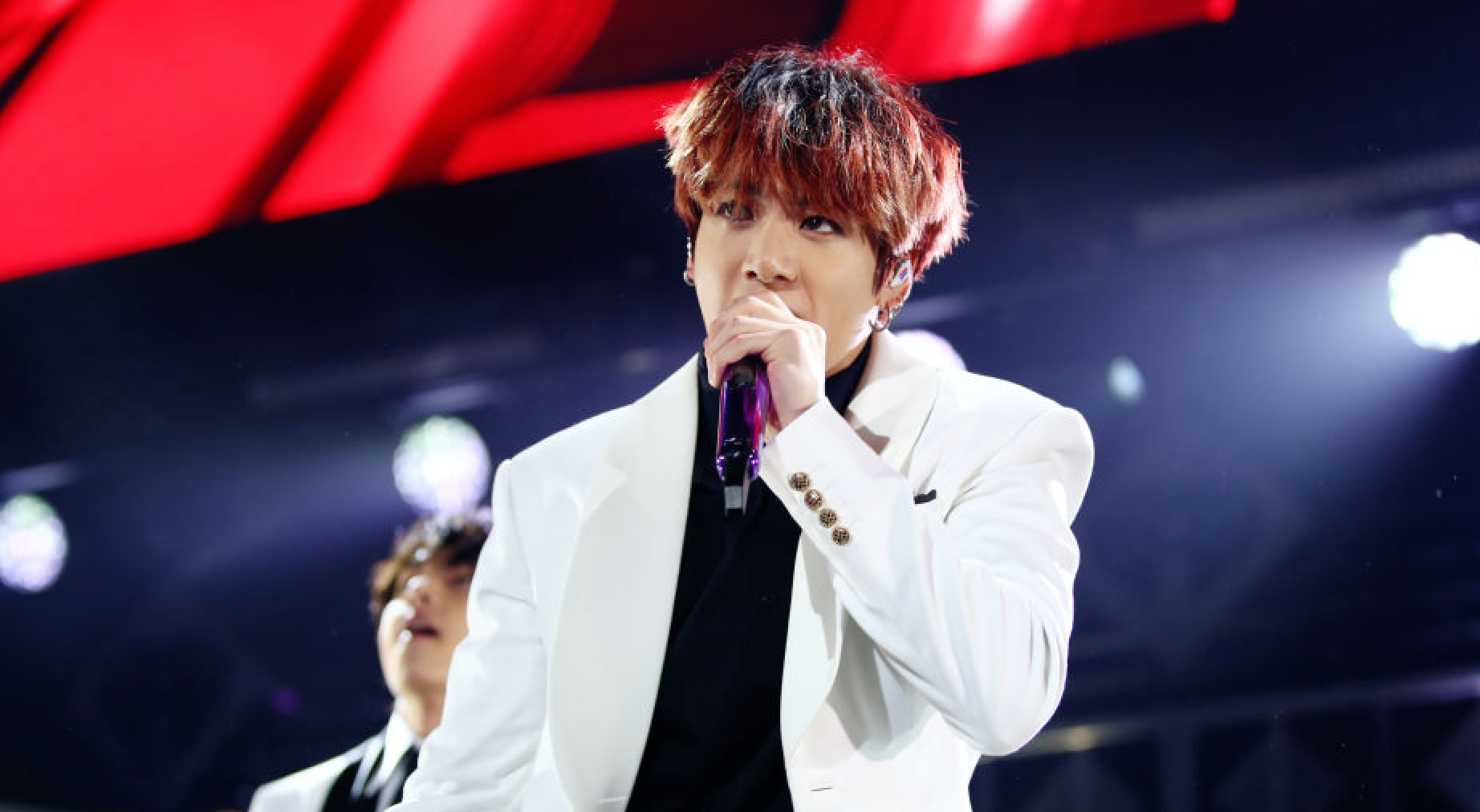 There is a lot going on in the K-pop world today, and it's all very disturbing. Earlier today, it was reported that former Stray Kids band member Kim Woojin was accused of sexual assault. Although Woojin denied the claims, the K-pop community is extremely shook — and some took it as an opportunity to falsely claim that other K-pop stars had also sexually assaulted women — only they later admitted they were lying. Basically, the Woojin scandal led to someone on Twitter claiming Jeon Jungkook sexually assaulted them, and other false claims followed.
Article continues below advertisement
The Jungkook scandal, explained.
On the evening of September 8, a Twitter user wrote, "I was molested by Jungkook of BTS on April 25 in Itaewon." Later, they tweeted, "Payback for being so quick to cancel Jungwoo last night," "i literally lied periodt," and "idek them but i lied lol stop believing random accs you f**ing idiots." Kim Jungwoo is a member of NCT, and has also been accused of sexual assault. In general, there's a lot of confusion and pointing fingers, and people are angry because the misdirection is steering the focus away from the real victims and their stories. And this could be extremely damaging.
Article continues below advertisement
While nothing has been confirmed, it seems like Woojin has been the only one legitimately accused of sexual assault. No other K-pop star, at this time, has been accused of sexual assault (this includes Jungwoo, Taeyong, Cha eun, and Jungkook). A tweet from @yoonglesenpai says, "The victim CONFIRMED it was woojin only people don't believe rumours and if you saw something not coming from the ORIGINAL VICTIM REPORT."
Article continues below advertisement
Twitter user @morgan_mariexx took to the platform expressing their horror over the situation. "It's sickening that someone spread this false claim over KPOP. Like what the hell? That's disgusting and it ruins the chance for people who have actually been assaulted to have their voices heard and believed. BigHit also doesn't take sh*t like this lightly." They were the ones who shared the screenshots of the Twitter user "claiming" to have been molested by Jungkook only to tweet 20 minutes later that they lied on purpose to stir up drama.

Article continues below advertisement
@Morgan_mariexx added, "Adding to this thread that this girl isn't even an nctzen and wrongly used Jungwoo's name to cause issues. As far as I know he has done nothing wrong! I shared this ss to clear up anyone thinking both of these guys were involved, because I saw MANY thinking they were."
Reminder: It's not okay to falsify a claim this serious as a way to "get back" at a fandom. It's not okay to falsify any claim against a person when you know that it's not true and that a lie like this could not only hurt their reputation, but delegitimize the claims of real victims and survivors coming forward with their true stories. As a community — whether or not it's the K-pop community — we need to champion survivors who are brave enough to come forward about their horrifying experiences, so that justice can be served.
Article continues below advertisement
Hopefully a true investigation is underway in regard to the claims made against Woojin, and we deeply hope the victims feel protected and supported.
If you need support, The National Sexual Assault Hotline is available 24/7 at 1-800-656-4673. You will be connected with a trained staff member in your area. Or visit RAINN.org to chat online with a support specialist at any time.