BTS Fans Suspect That YouTube Has Deleted the Band's Video Views
Has YouTube deleted BTS' video views? ARMYs and fans believe the streaming site has secretly deleted views on several of the band's videos.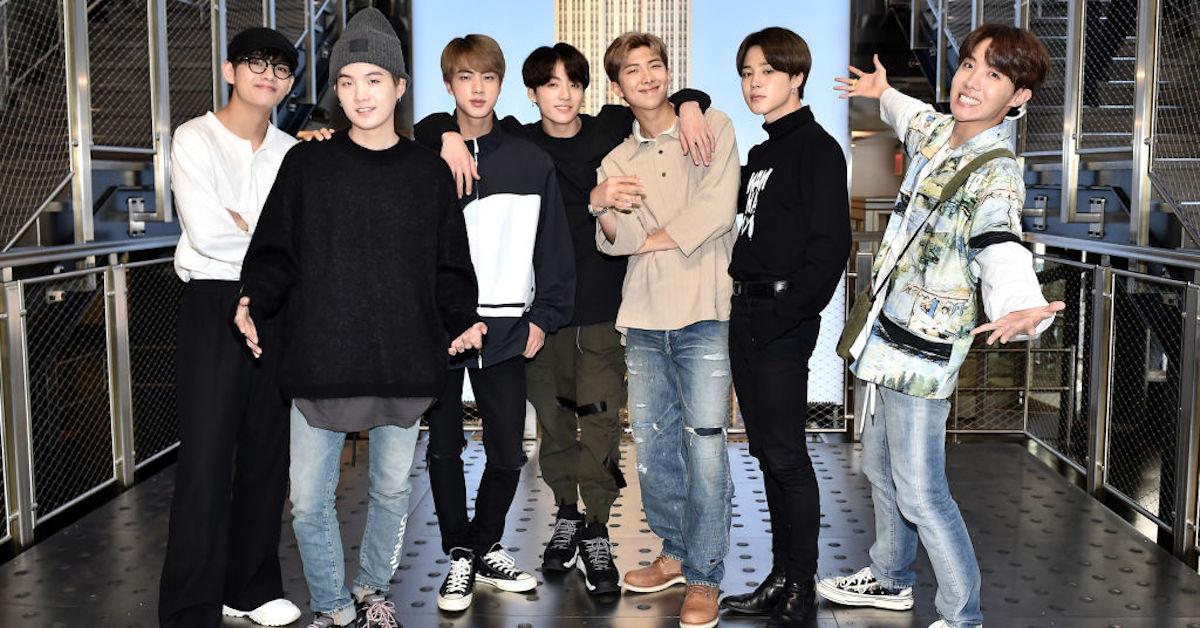 Whether you're a diehard ARMY member or if you simply logged onto Twitter this morning, you most likely heard about K-pop group, BTS' latest video release for their song "Dynamite," which was released to YouTube at midnight ET on Aug. 21, 2020. It was — by far — one of the most anticipated songs of the year, and fans were so eager to watch the video, its release surpassed the record for the most-watched premiere in YouTube history, making it truly monumental.
Article continues below advertisement
The band's new music video ended up garnering millions of views almost immediately, and although it has broken records on the beloved streaming site, fans are still suspicious that YouTube has maybe deleted BTS' views. Keep reading for everything we know regarding the potential scandal at hand.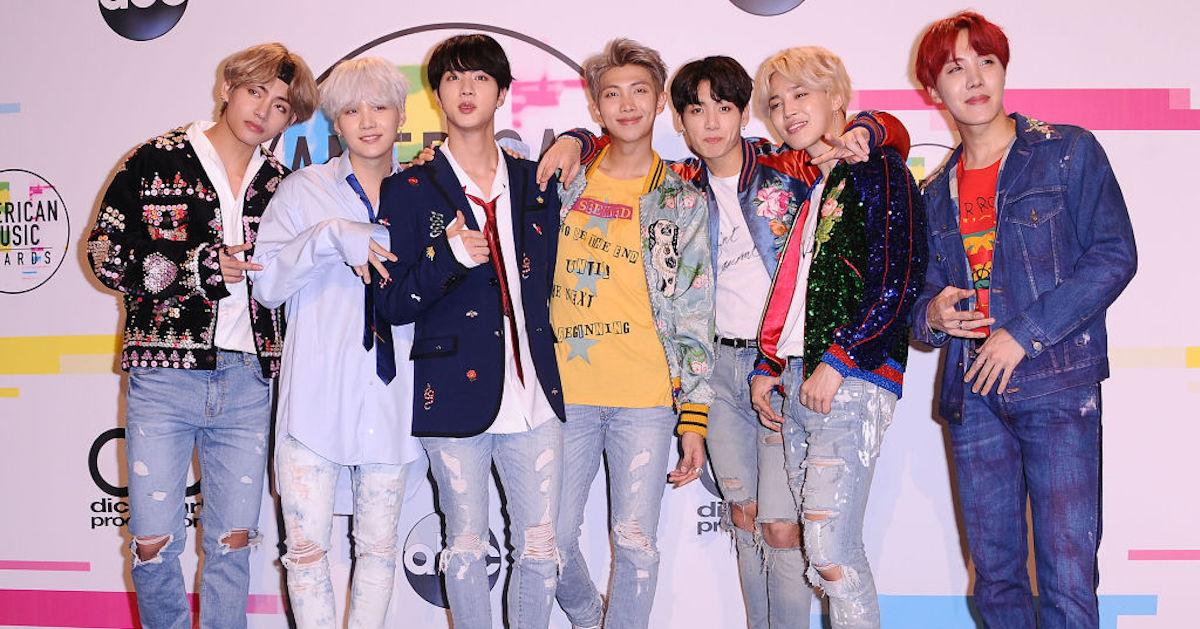 Article continues below advertisement
Does YouTube delete BTS' video views, or is YouTube simply glitchy sometimes?
In June 2020, BTS fan account MisuPlus posted a video discussing how BLACKPINK had broken the record for garnering the most YouTube views within 24 hours, with the release of their music video for "How You Like That." It surpassed that of the previous record holder, which was BTS with their "Boy With Luv" music video, and fans couldn't imagine how BLACKPINK's views could possibly surpass that of BTS.
This wasn't the first time ARMYs thought YouTube might be messing with BTS. Earlier this year, views for BTS' video, "ON," had randomly plummeted from 83 to 48 million and in response to ARMYs' suspicions, the YouTube team released a statement, according to PAPER, which said it's normal to see views slow down, freeze, or adjust while they verify those views are real and accurate. Likewise, MisuPlus also mused if fans kept reloading the video, those false "views" could potentially be deleted.
Article continues below advertisement
Despite the fact "Dynamite" has broken records, BTS fans worry YouTube will delete its views.
As previously mentioned, BTS' latest and greatest music video release, "Dynamite," has broken records, but ARMYs are wary of YouTube potentially "deleting" views, once again. Twitter user @cyrusharnelle05 said, "we're getting 3-4M views in an hour. can we please increase it to 5 and above to make sure. just in case youtube will delete again? fighting armys!!! #BTS_Dynamite #DynamiteMV #DynamiteToday #BTS."
Article continues below advertisement
Likewise, Twitter user @wahwhitney said, "Looks like YouTube deleting millions of views AGAIN. They deleted 4M. They've decided we had our fun so let's ruin ARMYS day by freezing views and delete millions to make it difficult to reach there [sic] goal like every year. #Dynamite #BTS_Dynamite." Hopefully that isn't the case, and YouTube is simply glitching again, but we don't know for sure what is currently happening.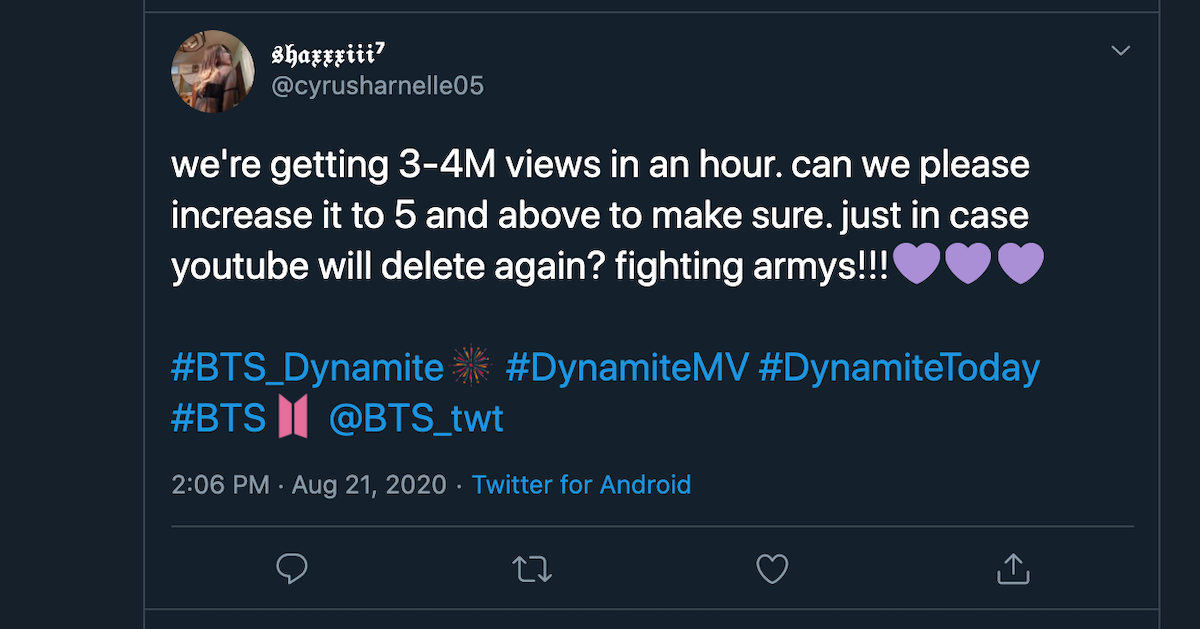 Article continues below advertisement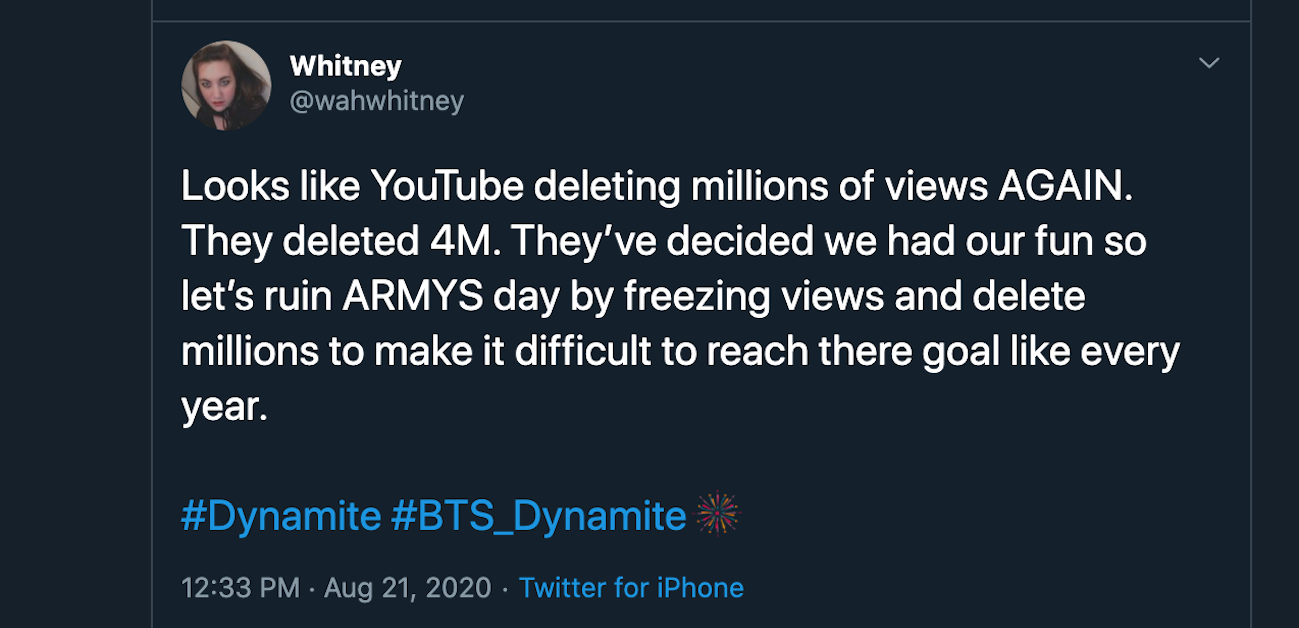 The mystery behind BTS' YouTube video views will forever be an enigma. We're hoping it was simply a glitch, as it seems like there's quite a disparity between the original view counts and the "adjusted" view counts YouTube says happen after views are verified.