'Karen and Ken' Call Cops on Asian American Doctor for Visiting His Parents
Khoa Lam filmed this woman and her neighbor as they called the cops on him for standing around and texting.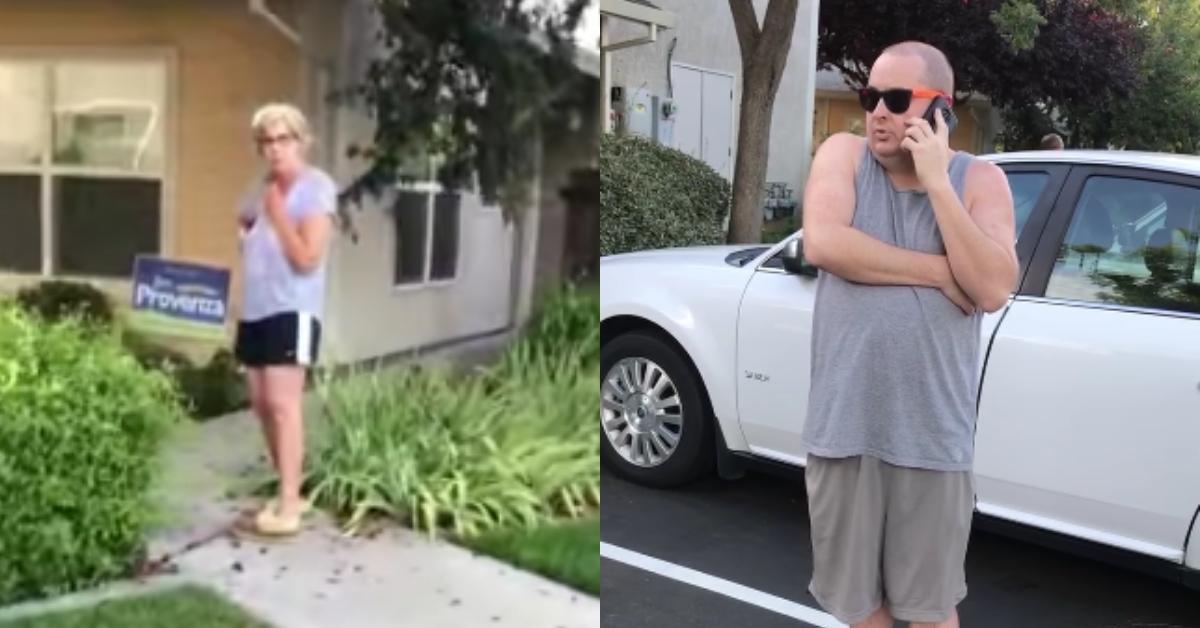 As Asian American man recently went to visit his parents at an apartment complex in Davis, Calif., but he couldn't get through his visit without a "Karen" and a "Ken" calling the cops on him for...existing outside. Khoa Lam started filming his confrontation with the woman and posted it on Facebook.
Article continues below advertisement
"Did I just get Karen'ed? Or in California, CAREN'ed?" he wrote, referring to the state's proposed CAREN Act, which would officially make racially biased 911 calls illegal. Lam explains that he is a doctor who just finished his training and is currently visiting his parents before his new job starts. He was walking around outside and FaceTiming his wife when he was "stalked" by a woman who then told him he didn't "belong" there.
Article continues below advertisement
He explains that he was wearing a NASA t-shirt, shorts, and AirPods, and he was very clearly talking into his phone while walking around. "I was not in any close proximity to anyone's house to even remotely suggest I might have been staking out someone's place."
But this Karen stalked him anyway, told him he needed to leave, and questioned him about what he was doing. At this point, he hung up his FaceTime call and started filming her "because in this climate, I was sensing a Karen on the loose," he wrote.
Article continues below advertisement
He continues, "She repeated that I don't belong her and that I need to leave, even though I said I'm visiting my parents." She threatened to call the cops but turned and "booked it" when she realized she was being filmed. But that's not where this incident ended.
In another post, Lam explains that shortly after his confrontation with the woman, a man approached him and said that his neighbor called him and said he was "recording and taking photos of people's houses and cars." He said he felt threatened and called the cops while Lam stood calmly about six feet away and recorded the interaction.
Article continues below advertisement
"I was still busy texting my friends when he approached, so no reason for him to blatantly accuse me of suspicious activities, regardless of what his neighbor had told him," Lam wrote.
Article continues below advertisement
In another, final post, Lam writes that the cops did come after the "Ken" called them. He explains, "My parents came out for validation purposes and support. I explained to them what happened." The officer "felt compelled to lecture me on 'perspective.'"
By that point, both neighbors had retreated into their homes and were peeking out from the doors. But they wouldn't come out and actually talk to the cops or to Lam. One of the officers seemed to threaten him, saying that if they ended up calling the cops again, "It's not going to be..."
Article continues below advertisement
"I said, 'What?' Not going to be what? Not going to be pretty?" Lam wrote. "She then accused me of putting words in her mouth."
Article continues below advertisement
Lam told NextShark that he wrote a formal complaint that he had been racially profiled after the incident. His complaint reads, "The officers failed to investigate their actions properly and threatened me. They exhibited implicit bias during their field interview of me, and discriminatory policing with their non-enforcement of the law."
The Davis Police Department told NextShark that it is in touch with Lam and is investigating the incident. "It will take a little time to do a thorough review, which includes interviewing everyone involved, reviewing body-work camera video, video taken by Mr. Lam, and listening to the phone call that was made to the Police Department," said Davis Police Chief Darren Pytel. "We will be in touch with Mr. Lam during our review and will share our findings. The Independent Police Auditor will also likely release findings, which will be available for review."