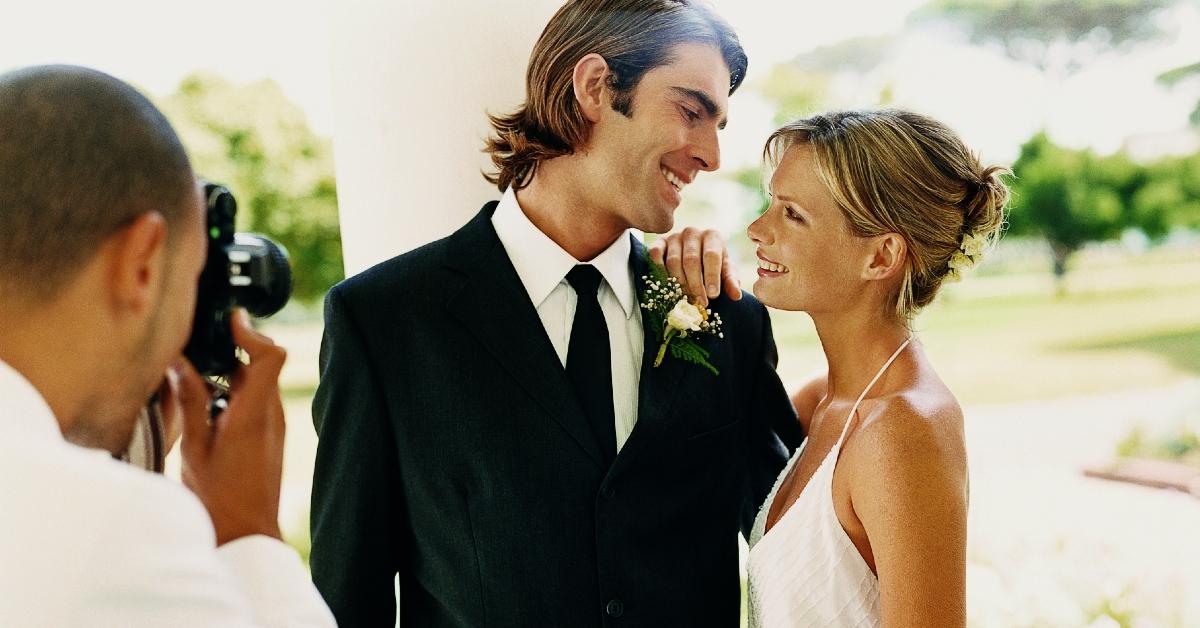 Wedding Photographer Says Karen "Ruined" Couple's Perfect Shot and It Sparked Debate on TikTok
There are some photographers who spend years nailing the perfect shot, like wildlife photographer Alan McFayden who wanted to capture this stunning image of a Kingfisher diving into a pool of water. The bird's reflection is mirrored in the lake and it culminated in one of the most memorable wildlife pictures ever taken.
Article continues below advertisement
But that's nature photography and animals don't necessarily play by the same rules as humans do. It's not like a kingfisher or lion is going to stop and pose for you (unless it's been trained or is cool enough with humans to do so). When it comes to people you can generally direct them to do certain poses/actions to better help you snap a gorgeous shot.
This is what TikToker @duminciucbogdanfilms was attempting to do with a couple's wedding pictures in Corfu. As chance would have it, there was a plane flying above their heads, and the photographer wanted to take a picture of them kissing right when the aircraft was in the frame. Everything was perfect until a woman walking her dog ambled into the shot.
Article continues below advertisement
He uploaded footage of the unfortunate interjection in a now-viral TikTok. In the clip, the woman can be seen looking behind he after she was already ahead of the lens and she attempts to correct her gait, but by then it's already too late. The moment has passed and you can hear the photographer saying, "Oh come on, come on."
Article continues below advertisement

The TikToker writes in a text overlay for the video: "I was trying to get a shot with the couple and the airplane and Karen here decided to ruin our shot."
Article continues below advertisement

Several TikTokers chimed in with random folks ruining pivotal photographs of their own.
"1 time my dad officiated a ceremony, a random woman out of nowhere decided to just walked past the couple and audience while they were saying vows"
Article continues below advertisement

Others said that they try to always be cognizant of people trying to take photographs especially if it's for an occasion like a wedding or engagement photos: "I NEVER bother people if I see wedding photos being done I will stay away even if I want to go that way. Let them have their moment"
Article continues below advertisement

Many others mentioned that it was rude of the woman to not notice the couple and see the photographer with a large lens camera, not to mention a woman in a bridal gown and a man in a suit, getting their picture snapped.
Article continues below advertisement

However, there were some TikTokers who defended the woman, saying that it's unknown how long she was waiting there; she could've been standing behind them and decided they were taking too long and just happened to walk by when the plane was overhead.
Article continues below advertisement

Others wanted to know why the photographer wanted an Easy Jet plane in a wedding photograph anyway, which would be tantamount to wanting to kiss under a Spirit Airlines flight here in the US.
Article continues below advertisement

And then there were TikTok users who said that the photographer doesn't own the walkway and the woman had every right to walk into the shot.
What do you think? Was this woman in the wrong? Or is the photographer expecting too much out of a stranger?