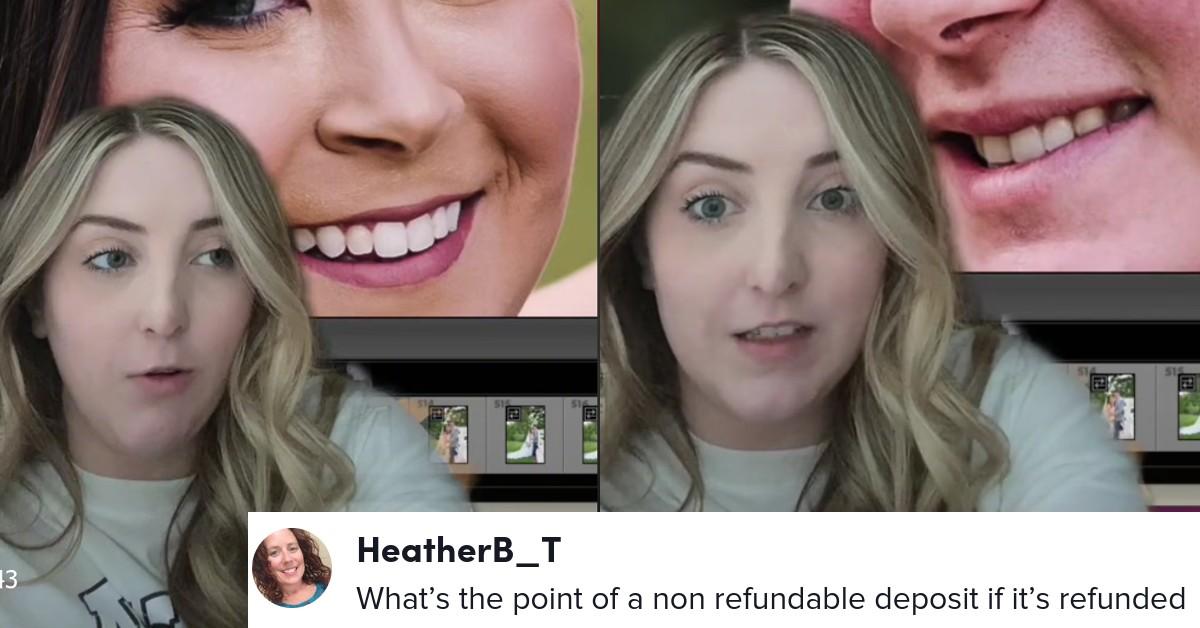 TikTokers Back Wedding Photographer Who Canceled on Bride the Night Before the Ceremony
It's no secret that planning a wedding is a ridiculously stressful undertaking for a lot of people. Folks spend months and tens of thousands of dollars to make sure that their special day is as "special" as it can possibly be, juggling tons of different planning protocols. You've got the venue, the food, and drink, the dresses and outfits, coordinating travel to the venue, booking hotel rooms in some instances, the entertainment/music, the centerpiece design, a ton of other stuff, and of course the photographer to document it all.
Article continues below advertisement
People want to remember this special day and look back at it fondly, or at least have a bunch of great pictures to share on social media of it; even if their marriage is a bust.
And when it comes to wedding photography, there are some people who take their work a little more seriously than others as they want to ensure that their client is as happy as possible with their results.
And that requires communication, not just from the photographer, but client themselves, which is what TikToker Shayla Herrington requires of everyone who retains her services. In a viral TikTok she delineated her application process and how she made the difficult decision to cancel on a bride the night before her wedding day.
Article continues below advertisement
In her TikTok, Shayla says that she was first contacted by the bride around two to three weeks before her wedding day. The woman didn't have a venue situated yet, but gladly paid Shayla's deposit and signed the contract agreement. As part of working with Shayla she has a questionnaire that she sends out to clients she expects them to fill out so she knows what she's getting into on the wedding day.
Article continues below advertisement
The trouble is, the client never reached out to her with the questionnaire and as the weeks passed by and she kept trying to get in contact with the woman, Shayla started getting antsy. Newsweek spoke with Shayla regarding the incident. The photographer wrote in an email: "I booked her and sent her the questionnaire right after our first—and only—phone conversation."

Article continues below advertisement
She continued, "She understood I needed it within that week so I could properly do my job and know where I needed to be and what time I needed to be there."
Shayla said that typically her clients will fill out the questionnaire and then get back to her regarding the time and place of the wedding, but right up until the night before the wedding, Shayla had no idea where she was going or what time she was supposed to be at the ceremony and the reception.

Article continues below advertisement
Prior to that, Shayla tried texting and calling the bride several times, even sending her a $5 Starbucks gift card along with a reminder to complete the questionnaire. "It had been another three or four days, and I was getting a little concerned. At this point, I had no address, I had no idea where I was going."

Article continues below advertisement
"It felt like the bride was standing me up, but she paid her deposit," so at around 8 pm-9 pm on the night before the day the wedding was supposed to take place, she reached out to the bride to inform her that she violated the terms of their agreement and that she wouldn't be her wedding photographer.

Article continues below advertisement
The bride reached out to Shayla on the day of her wedding to tell her that it was "the most unprofessional thing [she's] ever witnessed."
The bride then went and penned a negative review on Facebook on Shayla's business, and Shayla gave back the deposit, even though her contract with the client stated that she was entitled to the money.

Article continues below advertisement
"I waited until 8 or 9 pm at night for a response from either the planner or the bride. I actually had multiple clauses in my contract that protected me in this situation. It was clearly defined that my questionnaire needed to be completed before the wedding so I can do my best work."

TikTokers supported Shayla in the comments section stating that the blame rested entirely on the bride's shoulders. Others applauded Shayla's protocol and professionalism with many stating that she shouldn't have given the woman her deposit back.