A Bride Removed Her Sister-in-Law from Wedding Photos Because She Was "Too Dark"
A bride is being blasted online for reportedly requesting that her sister in law be removed from wedding photos because of her complexion.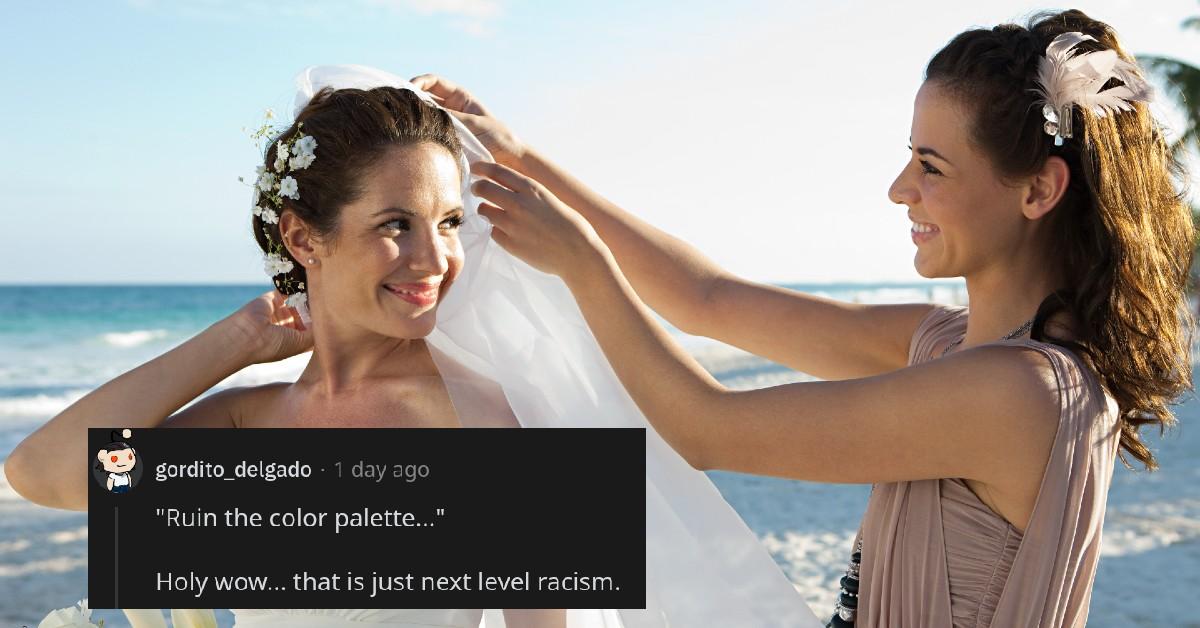 It's no secret that folks get kind of crazy when it comes to planning their weddings, heck, there's an entire show literally called Bridezillas that delves into some of the craziness folks endure when planning a wedding. Maybe that has more to do with the fact that people don't really love the person they're marrying that much and care more about whether or not they're getting screwed on the table centerpieces.
Article continues below advertisement
Whatever the reason, folks usually drop a fat stack of cash on their special day; according to a 2021 study from Nerd Wallet, the average American wedding in 2021 cost a whopping $28,000. So it's understandable why people would obsess over everything going perfectly — they are dropping big bucks on it after all.
However, a recent Reddit post from a woman highlights an instance where a bride fulfilling their picturesque vision for a wedding transitions from pedantic and controlling to offensive and as many commenters who responded to the blog said, "racist."
Article continues below advertisement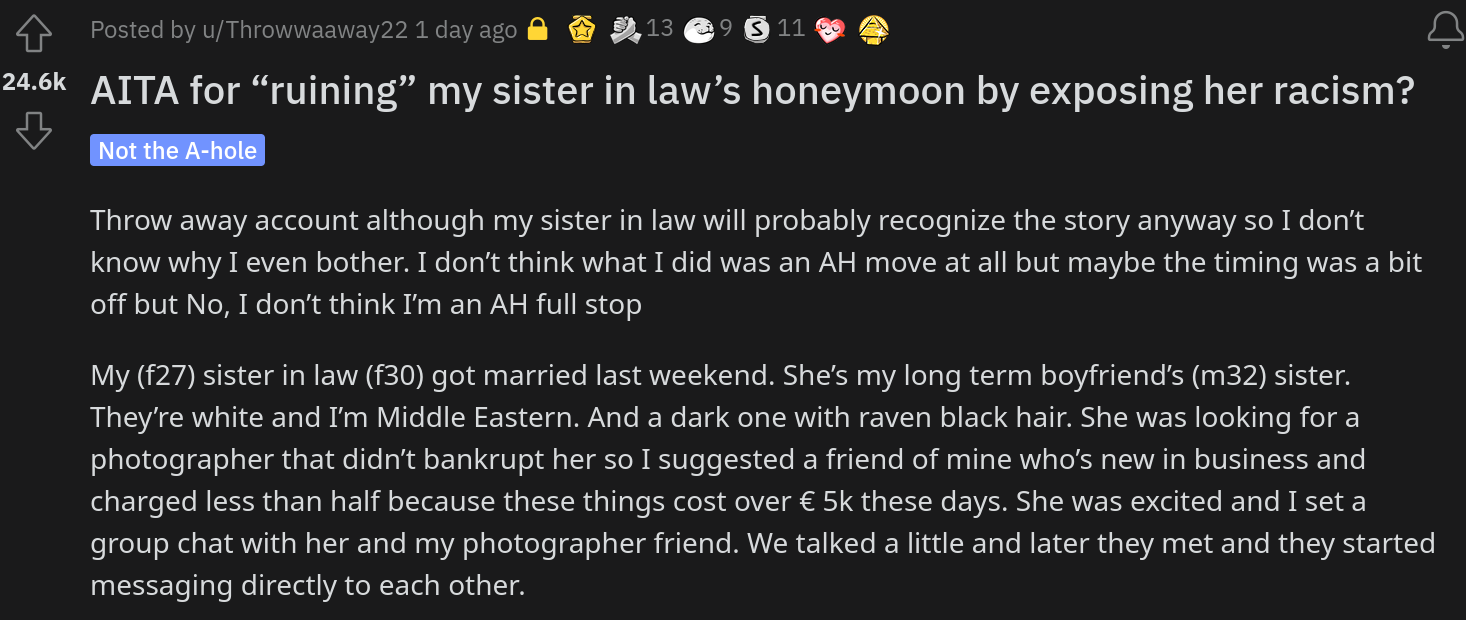 Posted by an anonymous user under the handle @Throwwaaway22 in the popular "Am I the a**hole" subreddit, a 27-year-old Middle Eastern woman claims that her sister-in-law asked to have her removed from her wedding photos because her complexion was too dark for her liking and it ruined the color scheme of the look she was going for.
Article continues below advertisement

She writes in the post: "My (f27) sister-in-law (f30) got married last weekend. She's my long-term boyfriend's (m32) sister. They're white and I'm Middle Eastern. And a dark one with raven black hair. She was looking for a photographer that didn't bankrupt her so I suggested a friend of mine who's new in business and charged less than half because these things cost over € 5k these days."
Article continues below advertisement
"She was excited and I set a group chat with her and my photographer friend. We talked a little and later they met and they started messaging directly to each other."
The Redditor continued, "The wedding was amazing and everything went smoothly. I was one of the guests and she seemed happy. The next day they went off to their honeymoon. I don't know if it was by mistake but instead of texting the photographer directly like she's done for the past few months she texted him to our old iMessage chat."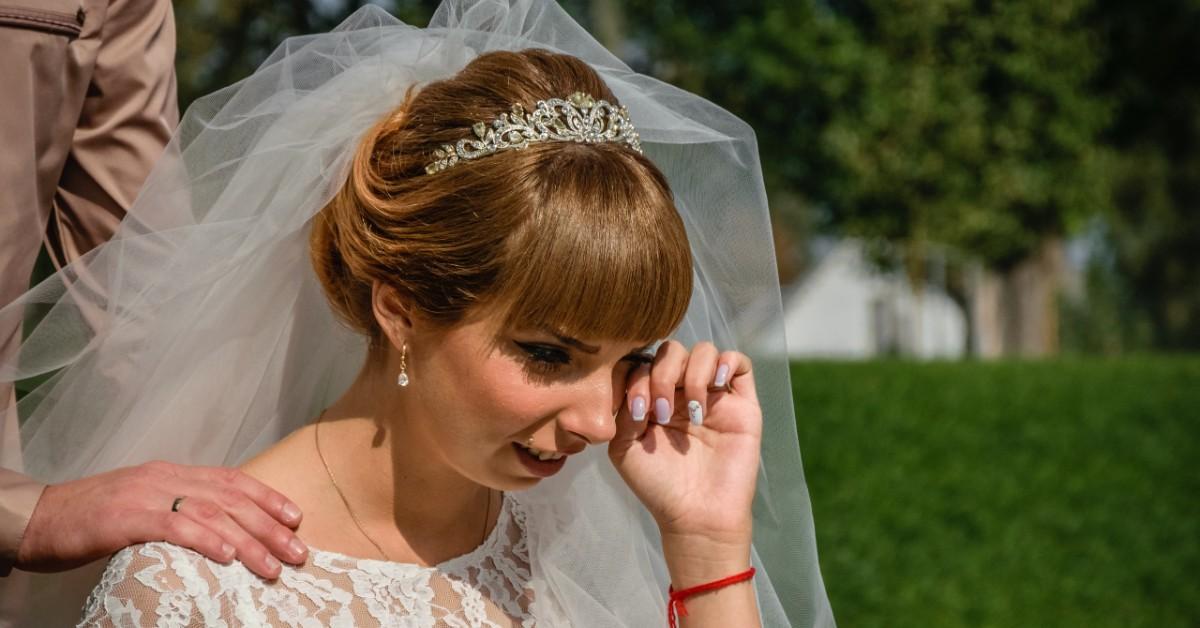 Article continues below advertisement
It's this little bit of information that's really important because the Redditor's SIL texted them in their old iMessage group chat, she presumably didn't know that she was "in" on their convo.
"She thanked him but had a favor to ask him and wondered whether he could retouch some asymmetry in the (flowers archway? I'm sorry I don't know the right terms in English) but also if he could take me off some photos because I'm too dark and ruined the color palette. Not all pictures. Just the ones she's in."
Article continues below advertisement
The Redditor was understandably angry and decided to call out her sister-in-law in the chat, but didn't receive a response. So she screenshot the conversation and then posted it to her Instagram story, which then prompted her SIL to call her brother (the Redditor's BF) crying about the situation, saying that her honeymoon was ruined as a result.
"I texted back are you kidding me?
She didn't answer. I took a screenshot and posted it on my insta story tagging her in it. She called my bf crying her eyes out calling me an ah for embarrassing her and ruining her honeymoon. Bf thought it was a low blow."
Article continues below advertisement

"I was blinded with rage when I did it but even now I'm calm I still don't feel that I was an AH. But people have been contacting her apparently asking if she really wrote this. She's so beautiful and successful so please don't blame it on jealousy or scare of being outshined."
Article continues below advertisement
In follow-up edits, she also added that she had a conversation with her boyfriend about it and discovered that this wasn't the first time she'd been cut from family photos due to her complexion. Apparently, during her boyfriend's uncle's 60th birthday party, she was also intentionally removed from pictures.

Article continues below advertisement
She also gave her boyfriend an ultimatum saying that she didn't want either his sister or uncle involved in her life again, and even extended that to his mother if she still expects her to apologize for sharing the text screenshot on her Instagram story.

Article continues below advertisement
Tons of Redditors said she wasn't in the wrong for posting the comment. Some said it's not a bad time to "embarrass a racist." Others said that if people don't want to be called out for being racist, they just shouldn't be racist. Others thought her BF was an "a**hole" for not chastising his sister and uncle for what went down with the photos either.

Others suggested she walk out on her boyfriend for not standing up to his sister for what happened.
What do you think? Is the boyfriend caught between a rock and a hard place? Or is it not so easy to cut off racist family members?