Woman Says Professors Told Her to "Budget Better" Because She Couldn't Live on $350 a Week
A Grad student who quit her Masters program shared purported responses from faculty members after she expressed her financial woes.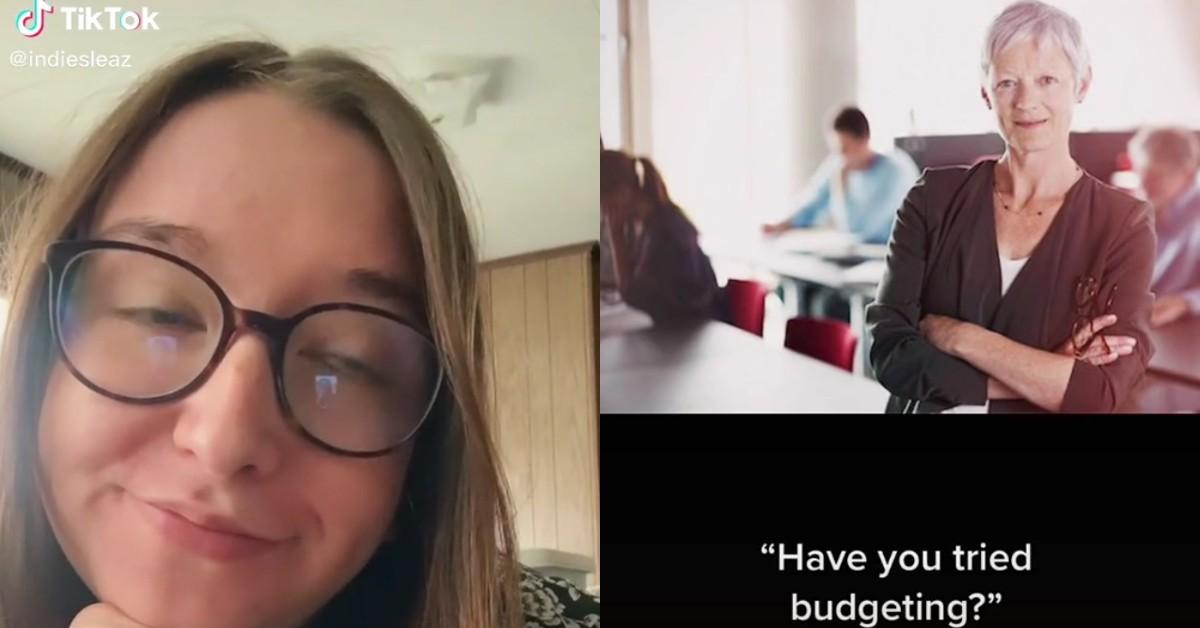 Article continues below advertisement
So many folks like TikToker @indiesleaz are forced with a difficult decision: take out personal loans on top of whatever they already may be paying for school in order to continue their studies, find some other way to make money in order to continue going to school, or, stop going to school.
She opted for the latter decision and went viral for posting some of the purported responses faculty from her program gave her when she expressed she could no longer afford grad school.
Article continues below advertisement
She begins the video by looking into the camera with a text overlay beneath that reads: "I need to leave the master's program because I can't afford to live on $350/wk anymore."
Article continues below advertisement

She listed the responses in text overlays along with stock images of professors. One says: "Oh your parents aren't paying for it?" Another, "Have you tried budgeting?" The third and final comment: "It sounds like you're just not mature enough for grad school."
Article continues below advertisement

Other TikTokers in the comments section shared their own experiences with telling financial woes to teachers:
"I had one teacher tell me i had to eat rice and beans. which besides sounding racially motivated, just made me confused"
Article continues below advertisement

Some couldn't believe the responses and highlighted just how out of touch some of their comments are.
"Buy a car? Move? On $350 a week? Are you KIDDING?"
"Ok but seriously what is up with this? How is it that faculty have convinced themselves that grad students are teenagers living at home w/ parents"
Article continues below advertisement

Then there were commenters who highlighted how privileged some of their responses were and that this is an inherent problem with academia in general:
"yeah and those boomers get discounts now so they can attend basically free even in 2022"
"Academia was always for the rich though, many fields that don't pay well because they don't need to"
Article continues below advertisement

"FR!!! I had to switch programs because my last one expected me to do a YEAR of unpaid internships"
"You always hear stuff like that from people who have never been in that situation"
"Had a professor tell me to just follow the science and money will come… I followed the money instead and quit the program lol"
Article continues below advertisement

"Boomers loose it when I tell them I dropped out of college but still work for the state."
"My friends always joked about how people who are real adults have a harder time in grad school."