Remote Worker Says Manager "Spied" on Her by Accessing Webcam, Locking Computer When She Was Away From Desk
A TikToker who works remotely alleged that their manager accessed their computer's web camera while they were away from their desk.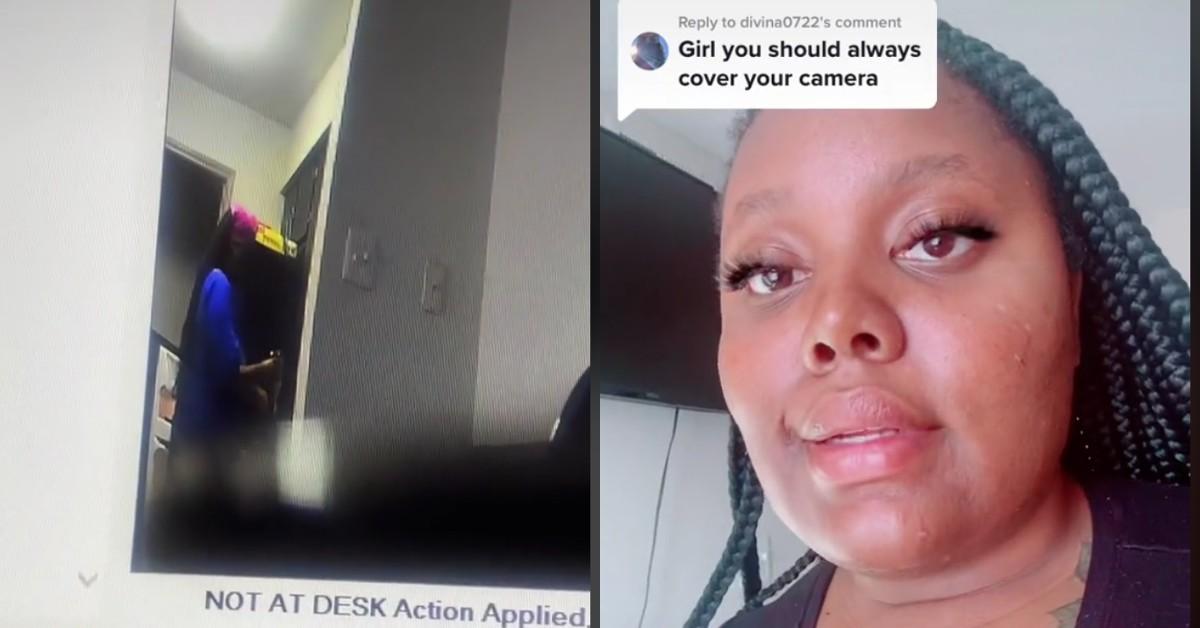 After the onset of the COVID-19 pandemic, many industries were forced to allow their employees to work from home, a practice that has persisted in tons of companies even after stay-at-home and social distancing regulations were lifted. While there are some big tech leaders who are ultimately opposed to working from home unless absolutely necessary, there are plenty of studies that suggest remote work can have positive impacts on a business's bottom line.
Article continues below advertisement
But with any business, there are going to be supervisors who micro-manage employees and want to make sure they're utilizing as much of their paid time as possible. And one TikToker said that their manager went to some alarming lengths in order to do just that.
User @michaejay22 says that she was locked out of her computer after someone at the company accessed her camera and snapped a photo of her in her kitchen.
Article continues below advertisement
The viral TikTok begins with her saying, "These people done locked my computer." She records her computer screen which shows a photo of her standing in her kitchen behind an empty office chair.
Article continues below advertisement

The computer screen reads: "NOT AT DESK Action Applied. Please get approval from Supervisor to retry."
A blue "Login - Retry" text box is beneath the message. "Bro this is why they don't want us working from home cause look at this," she says as she laughs.
Article continues below advertisement
@michaejay22 says she was cooking in the kitchen when they locked her out. Some TikTokers suggested that she cover her camera while she was working, but the TikToker uploaded a second clip where she explained that this wasn't an option.
Article continues below advertisement
She states in the follow-up video that the web camera is utilized by the company in order to snap photos of employees "throughout the day" to ensure that they're seated at their desk during designated work hours. She goes on to delineate the grounds for a computer being locked: being seen using a mobile device, having someone else in the room with you, and of course, being away from your desk area.
Article continues below advertisement

She said that when she got up from her desk she "forgot to lock [her] screen" and that's when her supervisor snapped a photo of her, which is what caused her account to be locked. Michae then said it took her another 45 minutes to get back to work and that many of her other co-workers have encountered the same issue with management.
Article continues below advertisement

In yet another video she said that an HR representative from the company she works for fired her for the TikToks that she posted but was then asked to join a Zoom meeting where three bosses at her company explained that she wasn't fired but "suspended until further notice" until after they could conduct a thorough investigation on the videos she posted online.
Article continues below advertisement

The TikToker also clarified that she doesn't work "for Klarna directly" in other follow-up videos documenting the drama, and responded to another user on the platform who suggested she may have violated the company's social media guidelines by posting an image, which counts as internal documentation, online.
Article continues below advertisement

She stated that while she understands where the user is coming from that she doesn't "even care about the situation anymore."
Many TikTokers blasted the company for creating a "toxic" work environment and for spying on its employees, stating that they will probably have a high turnover rate as a result.