Woman Shares "Worst Job Rejection Letter Ever" and We Can't Stop Cringing at How Bad It Is
TikTok user Tamsyn Fox shared a rejection letter they said threw them into a "rage" and other users in the platform are equally confounded.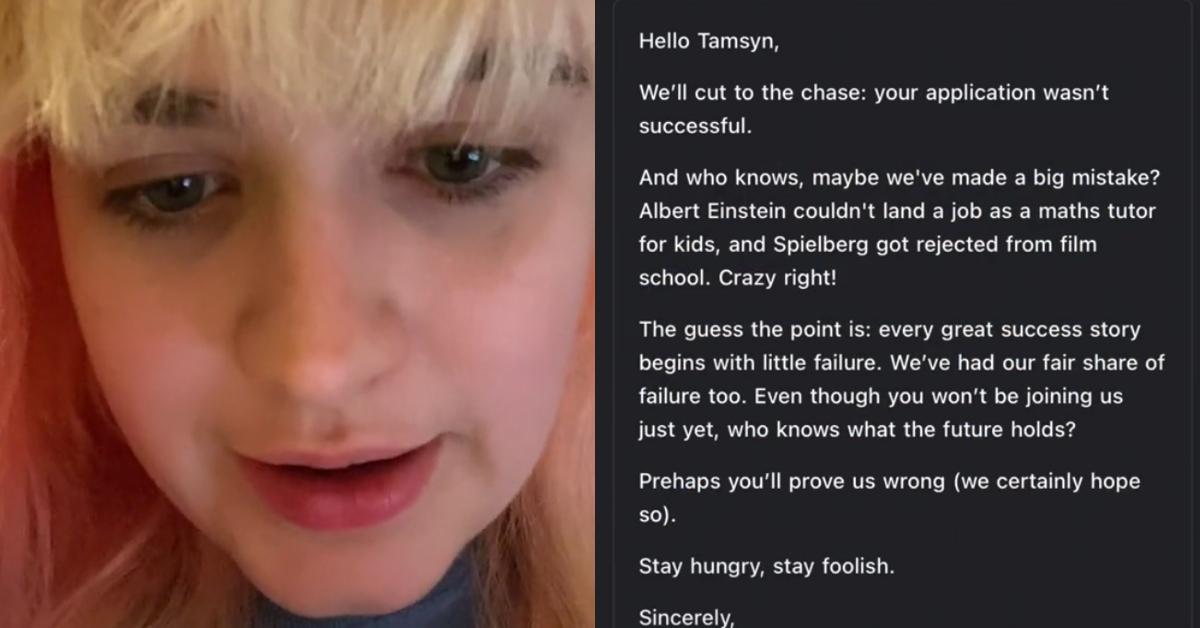 When you've got your heart set on a specific job, it can be a huge letdown when you never hear back from your potential employer. Sometimes, it's even worse to receive a form rejection letter, because you can at least console yourself with the fact that maybe whoever it was at HR didn't see your application in the first place.
Article continues below advertisement
But to head into an interview and eagerly await that email confirming that you've been selected for the position, only to be told in so many uninspired words that your qualifications don't match the company's needs, can be a difficult pill to swallow.
For TikToker Tamsyn Fox, however, it was the phrasing of the letter they received that left them more confounded than disappointed.
The 21-year-old had applied for a sound design position at a company that makes games. The Sussex, England native didn't get the job, which is a bummer in of itself, only made worse by the "patronizing" letter from the company they said was sent to them. In the clip, Tamsyn reads the notice aloud.
Article continues below advertisement
"Hello this is a dramatic reading of the worst job rejection letter I've ever received," Tamsyn says at the onset of the video.
"We'll cut to the chase: your application wasn't successful. And who knows, maybe we've made a big mistake? Albert Einstein couldn't land a job as a maths tutor for kids, and Spielberg got rejected from film school. Crazy right?"
Article continues below advertisement

Tamsyn went on to mock the letter in the now-viral TikTok: "The guess the point is: every great success story begins with little failure. We've had our fair share of failure too. Even though you won't be joining us just yet, who knows what the future holds?
Perhaps you'll prove us wrong (we certainly hope so).
Stay hungry, stay foolish.
Sincerely," and the rest of the letter cuts out.
Article continues below advertisement

Some TikTokers said that Tamsyn definitely dodged a bullet working for the company to issue a letter that was rife with not just apparent spelling errors, but a "condescending" attitude. Many didn't appreciate the "pick yourself up by your bootstraps faux positivity" message of the email. Others said that they would've rather not received a notice at all.
Article continues below advertisement

"I think I'd prefer just no answer oh my god"
"I would live laugh love my way out of their application"
"We're not like other companies, we're fun"
"why have they so many spelling and grammar mistakes"
Article continues below advertisement

Then there were TikTokers who shared their own stories of workplace rejection, like one commenter who remarked that they received a notice from a coffee shop they applied to which sent them a 6-month-anniversary of rejection email.
"this is more patronising than an email i got from a coffee shop company that basically said 'it's the 6 month anniversary of us rejecting you.'"
Article continues below advertisement

There were others who thought that the email carried big "elder millennial" energy, or as Tamsyn puts it, the kind that rocks "a pair of skinny jeans."
"why does it feel like an elder millennial wrote this"
"LITERALLY I FEEL LIKE A PAIR OF SKINNY JEANS WROTE THIS"
Article continues below advertisement

Folks asked Tamsyn for the name of the company, which the TikToker was reluctant to share as they didn't "wanna get sued tho."