Woman Slams "Pressure" to Tip for Everything, Sparking Debate on Tipping Culture
A TikToker said that they refuse to tip on "iPad" style point of sale systems, starting a viral debate.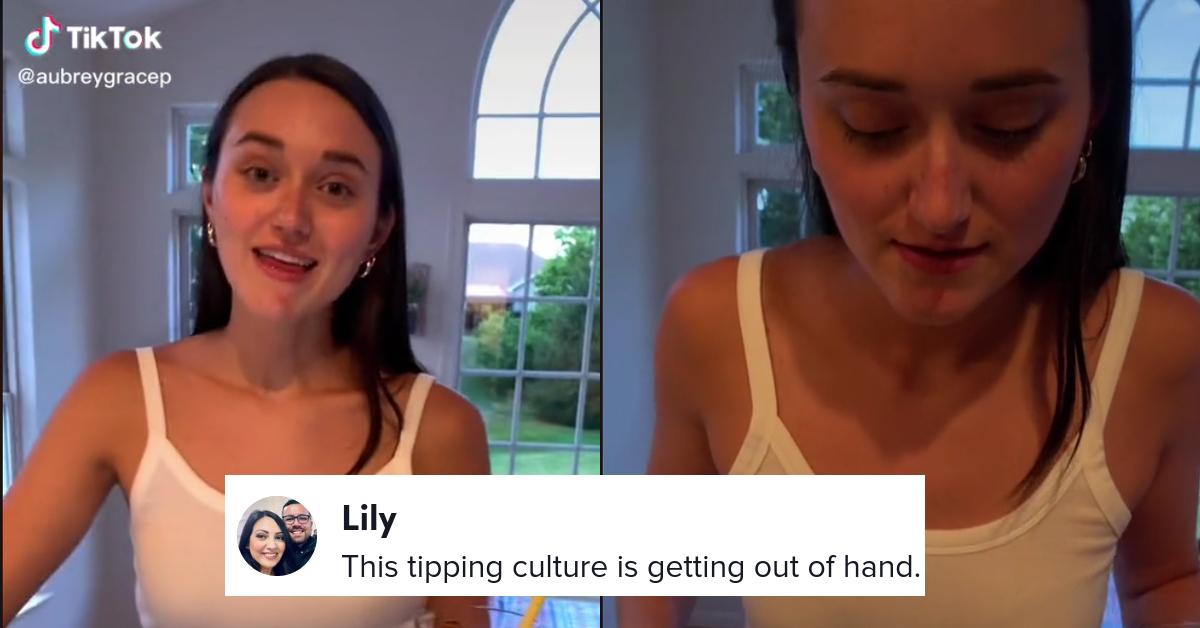 A lot of hate has been directed recently at touch-screen style point of sale systems and the tipping options that they present to customers. It seems that the biggest gripe folks have with these systems is that tips are being silently encouraged in situations or for purchases where folks normally wouldn't feel the pressure to offer up gratuity.
Article continues below advertisement
The general idea is yes: if you've got some spare change or maybe a dollar you'll toss it into the tip jar of a barista who made your drink at a coffee shop, or if you're picking up a bagel/boba tea. However, offering 25-30% tip options on these touchscreen POS systems isn't sitting right with many folks, and has been the subject of a few online debates.
Like the one presented by TikToker Aubrey Grace who posts under the handle @aubreygracep on the popular social media app. In a now-viral clip, she re-enacts a transaction from the point-of-view of a customer, who sees their barista swirling an iPad around which presents an option asking if she wants to tip.
Article continues below advertisement
"The iced chai will be $6.49. Insert your card and it will ask you just a few little questions," the cashier in the bit asks.
The customer then sees the options presented to them and it encapsulates that mini-debate most folks have in their minds whenever that tip option rears its head. A text overlay reads: "the pressure to tip" while a caption on the clip states: "The awkward moment when they can see what you're tipping."
Article continues below advertisement

The "cashier" then looks over the iPad at where the customer's finger is hovering. They begin at "no tip" but then begin placing their finger over the different options, asking if they'd like to tip 15%, 20%, or 25% of the $6.49 latte. The picture must either be a screengrab Aubrey loaded up on an iPad, or an added joke because the percentages are way off.
Article continues below advertisement

TikTokers who saw the clip had a litany of different reactions. Many agreed that "tipping culture is getting out of hand" and that they shouldn't be pressured into tipping when they aren't receiving any type of table service for an item that they're picking up themselves.
Article continues below advertisement

Others remarked that tipping at self-serve frozen yogurt spots befuddles them, as they're pouring and crafting their own cups of froyo, yet are presented with an option to leave gratuity.
Article continues below advertisement

Others said that they don't feel pressured to tip at all, but there were some who said that because baristas are still underpaid that many of them rely on tips in order to make a living wage.
Article continues below advertisement

"The sucky thing is, companies should be paying there employees more. Instead baristas have to rely on tips to earn a living wage. So yes, please tip"
"Like no, I'm not tipping on a $6 drink when you didn't even say hello"
"When I'm on register I simply look away cus I don't wanna pressure ppl lmao"
"what's wrong with tipping the people who are making your iced coffees everyday"
"it was asking for tip at a literal self check out at the airport"
"nah cus i be SMASHING that no tip button and staring then right in the eye cus unless they r a server im not tipping u"
Article continues below advertisement

What do you think? Is tipping culture getting out of hand? Do you not mind tipping baristas and coffee shop workers even though they aren't serving you to the extent that a waiter or waitress is?