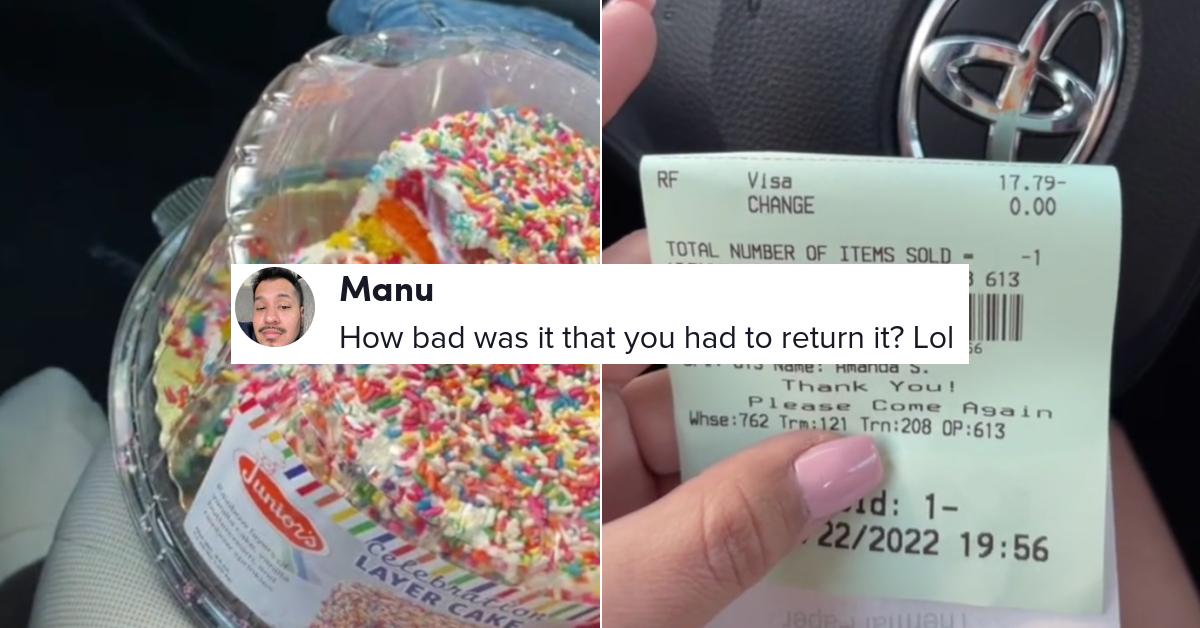 TikToker Blasted for Returning Costco Cake Simply Because They Didn't Like How It Tasted
There are some stores that have generous return policies, like Nordstrom (which could be why the retailer is shutting down so many locations) and Bath & Body Works, which will allow customers to return any products that they like no matter what the reason is. Athleta is another retailer, and of course, the crown jewel of American retail consumerism: Costco.
Article continues below advertisement
The members-only, bulk-product, ridiculously-underpriced-food-court-extravaganza that is Costco offers up an unheard-of 100% satisfaction guarantee and will gladly refund the full price of any product that a customer purchases. There are some big-ticket tech items that have 90-day return limits, and when it comes to the bling that some locations offer, those carry special return policies too.
However, a variety of food items, even if Costco isn't responsible for making them, will purportedly be refunded by the retailer if you eat it and decide you don't like it.
The question is though: do you think it's OK to do that, i.e. putting the onus of whether or not you want to try a food product, take a bite, decide it's not for you, and get your money back?
Well, that's the moral question posed by a now-viral TikTok from the @generationalchange account.
Article continues below advertisement
In it, the uploader shows video footage of a white-frosted rainbow cake that's decked out in what looks like an avalanche of sprinkles. It's the kind of cake that a child describes to you and makes for an amazing Instagram photo in some kind of decadent food-challenge-but-there's-no-way-anyone-actually-eats-that-thing sort of way.
Article continues below advertisement
But some Costco stores are offering it, apparently and the TIkToker who purchased it obviously thought it looked a heck of a lot better than it actually tastes, because they were so upset with its flavor, they decided to go to the retail location that they purchased it at and get themselves a refund.
Their reason? It was "disgusting."

Article continues below advertisement
The clip begins with the camera focused on the cake, a text overlay reads: "Costco refund." The TikToker says off-camera: "So I'm on my way to return this disgusting cake that I got at Costco."
She shows off the packaging, which reveals it's Junior's brand Celebration Layer Cake, only adding further fuel to detractors' claims of the company that their items are "overrated."
Apparently the cake is the latest collaboration between Costco and Junior's, and is one of a few team-ups the retailer has had with the Brooklyn-originated food brand. Others who've had the cake remarked that the icing was "terrible" and Hunker even recommends having a backup dessert just in case you're planning on getting one of these for a party.
Article continues below advertisement

The TikToker continues in her post: "To be honest, I'm a bit embarrassed, because I don't ever return grocery products. This is my first time. But shoot, for $17.79, you best believe I'm dragging my ass over to Costco and asking for a refund."
Article continues below advertisement
The woman then shows up at the Costco return counter and she's greeted by an employee over there. The TikToker informs the employee that she's there to return the item. She's summarily asked: "what's wrong with it?" to which OP says, "it's not good at all."

Article continues below advertisement
The employee says, "No? OK let me see your Costco card." The video then cuts to the TikToker showing off her receipt indicating that her money was indeed credited back to her.
Several TikTokers remarked that this was generally an uncool thing for the TikToker to do, saying that she should've just chalked it up as a loss trying out a new food product and go about her day.

Article continues below advertisement
"People who say they never return things are the first ones to return them lmao"
"Nah I still wouldn't do this just take your L and leave it alone"
"Hell no, I would never. I could understand if it was spoiled but just because you don't like the taste, nah"
"omg noooooo I could never ..for that reason??? yeah no you should be embarrassed..so many things I don't like but oh well just don't buy again"
Others told the woman that she had nothing to be ashamed of and she had every right to return the cake if she wasn't satisfied with it.
"Never be ashamed of that that's some extra money you can save for your family"
"you saved me the cost, I wanted to buy it. glad I didnt!!"
Article continues below advertisement

Some pointed out that the drive to Costco and back with gas prices hitting an all-time national high probably cost more than the $17.79 to return the cake. Then there were some who mentioned that there was an entire piece missing and that if she was the type of person to return a cake because they didn't like the taste, that they were probably a "serial returner."
Article continues below advertisement

What do you think? Have you ever returned an item to the grocery store knowing it's just going to get thrown in the trash simply because you didn't like the taste? Do you think that doing so makes someone spoiled? Or is there nothing wrong with utilizing Costco's 100% satisfaction guarantee?