Wife's Grocery Store Text to Husband Starts as Joke, Snowballs into Huge Debate
A wife's text to her husband about romaine lettuce while he was shopping for groceries ended up starting a huge Twitter debate.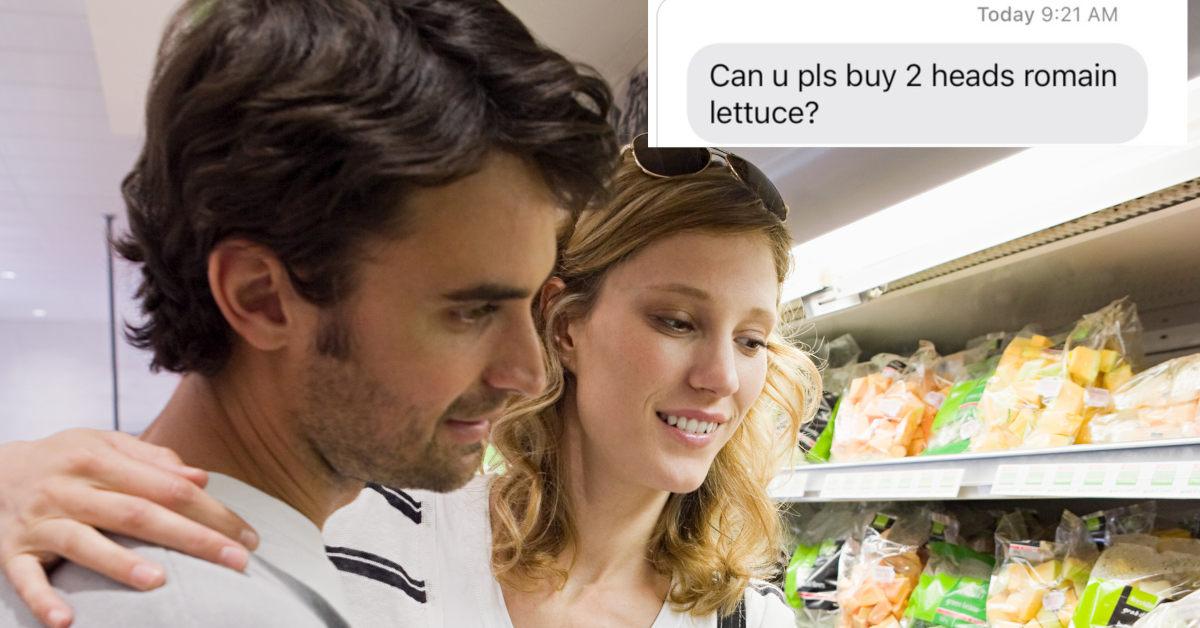 One husband's text message instructions from his wife that she sent while he was grocery shopping culminated in a variety of mixed reactions from folks on Twitter. Some thought it was hilarious. Some thought it was insulting. Others saw it as a way of discussing gender inequities when it comes to grocery shopping, taking jabs at men in the process, and the dynamics of shared relationship responsibilities in general.
Article continues below advertisement
And this all resulted from what appears to be a funny little detail shared by the Twitter account @gourmetspud that addresses a sticking point that many couples seem to go through. A Medium piece by Shabaira Junaid, for example, expressed how it "amazes [her] how often they mess up," the "they" in this instance being husbands in general.
In a viral piece covered by The Sun, a woman created a detailed shopping list, complete with pictures and a map of the store indicating where her husband can find said products, that went viral because of just how overkill it was.
And then there was this wife who sent her significant other to the store with a massive piece of cardboard for a grocery list, forcing him to carry it around like a Scarlet Letter, or an Albatross around his neck signaling his grocery purchasing shame.
Article continues below advertisement
For @gourmetspud, he received a picture message of what Romaine Lettuce looks like from his wife, so as if to avoid any confusion and he didn't pick up something like arugula, or iceberg lettuce, or whatever other greens that were spilling out of the produce section.
Article continues below advertisement
His post was retweeted over 7,000 times and received over 233,000 likes, as well as a ton of responses from other people who apparently have dealt with the same exact problem when dealing with their spouses.
Twitter user @bourbon8888 wrote: "Husband HATES Costco. Sent him during Covid with a map & texted pictures of items." They attached to the tweet a photograph of a map of the store clearly delineating where all of the items are located so he can go in and out as efficiently as possible.
Article continues below advertisement
However, there were some who thought that a person's disdain for grocery shopping and inability to go on runs for food in an effective manner was an example of "toddler" like behavior. Like Krystal La'chelle who said: "Y'all have no problem marrying legit toddlers and it worries me. I would be afraid to procreate with someone who can't do a simple task like grocery shopping."
Article continues below advertisement
One man chimed in and admitted that he, too, is not very skilled when it comes to grocery shopping, and that he's fumbled attempts at it so many times that his wife basically gave up and stopped asking him to go entirely.
Article continues below advertisement
One user called this phenomenon "weaponized incompetence" and speculated that many spouses purposely fail at mundane tasks like grocery shopping so they wouldn't be asked to do it, along with other chores.
Article continues below advertisement
But there were some folks who rallied back against those who send others out to do shopping for them, highlighting examples that demonstrate it isn't as easy as it looks to take secondhand information from someone else and expect to deliver in an efficient manner.
Article continues below advertisement
The Shelby Report has published some data that seems to contradict the idea that all husbands are bad at grocery shopping, however: and it's that the percentages of men who've become primary grocery shoppers in their households are increasing. A survey from Men's Health in 2017, according to Grocery Dive said that of the men surveyed, 84% of them said that they bear the brunt of grocery shopping for their families.
Article continues below advertisement
There are some things to consider in this survey, however. This is coming from the perspective of husbands, who, if they're anything like me, will take out the trash two days in a row and start walking around the house like they're the only ones who do chores around there.