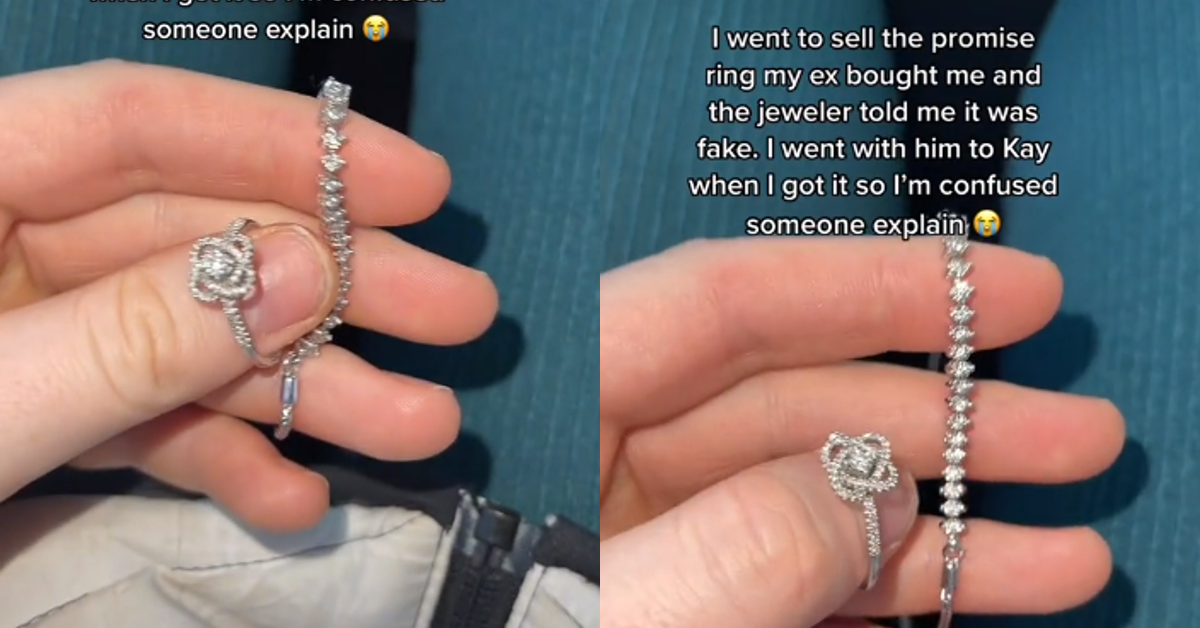 Woman Claims Kay Jewelers Sold Her "Fake" Diamonds in Viral TikTok
Article continues below advertisement
And while there are some people who aren't exactly bowled over at the thought of dropping hundreds or thousands of dollars on pieces of metal attached to stones to wear on their body, there are plenty of folks who feel better about themselves when wearing it. There's also the culture of getting someone a gift to mark a momentous occasion — like when you're celebrating an anniversary, a birthday, or getting married.
Engagement rings are a big, big deal for many folks who want to make sure that they get the "perfect" piece they want to wear as a symbol of their love for that other person. Although there's an argument to be made that there are tons of people who probably think more about the ring than the person they're marrying, there are those who put a serious amount of emotional stock in their "relationship jewelry" so much so that they'll even go with their significant other to pick out the piece.
Article continues below advertisement
Like TikToker @justpearlythings who received a promise ring from their ex at Kay jewelers. Things didn't pan out between them and their former significant other, so when they went to a jeweler to sell the ring, they were shocked to learn that the ring was fake.
Article continues below advertisement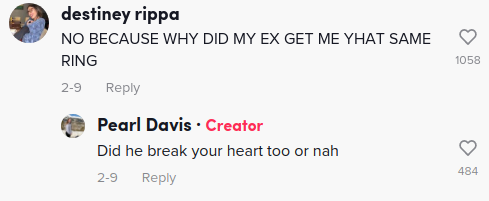 At least that's what the jeweler told them, which left them in a bind: either the jeweler was attempting to "scam" them by saying that the item wasn't genuine, or Kay jewelers sold them a "fugazi."
Article continues below advertisement

This sparked a debate in the comments section. Kay responded to the TikToker's post, asking them to speak about it further via DM. Some who stated they worked at the retailer surmised the size of the diamonds could've been an issue when it came to analyzing the stones, but there were other TikTok users claiming that the popular retailer, Kay, was accused of passing off fake stones as real.
Article continues below advertisement

There have been stories in the past of Kay selling either low-quality or fake diamonds as real ones. In fact, there were several online movements calling for consumers to boycott the brand for the alleged practice.
Article continues below advertisement

Petra Gems didn't mince words when it came to their review of Kay jewelers: "Summarizing a review of Kay Jewelers in one sentence is not difficult: you should not purchase a diamond or engagement ring from them. It might seem slightly hard on the company, but one does not have many options since its benefits are far from enough. Besides, purchasing an engagement ring from this jewelry store always implies spending a premium, often for a low-quality ring."
Article continues below advertisement

When it comes to the luxury item business as a whole, however, it's understood that what is being sold isn't necessarily quality, but the perception of quality, along with prestige, elegance, status, and everything else that comes along with it.
Article continues below advertisement

Jewels Advisor has said that Kay's CEO claims the company sells "high-quality gems at an affordable price," but in the same piece mentions that the business has routinely been accused of shilling fake diamonds, but the blog says this isn't the case.
Have you ever purchased something from Kay and had it assessed by a third party only to find out it was a fugazi? Or are you satisfied with your purchase, and these social media posts are just corporate slander?