Khloé Kardashian Is Getting Dragged For Calling Jordyn Woods "Fat"
During the finale of 'Keeping Up With the Kardashians,' Khloé called Jordyn Woods fat and she is being dragged by fans for fat-shaming the model..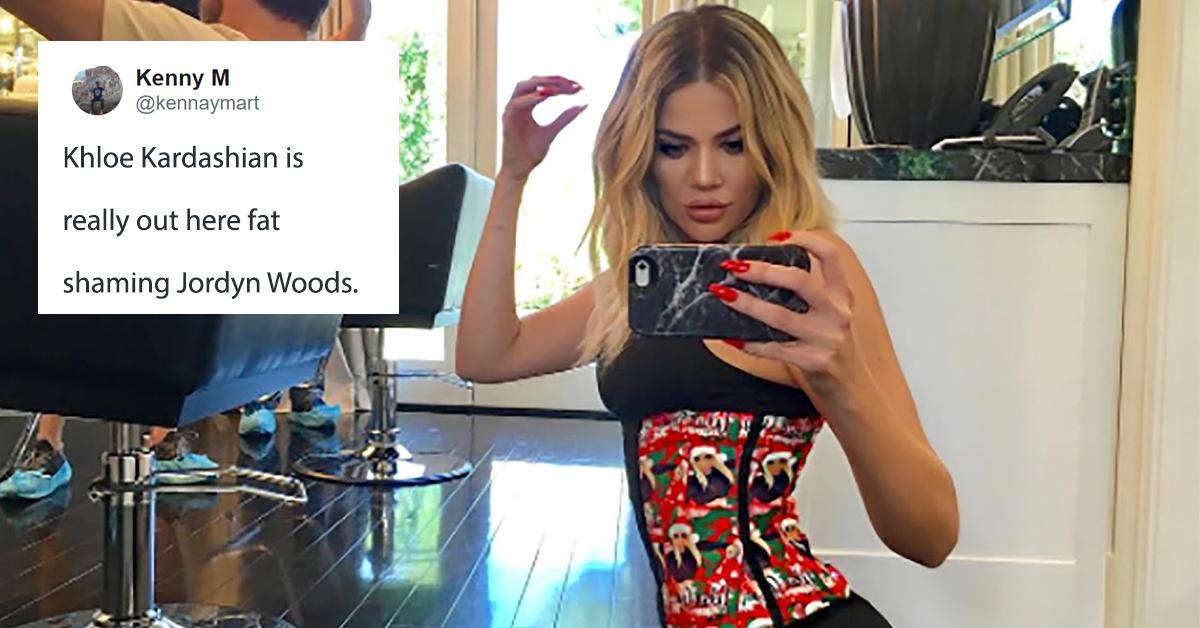 During the Keeping Up With the Kardashians Season 16 finale, Khloé Kardashian discovered that Tristan Thompson had just cheated on her with close family friend Jordyn Woods. But Khloé's response to the discovery has also left some fans upset.
Article continues below advertisement
In the episode, Khloé can be seen having some drinks and then talking to one of Tristan's friends on the phone. The friend says that Tristan was denying that anything had happened with Jordyn, to which Khloé screamed:
"Liar! Liar! Tristan, f--k you if you can hear me! They both admitted it to me. Both of them. Those both fat f--king a--holes. Don't f--king lie to me though about lying though. Don't f--king say that you didn't do something that you f--king did when you both f--king told me that you kissed, b---hes!"
Unsurprisingly, Twitter wasn't too happy with Khloé calling Jordyn "fat."
"Can we unstan Khloé Kardashian for fat shaming [Jordyn] Woods," one user asked.
Article continues below advertisement
Another commented: "Khloé calling Jordyn Woods fat and acting like she herself didn't pay thousands of dollars to make sure she never heard someone call her that word again is outttta pocket."
Article continues below advertisement
Another user referenced back to Khloé's own weight loss journey.
Article continues below advertisement
"Khloé kardashian sat up on KUWTK for a whole season crying about her weight and how she looked and now her ass is calling Jordyn Woods fat," another added. "I'm not one to shame for it, but your whole family got work done on their body."
Article continues below advertisement
Is there a video of Tristan Thompson and Jordyn Woods?
Though according to some reports, the fight might well have been for nothing. The Sun claims that Tristan Thompson is trying to get Khloé back with him and even bought a house to prove his commitment. The 28-year-old athlete posted a birthday tribute to Khloé since the incident, and according to some sources, Khloé is indecisive on whether she should take him back.
Article continues below advertisement
"Khloé is totally confused – Tristan has been begging her to get back together, and he posted that long gushing birthday message to her too," a source told The Sun.
"He's been asking her to sit down with him properly, have a heart to heart – but she's refusing."
"She wants to keep things civil for True's sake, but she doesn't want to risk falling for him again and getting her heart broken all over again."
"He's really keen to show her he's changed, though – he's even buying a big 'family' house near Khloé's LA home so he can have True to stay more often, and saying he'd do anything to put things right. Khloé's torn."
Article continues below advertisement
But this isn't the first time Tristan has allegedly cheated on Khloé. In April of last year, the couple briefly split after he was spotted kissing a mystery woman at a Manhattan nightclub. In September of the same year, he was accused of cheating again after leaving a club with a friend and two girls.
The final straw came when he was accused of cheating on her with her sister Kylie's best friend Jordyn Woods in a video by Jason Lee, the CEO of Hollywood Unlocked.
According to Lee, a Hollywood Unlocked contributor was at a party with the two and witnessed Woods sitting in Thompson's lap, the two getting "touchy feely," and staying together overnight. TMZ spoke to several guests who also confirmed what happened.