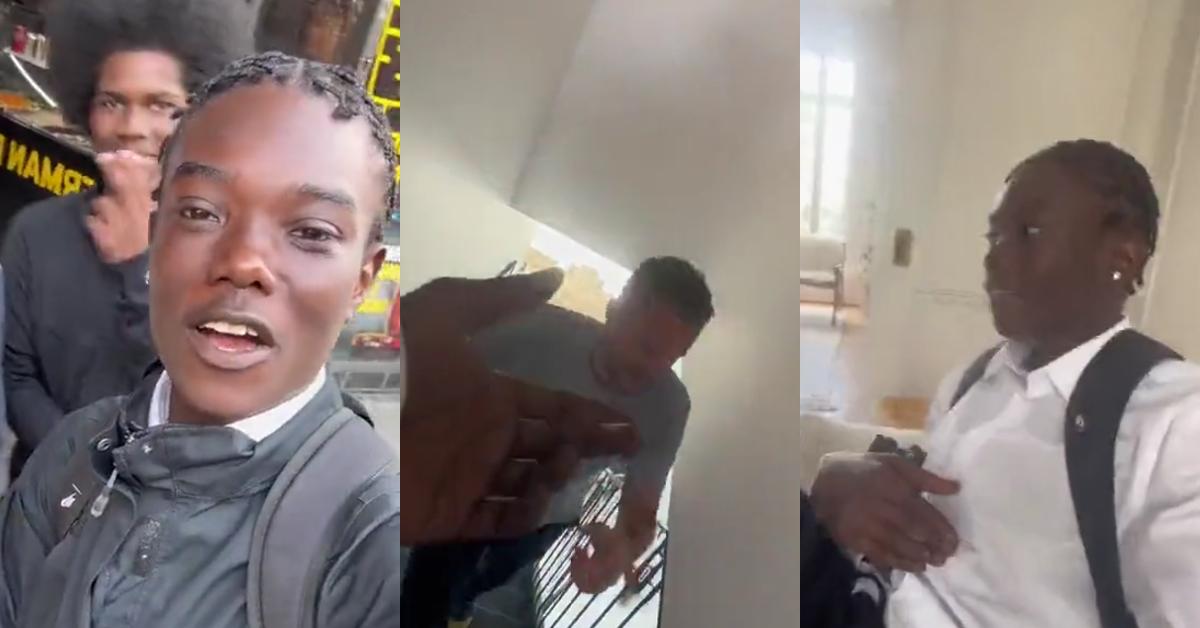 Teens Record Themselves Walking Into Random Family's Home, Spark Internet Outrage
A video of teens walking into a random family's home has been making the rounds on social media, which has received a fair amount of criticism.
A group of young men who walked into a stranger's home in a viral TikTok has caused a stir online. The clip was originally posted to an account belonging to a user who goes by @secretmizzy, which has since been deleted since it gained traction on the popular social media site.
Article continues below advertisement
The video shows several people who appear to be teenagers, walk up to a home with an open door. Someone can be seen working in the front yard of the home as the youngsters walk inside.
A woman can be heard calling to a man who she calls James, who emerges from the bottom floor of the house as the TikToker records the interior of the individual's house.
Article continues below advertisement
The young man sits on a couch in the living room as James asks them to leave while informing the young men that there are children in the home. The teens comply, laughing about the incident as they walk out of the home.
Article continues below advertisement
Altough the clip has been deleted, it's been downloaded and posted to other social media networks. Ian Miles Cheong circulated @secretmizzy's video on Twitter, where it has garnered over 5,000 retweets and has been viewed over 14 million times.
Article continues below advertisement
Numerous other users on the platform have responded to the video, with some folks expressing their utter disbelief that strangers could enter a family's home without any legal recourse or reckoning.
One commenter who saw the video said that because the act occurred in the UK, that there isn't any legal action the family could take against the trespassers, as it isn't illegal for anyone to simply walk into someone's house.
Article continues below advertisement
Twitter user @ZKDID_ writes: "The worst thing about this, it's completely legal to walk in someone's house. I know as I had people enter one of our buildings and even recorded it on CCTV and the police said there was nothing they could do, we even knew who it was as it was. It's an absolute joke"
Article continues below advertisement
However, this claim seems to be at odds with information found on Mylawyer.co.uk, which writes: "All land in the UK belongs to someone. If you go on to land without the owner's permission, you are trespassing unless there is some right of access for the public, or for you specifically (for example, if you have acquired a right to pass over the land to reach some land of your own)."
Article continues below advertisement
Conventus Law also writes that new legislature introduced into UK law in 2022 could also hold criminal penalties for trespassers, stating: "the introduction of the Police, Crime, Sentencing, and Courts Act 2022 ('PCSAC') on 28 June 2022 makes trespass, in some cases, a criminal offense punishable by imprisonment of up to four months and/or a fine of up to £2,500."
One Twitter user penned that the young men were lucky they didn't try doing this in Texas, as they could be on the receiving end of the Castle Doctrine law, which effectively states that if someone enters their private space, like their home or vehicle, then they could be killed in self-defense.
Article continues below advertisement
Some tried stating that folks circulating the video online were racially motivated as the young men in the clip were black, and the fact that it's being criticized and disseminated on various social media channels is more of an instance of racism, and not criticizing a social media trend.
Article continues below advertisement
Another Twitter user who goes by Margaret questioned why the folks would have their door open, but neglected to mention that the gate in front of the home was shut before the young men opened it and walked into the family's front yard and then their home.
How would you feel if some strangers decided to just walk into your home unannounced and record the video to upload on their social media accounts?