Woman Records Herself Filling Up Dish Soap to Avoid "Getting Ripped Off" by Walmart, Sparks Debate
TikTok-er sparks debate after pouring Dawn soap from one container into the one she was purchasing so as not to get "ripped off."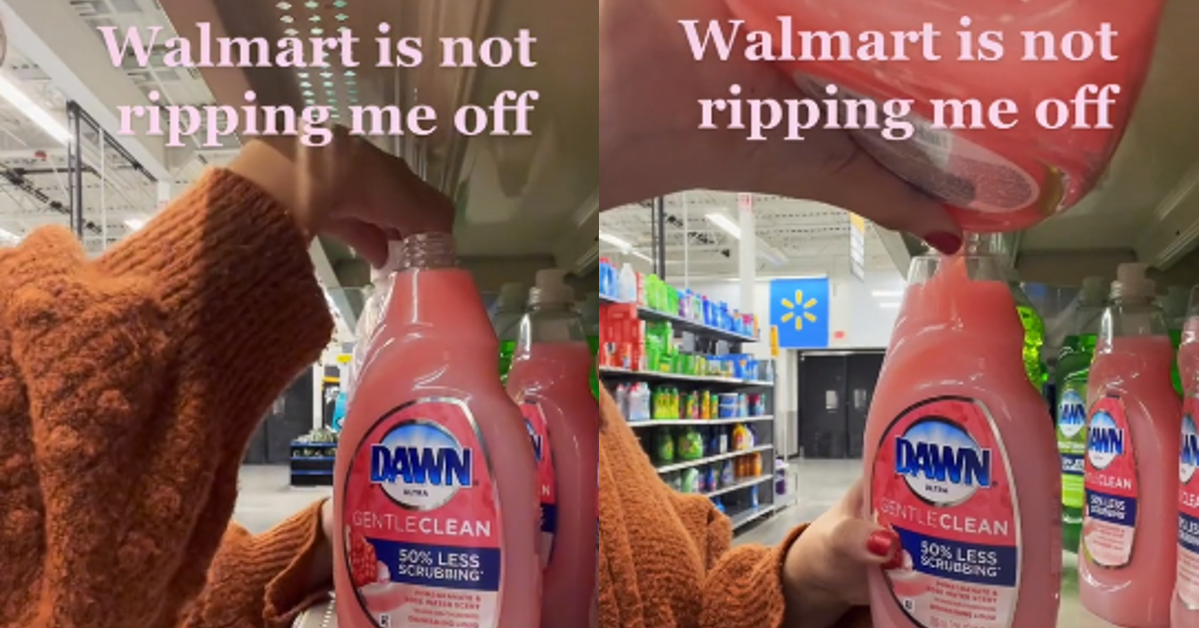 Remember how upset you were when you first opened a bag of chips as a kid and then saw that most of the package's contents were filled with air and not deliciously crispy fried bits of salty goodness? There are tons of folks who've expressed their disappointment at getting tricked by "false advertising" from the Big Snack industry.
Article continues below advertisement
However, if you were fortunate enough to know someone who worked in the chip packaging industry, or took the time to search why this is the case, it turned out that these treats need to be shipped and sent to businesses this way for a specific purpose. These bags aren't filled with air, but a specialized gas that helps to not only preserve their freshness but help keep the contents from breaking into a bunch of tiny pieces.
There are other products that follow a similar practice, like liquid soap, for example. If a plastic container is filled to the brim, then shipping engorged said product could result in increased punctures and significant losses for the company that makes the product, the businesses that purchase them, and the customers that take them home. Less available supplies mean more demand, means jacked up prices. No bueno.
Article continues below advertisement
It seems that one TikTok user, however, doesn't understand the concept of consumer goods being sold by volume. After seeing the negative space at the top of a clear Dawn liquid soap bottle, they decided to take matters into their own hands. In a video with a text overlay that reads: "Walmart is not ripping me up" TikTok-er @chemical.xxx can be seen opening a container of Dawn soap and pouring it into one she presumably intended on purchasing.
Article continues below advertisement

Her clip created a kerfuffle in the comments section, with many users castigating the woman for not understanding the concept of volume. "You're not getting ripped off, you are paying for a volume. There's a space left in most things to avoid leaking or popping in transport," one person wrote.
Article continues below advertisement

Another penned, "They literally wrote the amount of the liquid in the container, you're not getting ripped [off]."
There were additional folks who offered other bits of shipping science wisdom: "Chemical safety is that there must be space in the container incase of a reaction to surrounding temps. [That] is for everyone['s] safety."
Article continues below advertisement

For many, the move was seen as an extreme example of pettiness: "Most petty thing I've seen in my life."
And then there was the question of a now "wasted" bottle of Dawn soap that other customers would probably stay away from purchasing as a result of the TikTok-er's actions: "Now you just ripped someone off lmao."
Article continues below advertisement

"Might as well steal the second bottle cuz they can't use it no more."
But the TikTok-er could find herself in legal trouble as well under the Federal Anti-Tampering Act, which carries a maximum penalty of $25,000 and 10 years in prison or $100,000 fine and life in jail if tampering results in death. It's hard to imagine someone's going to die from an individual pouring dish soap into another container.
Article continues below advertisement

The TikTok-er who originally made the post did seem to hint that they were making the post as a joke in the comments section in addition to listing their CashApp ID.