Waffle House Employee Reveals Secret "Marking System" That Helps Them Get Orders Out So Fast
A Waffle House employee shared their restaurant's marking system for silently telling cooks how a customer asked for their order.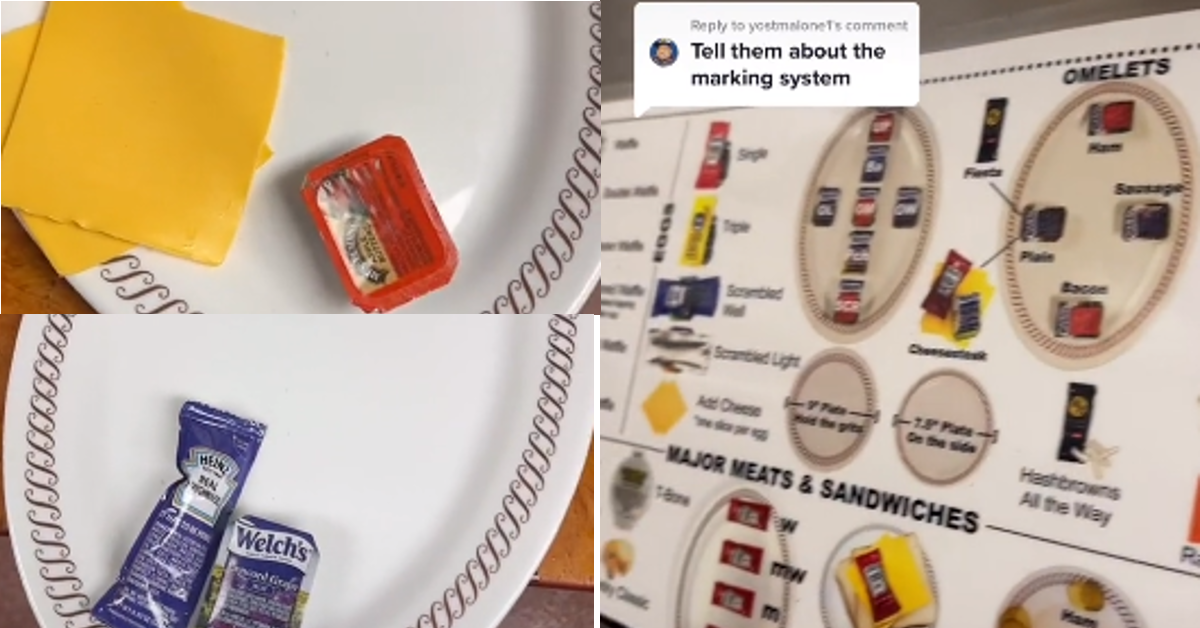 When you're working in a high-volume sit-down restaurant that serves tons of customers every day, efficiency is key. Sure, there are always going to be lulls in service, and that time is usually reserved for prep and clean up. But when things are fast and furious in a place like Waffle House, then every second counts to ensure that customers are getting their food as quickly as possible and the next patron can be seated.
Article continues below advertisement
Because the menu at Waffle House has stayed relatively the same over the years, save for some "secret" orders, across all of its locations, there's a pretty similar protocol cooks who work at different restaurants can follow.
That gave way to a homogenized "marking system" that allows cooks to silently communicate custom menu orders.
And while you might have picked up on this marking system yourself from dining at various Waffle Houses, or heard murmurs of his unspoken brilliance from other Waffle House employees, or maybe you worked at one of the restaurants yourself, thanks to a viral TikTok, everyone with access to the internet can now know what these markings mean.
Article continues below advertisement
TikTok user @hotsoupandcracker posted the now-viral clip and says at the start of it, "Last time I talked about the marking system, people got so mad."
He said that line cooks in the establishment have an unspoken way of telling one another just how the dishes need to be made in an attempt to ensure that folks are getting exactly what they asked for.
Article continues below advertisement
In the video he can be seen arranging various condiment containers and packets, slices of cheese and napkins, carefully placing them on specific parts of the plate. This signaling system lets the cooks know just how they should be making their meals.
Article continues below advertisement

For example, if a packet of jelly is at the bottom of a plate, then that means the customer wants their eggs scrambled. If there's a mayonnaise packet on the plate and it's placed face down, then that intones a light scramble. Face up? Then that means it's going to be scrambled well.
Article continues below advertisement

If there are two slices of cheese on the plate, then that means you want some queso with your huevos. Of course, this order can be combined with the other symbols. So, for example, if there's a plate with two slices of cheese and a face-down mayonnaise packet, then that means you want some lightly scrambled cheesy eggs.
Article continues below advertisement

There were a lot of folks who thought that the system was needlessly inconvenient. Obviously learning instantaneous visual cues takes a lot of practice, but tons of commenters expressed that this method promoted the opposite of efficiency.
"Why wouldn't they just use a point of sale system and a kitchen printer like every other restaurant?"
Article continues below advertisement

"They gotta decipher the DaVinci code just to get a plate out. Food gone take all night to get to the table," one user quipped.
Another wrote, "Coming from a line cook of 10yrs this is the stupidest and most inconvenient thing I've ever seen."
On the flip side, there were plenty of Waffle House lovers who argued that the system must be working, giving Waffle House's stellar customer service track record.
Article continues below advertisement

Many of the stores are open 24 hours across the country, they almost never shut down during natural disasters, and Waffle House serves massive amounts of customers every single day. Not bad for a franchise that's been around since 1955.
One commenter wrote, "Waffle House is so efficient FEMA uses them as an emergency indicator. I don't think we can criticize."