Server Reveals "Tip Hack" That Involved "Stealing" Money From Her Employer via Coupons
A server shared the way she earned higher tips from cash tables and it sparked a huge TikTok debate.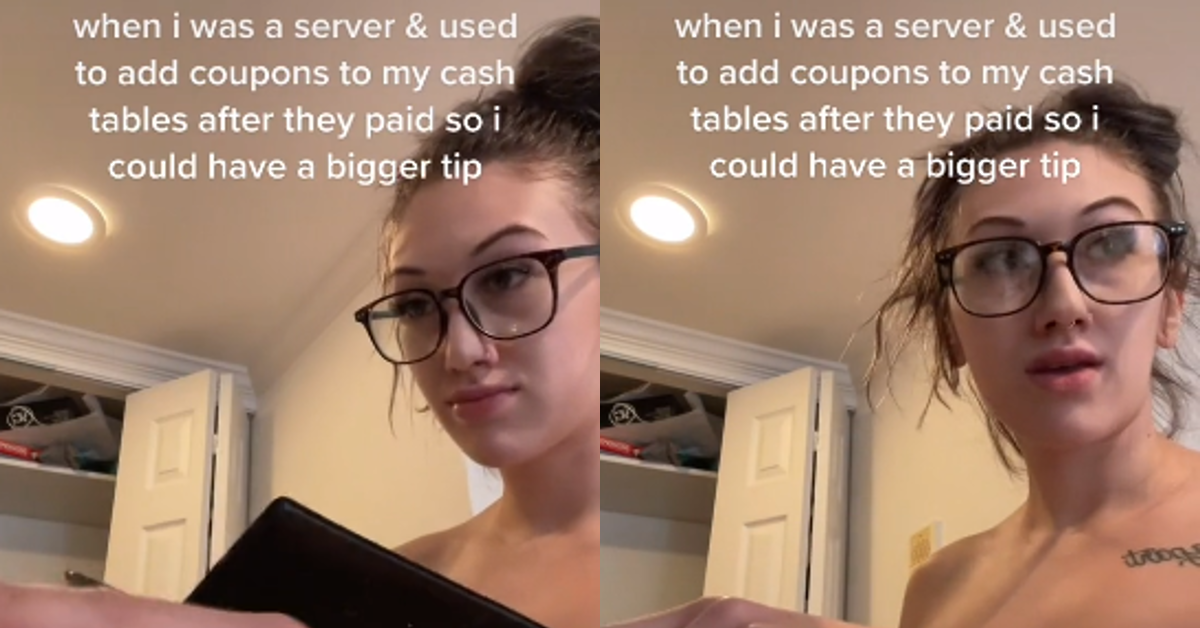 Since I worked in the foodservice industry from a young age, anytime a waiter or waitress goes even just a little bit out of their way to provide exceptional service, I'm always looking for an excuse to give a good tip. And if a server, let's say doesn't charge for refills even if it's the restaurant's M.O. to do so, or they don't charge a soda because it's a nominal loss for the eatery, I make sure to give them a little extra cashola on their gratuity.
Article continues below advertisement
And while there's a good argument to be made that it's not exactly kosher to blatantly disregard a business' protocol, considering how badly some servers get shafted even while working ridiculous hours as their salaries depend entirely on whatever gratuity they can secure for themselves.
And one server's admission on social media about how she ensured she'd make more money for herself is causing a bit of a ruckus. TikTok-er @notyouraveragesahm uploaded a video with a text overlay that reads: "When I was a server and used to add coupons to my cash tables after they paid so I could have a bigger tip."
Article continues below advertisement
Getting tipped cash obviously has a ton of perks (aside from just having access to those funds immediately) and it seems that this woman who used to be a server found a way to find a loophole of sorts to bolster her own pay whenever customers decided to lay down buckaroos instead of a card.
Article continues below advertisement

Technically speaking she's "taking" the money from the restaurant she worked for and lined her own pockets with it, but if the customer in question was in possession of that coupon anyway — it's not like she was manually adjusting the price of the meal — was she really doing something wrong in the first place? That's a question that folks in the comments section argued over.
Article continues below advertisement

There were a lot of people in the viral video's comments section who praised her decision-making.
"I mean, as the customer I'm still paying the same amount either way so, I'm all for this," one TikTok user said.
Another wrote: "I'm going to have to start paying cash so y'all can make more."
Article continues below advertisement

Others added, "Remember: if you see a coworker doing this, no you [didn't]" and "Okay but if they actually paid servers then they wouldn't have to hustle. They got bills and kids."
And it didn't take long for other servers who shared that they too participated in this "tip hack."
Article continues below advertisement

"Used to do this at this chain restaurant i worked at, easily have stolen like 1000$ from that place skaksksksksk."
Some even said that managers, in a bid to get their servers who were victims of a lousy tipper, would negate some orders and pass the cash from that meal or round of drinks that they purchased onto their wait staff.
Article continues below advertisement

"I used to have a manager that would void one entree or a round of drinks if they tipped horribly, cash or [credit card]."
Some had to put a little more work into their money-earning endeavors: "Lmao we used to drive around after shift to find newspapers w/ the [$]10 off [coupons] & buy every newspaper before another server could buy them all."
Article continues below advertisement

Some servers cautioned against being too cavalier with this practice, however, stating that larger corporate chain restaurants actively monitor this kind of behavior: "Our corporate office tracked stuff like this and I was #1 in the whole company before I got fired."
"I caught an employee doing this. It was obvious after entire tabs were voided all day. She was a finance major."
Article continues below advertisement

"I had an employee do this for almost 3 years before corporate caught him, he's in prison for felony theft."
The TikTok creator who posted the video also responded to someone who warned that they once worked at an establishment that mass fired a ton of people. She wrote, "I thought about that but serving jobs are a dime a dozen & that job sucked a**."
And there were also a lot of other TikTok users who blatantly said it was just straight-up theft.
What do you think? Is it a big deal that she automatically added coupons to bolster her paycheck? Or is it like many people stated in the comments section a case of plain old theft from her employer?