"Tip Baiting" TikTok Reveals the Disrespectful Way Folks Are Messing With Drivers
A delivery driver has gone viral on TikTok for exposing the "tip baiting" practice tons of customers exploit to get their meals quicker.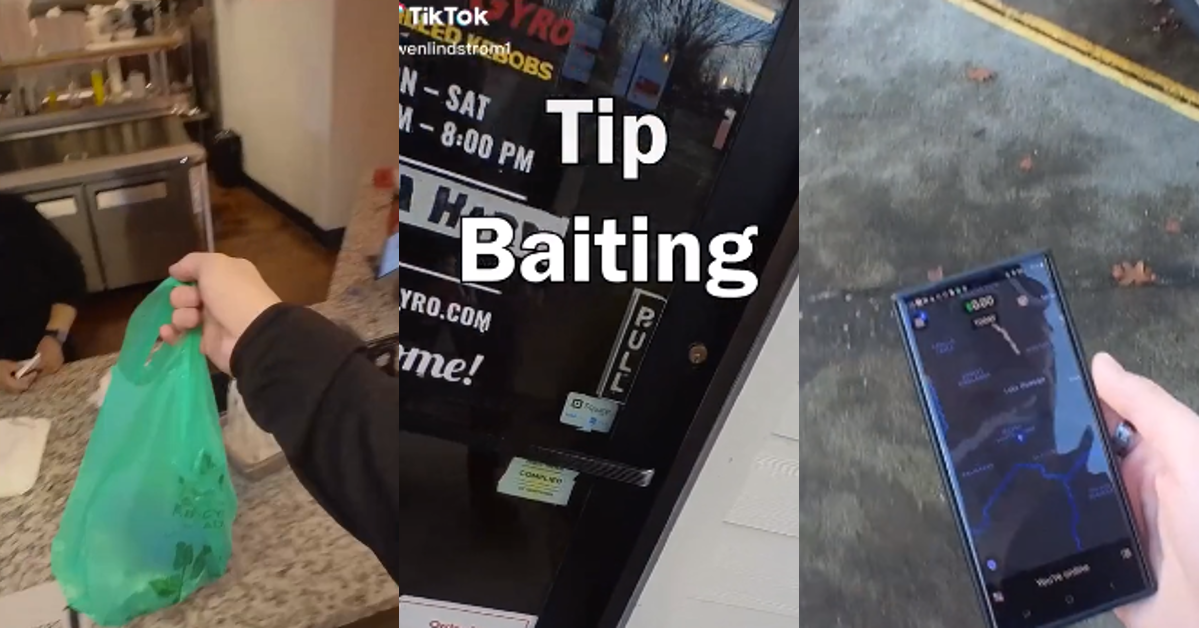 Everyone loves a good hack. Whether it's installing some fancy, cutting-edge browser extension that scours the web for coupon codes on a purchase you're planning to make or figuring out how to keep the light on in those pesky hotel rooms that require you to keep a room key card in a slot, people are always trying to find a way to get one up on "The Man."
Article continues below advertisement
However, some "hacks" come at the expense of individuals who ultimately end up bearing the financial brunt of the exploit's tricky ways. This one was exposed by Owen Lindstrom, a delivery driver who talked about a practice known as "tip baiting" from customers of apps like UberEats and DoorDash.

Article continues below advertisement
In an interview with Today, Owen talked about his viral clip that shed light on the phenomenon, which is resulting in serious financial implications for tons of food delivery employees that rely on popular apps in order to make ends meet.
"Pretty immediately people got pretty riled up about it. People on the driver's side are saying you should never do that to the driver, and then people on the customer side were arguing that the food already costs so much money. It was so intense on each side."
So what is tip baiting?
Article continues below advertisement
The name pretty much describes the phenomenon perfectly. Customers will dangle proverbial gratuity over the heads of drivers. They will punch in a specific tip amount on an app and then lower that amount or just get rid of it once their food reaches its destination.
Folks utilize this specific feature in order to expedite the delivery of their food.

Article continues below advertisement
The idea's simple: Someone who thinks they're earning more for a specific order may be "incentivized" to work a bit harder and bring your grub faster to you.
Owen breaks it down in his video: "One of the worst things you can encounter as a delivery driver is tip baiting. Tip baiting is when a customer offers a large tip to get their food faster and then takes away the tip at the end."

Article continues below advertisement
He continues, "While it's good to protect the customer from having bad service by holding a tip over your head, it leaves a big opportunity to screw over their driver with tip baiting."
Owen said that he's only had that happen once to himself, but has heard other drivers complain about the practice.
Article continues below advertisement
"The issue mostly lies within the Uber Eats app. It says that the tip amount will change, and up to an hour after delivery, people can raise it or lower it. Most people don't even know you can change it, and 90 percent of the time there is no issue, but when it did happen, it was super frustrating," Owen said.

Article continues below advertisement
MSN reported that tip baiting "became such a problem with the grocery shopping service Instacart in 2020 that the company announced it had changed its cash-out feature so its personal shoppers could cash out their tips 24 hours after they had delivered customers' grocery orders."

Article continues below advertisement
Instacart decided to institute an account deactivation policy for anyone who's found guilty of persistent "tip baiting" practices.
Some customers may not even intentionally "tip bait" so to speak, but they might use the reclamation of their gratuity as a way of expressing their dissatisfaction with an order or how food was prepared.
Ultimately, it's the delivery driver who ends up getting shafted if someone decides to take their tip back because the food wasn't to their liking.
Some TikTok commenters offered up possible solutions to stop "tip baiting" from happening again in the future. There were a few people who suggested that a rating system for customers be implemented, while others expressed that application developers themselves should ensure that they come up with a way to put a stop to this practice.
Article continues below advertisement

What do you think? Should the apps just not let customers adjust their tips after they've been punched in? Or should drivers just get paid more to have their food delivered so they don't have to worry about gratuity?