Target Starbucks Barista Brags About Getting Paid More for Less Work Than Corporate Employees
A Target barista started a whole kerfuffle on TikTok after bragging about making more money for less work than her corporate counterparts.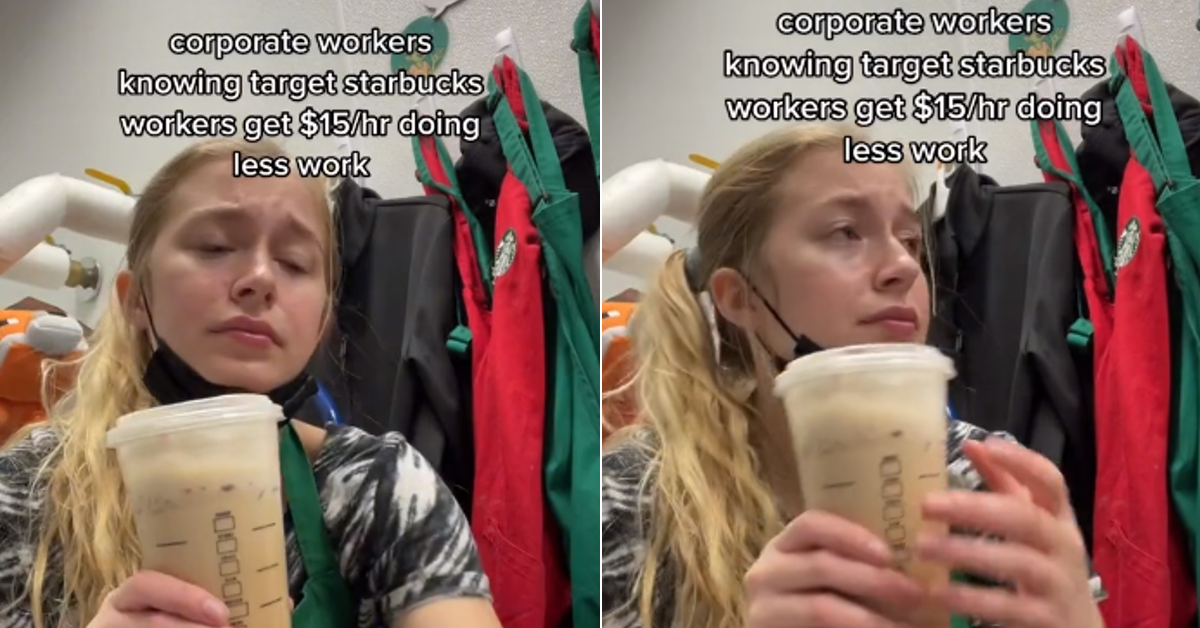 "Sinecure: a position requiring little or no work but giving the holder status or financial benefit." Working in a pressurized environment can be pretty uncomfortable. And if you're not reaping the benefits from busting your hump without working towards a personal dream, doing so can seem like a gigantic waste of time for some people, especially if you can be earning the same amount of money for less work elsewhere.
Article continues below advertisement
But what about getting paid more money for what is essentially the same job? That's what one TikToker said happened after she transitioned from working as a barista at a corporate Starbucks location to a Target outpost.
If you've ever frequented the popular retail chain, you might've noticed that several of the store locations have Starbucks coffee shops located right inside of the store, so you can slurp down on your caffeinated beverage of choice as you try to stop yourself from buying new bedding or whatever cute new stuff they have in the home goods section. (Seriously, there are people with serious Target home goods addictions.)
Article continues below advertisement
TikToker @annalovescoffee states that working at one of these in-store Starbucks spots was a way better employment choice on her part, as she only made $9.50 an hour at a corporate location, compared to the $15/hr she's raking in at her local Target.
She posted about her wage hike in a gloating TikTok with a text overlay that reads, "Corporate workers knowing Target Starbucks workers get $15/hr doing less work."
Article continues below advertisement

And there were a lot of other TikTok users who didn't appreciate that. Some said that this simply wasn't the case: "Nah, working at Tarbucks was hell. … My store was busy asf & they always scheduled me alone for hours."
Article continues below advertisement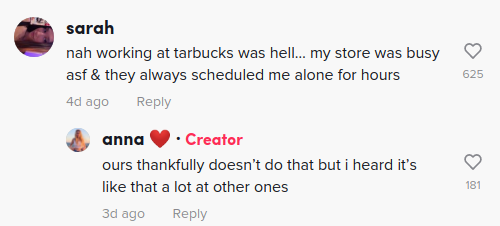 Another penned, "Corporate Starbucks is 10x better than Target bc u get free food and drinks and don't work alone."
"Haha working at Tarbucks was one of the worst times of my life. I started getting stress hives."
"'Less work' [but] always understaffed, no breaks, no tips. You had to work [the] bar & register at the same time & also restock EVERYTHING in one shift."
Article continues below advertisement

Many commenters said that there were several perks to working at corporate locations over the Target cafes, listing free food and beverages as a reason they enjoyed the "official" Starbucks chains. Others stated that they too earned $15 an hour or more at a corporate spot.
Store-wide, Starbucks has increased the wages of their baristas to a $12/hr minimum and there are some areas that set $15 as the standard base pay.
Article continues below advertisement

It's also reported that the massively popular coffee chain will make $15/hr the minimum wage for baristas across the US come the summer of 2022.
According to a response from Anna, who originally uploaded the now-viral video, she said that her particular location was slow and the pay increase (for her at least) made the jump from Starbucks to "Tarbucks" was definitely worth it.
Article continues below advertisement

Any baristas here have a similar experience? Or are you corporate all the way?
The TikToker had another clip that also went viral where she "revealed" how to make the chain's patented sweet cream. Which also rustled some jimmies.
Article continues below advertisement
Was it not cool on her part to expose industry secrets like that? Is it akin to a KFC employee revealing the 11 herbs and spices the Colonel used to make his patented fried chicken?