McDonald's Employee Reveals What Customers Get When They Ask for "Fresh" Nuggets
A McDonald's worker went viral on TikTok for showing what he and presumably other McDonald's employees do whenever a customer asks for "fresh" nugs.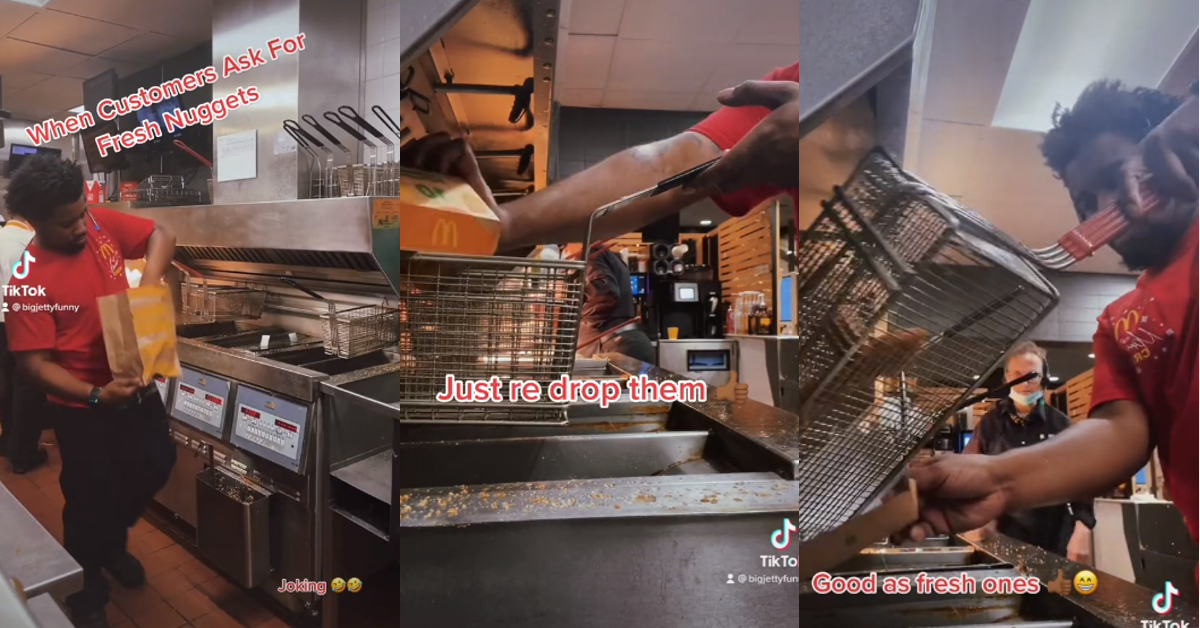 Whenever we're shopping for something, even at the dollar store, we're always looking for the best possible value: we want to find something that's worth more than a dollar.
The same could apply to very low-cost fast food.
Article continues below advertisement
How many of us have been inside of a McDonald's and overheard a customer ask (or maybe we even ask ourselves) for "fresh" nuggets or french fries?
Sure, we're only paying a couple of bucks for a food item we typically get in only a matter of seconds or minutes, something many would call "junk food" but by golly, we want to get the best junk food our money can buy.
So what actually happens whenever a customer asks for "fresh" McNuggets? One TikTok-er showed exactly what goes down whenever someone makes that request.
User @bigjettyfunny uploaded a video with a text overlay that reads: "When a customer asks for fresh nuggets, just re-drop them. Good as fresh ones [inserted smiley emoji.]"
Article continues below advertisement
In the clip, he can be seen removing nuggets from a box, tossing them into the fryer for a bit, then taking them back out, putting them back in the same box, and then placing them inside the customer's bag.
The video clip does show the word "joking" in a text overlay, but there are other TikTok videos that claim McDonald's does the same thing when customers ask for "fresh fries."
Article continues below advertisement
@bigjettyfunny captioned the video with: "At least [they're] hot and crispy."
There are a lot of users who commented on his post that didn't seem to mind the "re-drop" technique, with many of them stating that they don't care if the nuggets were just made, but that they didn't want a cold meal.
Article continues below advertisement
"I'll honestly be fine with that, fresh at fast food to me is hot. I just don't want cold food," one user wrote.
Another stated that they even preferred to take their McNuggets and leave them in their at-home air fryer: "Cold McDonald's nuggets in the air fryer for 4 minutes on 375, even better than fresh."

Article continues below advertisement
But then there were some McNugget aficionados who swore they could taste the difference between a fresh batch and a re-drop: "You can tell when something is re-dropped."
Another wrote, "See this is why ima have to start going in the inside."

Article continues below advertisement
If you're really insistent on getting fresh fries and want to make sure that they're as recently made as possible, the first thing you'll have to accept is a minimum of a three-and-a-half-minute wait time.
One Quora user who said they were a McDonald's manager broke it all down saying that a good way to ensure you're getting the freshest fries possible at McDonald's is to request them without salt. Then you could add salt yourself.

"I was a McDonald's manager on and off for years. Most likely when you asked for fresh fries they either A. had just made a batch or B. We're in a rush. Fries are immediately salted after they come out of the fryer. So many times people who want fresh fries will ask for fries without salt because then the employees have to make a fresh batch and then you can ask for packets of salt at the window. If this doesn't work then you can always go in and order. Most restaurants have the fryers in customer view so you'll be able to see them make the fries."