Kroger Blasted For Changing Price Tags with "Fake" Sale Tags
An employee was caught swapping price tags on an item in a store showing an inflated "original" price so customers think it's on sale.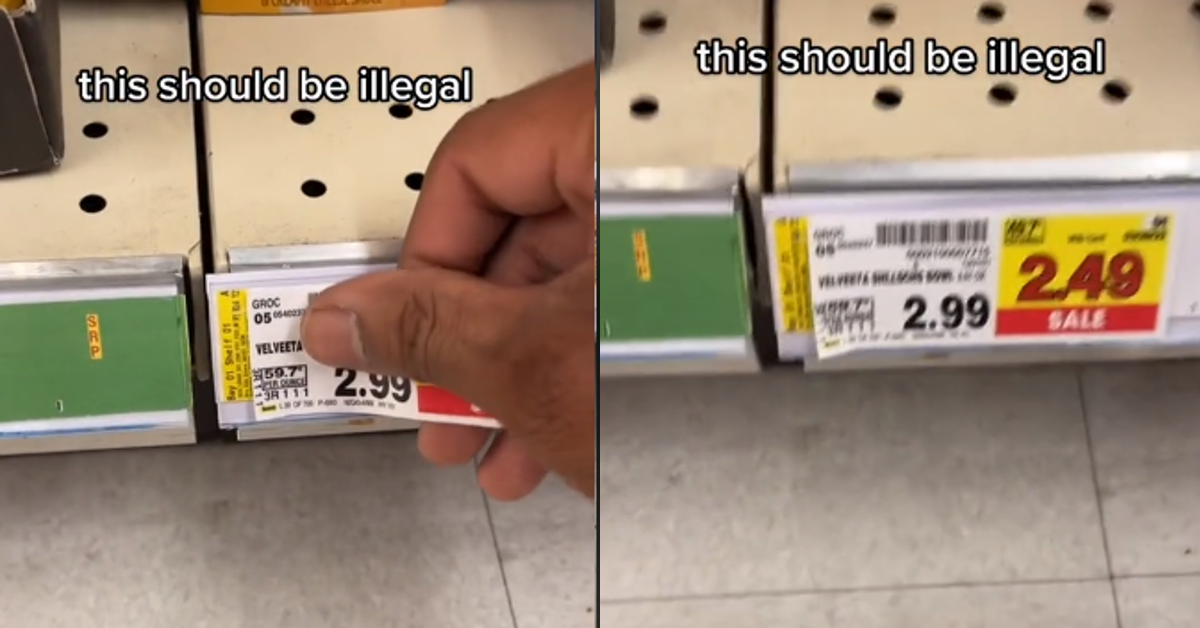 There aren't many companies that can get away with not having sales. Take Apple, for instance. The retail giant doesn't really do sales like tons of other traditional retailers. The same goes for Tesla. But there are some stores and consumerist categories that really just can't get away from the "on sale" phenomenon. Take JCPenny for example, they tried abolishing sales and it backfired tremendously.
Article continues below advertisement
And there have been tons of instances of people finding out that sales are, more or less, artificially manufactured in order to make folks think that they're getting a bargain on a certain item that they probably wouldn't have purchased if they didn't think they were getting a deal on it. Like IZOD shirts, have they ever not been on sale? Has anyone ever purchased one that wasn't a last-minute Father's Day clearance item?
The same has happened on Black Friday, with plenty of instances of stores not changing the prices of products, just the price tag to make it look like it was on sale. So what's to stop a retailer from lying about the "original" price of an item and "marking it down" to the same price that it was before?
Apparently, that's what one Kroger employee was caught doing in a now-viral TikTok that was uploaded to the popular social media platform.
Article continues below advertisement
A user on the app who goes by @kekm_ posted a clip where they're taking a $2.49 price tag off of a shelf beneath some Velveeta cheese. They then replace the tag with a new one that reads $2.99 and advertises the "sale" price as $2.49. The clip sports a text overlay that reads, "this should be illegal."
Article continues below advertisement

Tons of TikTokers weighed in on the practice and a debate began as to whether or not the act of the Kroger worker was morally unethical or against the law or not.
User @James.sleptzoff wrote, "Stores and companies have done that for ages."
Article continues below advertisement

Another user who goes by @idontwantausername8675 wrote, "It is illegal. A store cannot raise the price of goods for the purpose of having a 'sale' at normal price. Can be hard to catch and prove intent tho."
"Y'all ever been to Kohl's?" @dramaticmood asked.
Article continues below advertisement

Other commenters who said that they worked retail shared similar experiences: "Had a job that would put stuff on sale 10/$10 and it would sell like crazy but the non sale every day price was $1 and it would just sit," @quigongin1 said.
Article continues below advertisement

There were some in the comments section who argued that this isn't exactly shady but represents the rising costs of goods under the Biden administration which was a reported 6.2 percent average rise in expenses of consumer items.
"No, that just means the price has increased on that item. the next time the tag gets changed it'll be $2.99. Prices on almost everything have gone up," @jennifermoore8 said.
Article continues below advertisement

Others were a bit more dismissive of the "revelation." @vashthestampede80 wrote, "It's funny when youths start seeing the real world for the first time."
Article continues below advertisement

What do you think? Is it a shady practice for Kroger or any other retailer for that matter to change prices to make it look like a sale is occurring? Or is this just par the course for retail, or is it honestly just a case of the rising cost of consumer goods?