Kylie Jenner Becomes the World's Youngest "Self-Made" Billionaire
The youngest of the Kardashian sisters just became a billionaire at only 21 years old — beating Mark Zuckerberg.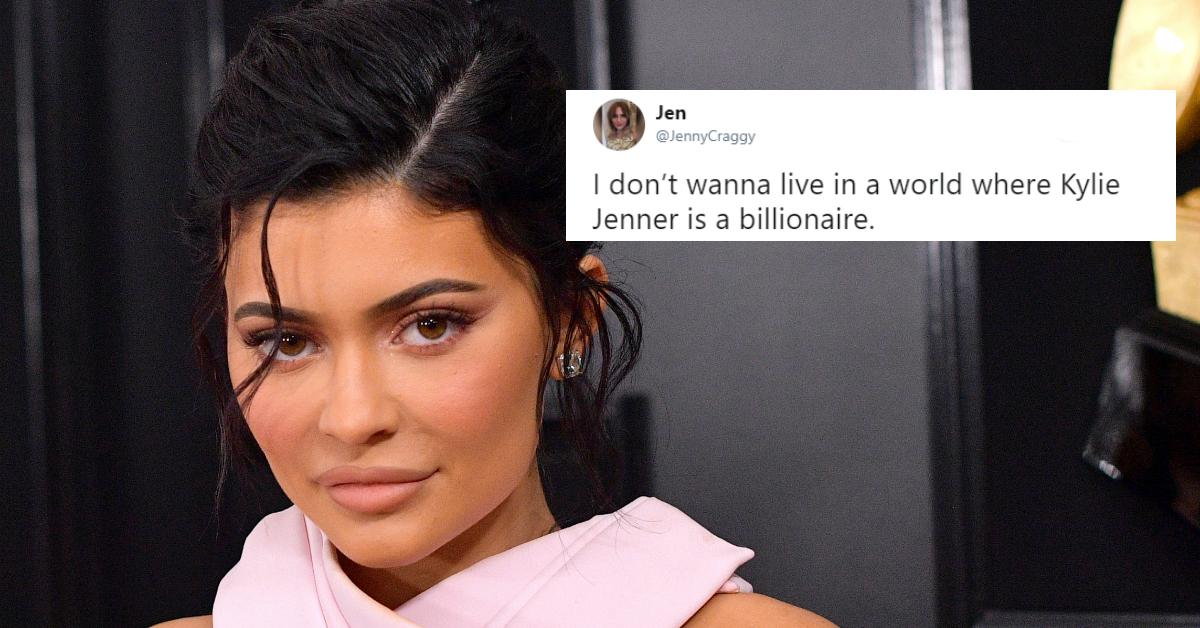 Reality star and makeup guru Kylie Jenner has officially become the world's youngest billionaire. She earned the distinction at just 21 years of age, beating out Mark Zuckerberg by a sizable margin.
And while it's an impressive feat, there are a number of people who are raising an eyebrow at the fact that she's being called a "self-made" billionaire.
Article continues below advertisement
Of course, Jenner's had the infamy of the Kardashian name to help boost her success. Even before the lip-injections, daily home visits from makeup artists, the hip-shaping and poofing, the jaw-shavings, the butt implants, the personal trainers, the diets, and the endless amount of selfies, she still managed to captivate the interest of people by virtue of her familial associations, even before all the added modern Hollywood glam.
It became apparent that at an early age, back when Kylie was 16-17 years old and dating the now-struggling-to-be-relevant-rapper Tyga, she was a whiz at staying in tabloids and dominating entertainment news. Her Instagram followers kept on racking and racking up. Mama Kardashian knew how to play the fame for fame game, and by the time Kylie "came of age" all of K-Family methods had trickled down and become refined enough to make her the face of a generation that had somehow transformed narcissism into a virtue.
Article continues below advertisement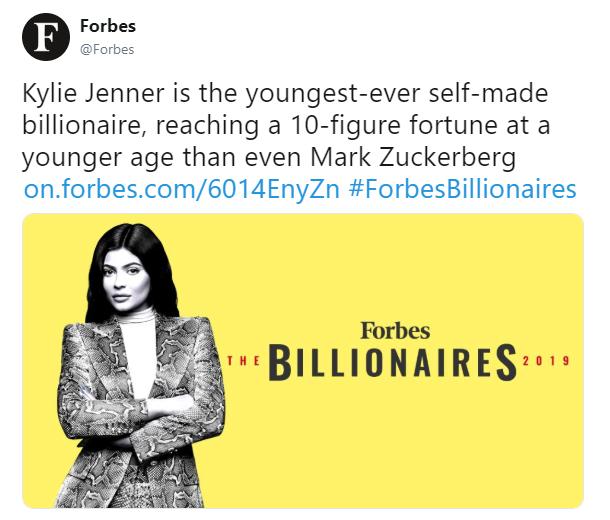 Look at anyone's Instagram account: everyone's a master yoga practitioner, eggs benedict crafter, or workout phenom. Everyone's a BJJ expert or squat queen/king. Everyone's embarking on a wonderful new screenplay journey with a perfect cup of coffee seated right next to their laptop.
Life is beautiful. Your eyebrows are always on fleek, your hip's always popping.
Article continues below advertisement
Quality aside, people just keep buying and buying her stuff and now her makeup empire is valued at over $800 million.
But there are a large number of people who still don't want to give her credit.

Article continues below advertisement
The urge to hate on someone who basically leveraged our obsession with looking as on-fleek on camera as possible (but not necessarily in real life) was very real for many.

Article continues below advertisement

Some went so far as to call it "fake news" and that she didn't earn the "self-made" part of her title. And while I agree that she had a lot of help, I can't help but feel that a lot of these people are salty.
Article continues below advertisement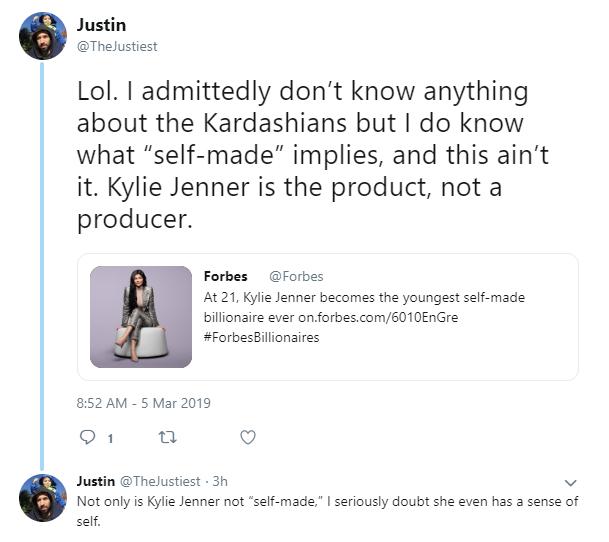 Article continues below advertisement
Heck, I know I'm salty about it too. I sure would like to be a billionaire and I've got a big butt and hips too. Maybe I should start leveraging that...

Article continues below advertisement

And while there were a lot of people who took offense at the fact that her success is being attributed to her and solely her work ethic, there were plenty who wanted to give the 21-year-old props.
Article continues below advertisement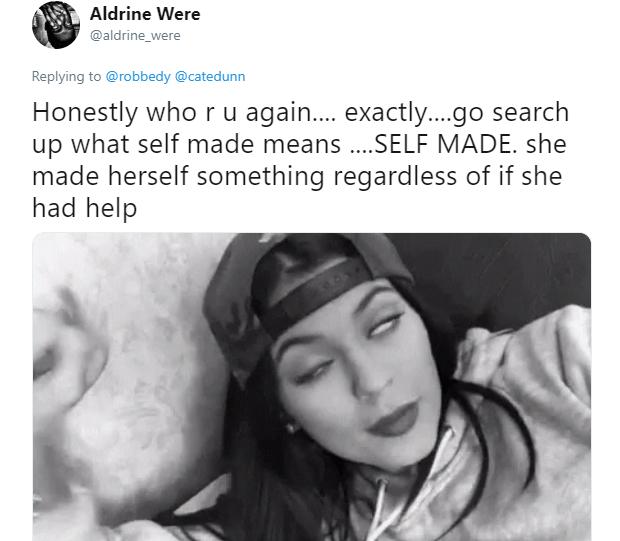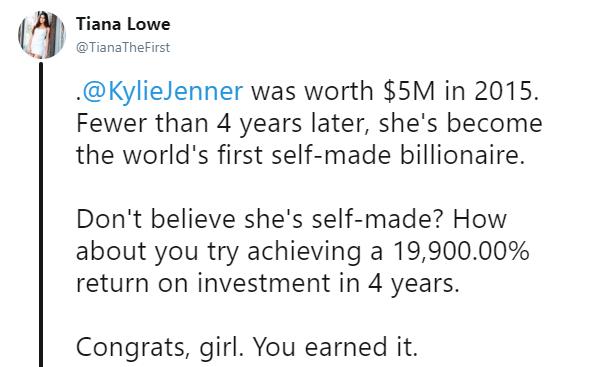 Article continues below advertisement
Others stated the obvious: Kylie's definitely not losing any sleep over the broke nerds who are complaining about the fact she had help becoming super, super, uber rich.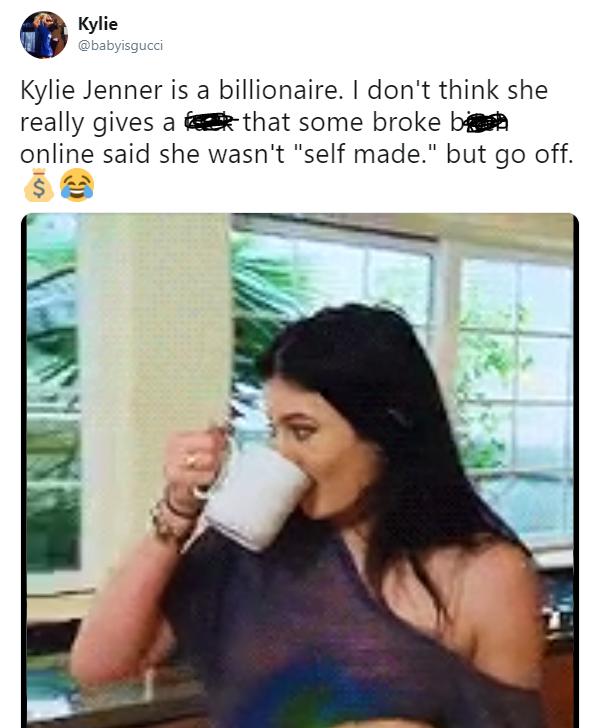 Article continues below advertisement
There was also a sizable population of people online who pointed out that Kylie, despite the throngs of fans who were happy for her success, had a somewhat shady climb to booming financial success. In addition to the help and notoriety her family attained, Kylie's hugely popular cosmetics line (worth a staggering $800 million) was apparently created by workers who had to endure "sweatshop like" conditions.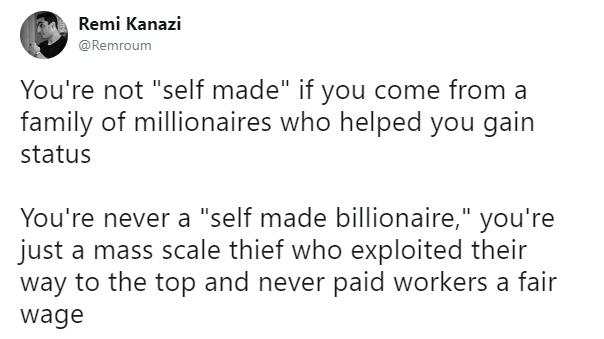 But just like the throngs of bros who got up in arms whenever someone criticized Jordan Belfort from The Wolf of Wall Street as being a scumbag who built their millions by leveraging working class people's insecurities and lying through their teeth, there are many who maintain that Kylie's billionaire status is all that matters at the end of the day.
No matter what you think, you have to give props to the woman for pouncing on social trends and being the "IT" girl for all those zombie Instagram scrollers and golden-hour posers out there. The girl can sure rock a selfie, and that's worth a lot in this day and age.
A billion dollars, to be exact.