All the Times Kylie Jenner Stole Someone's Idea and Passed it Off as Her Own
Kylie Jenner is always being accused of copying. Here are all the time she's been accused of stealing others' ideas.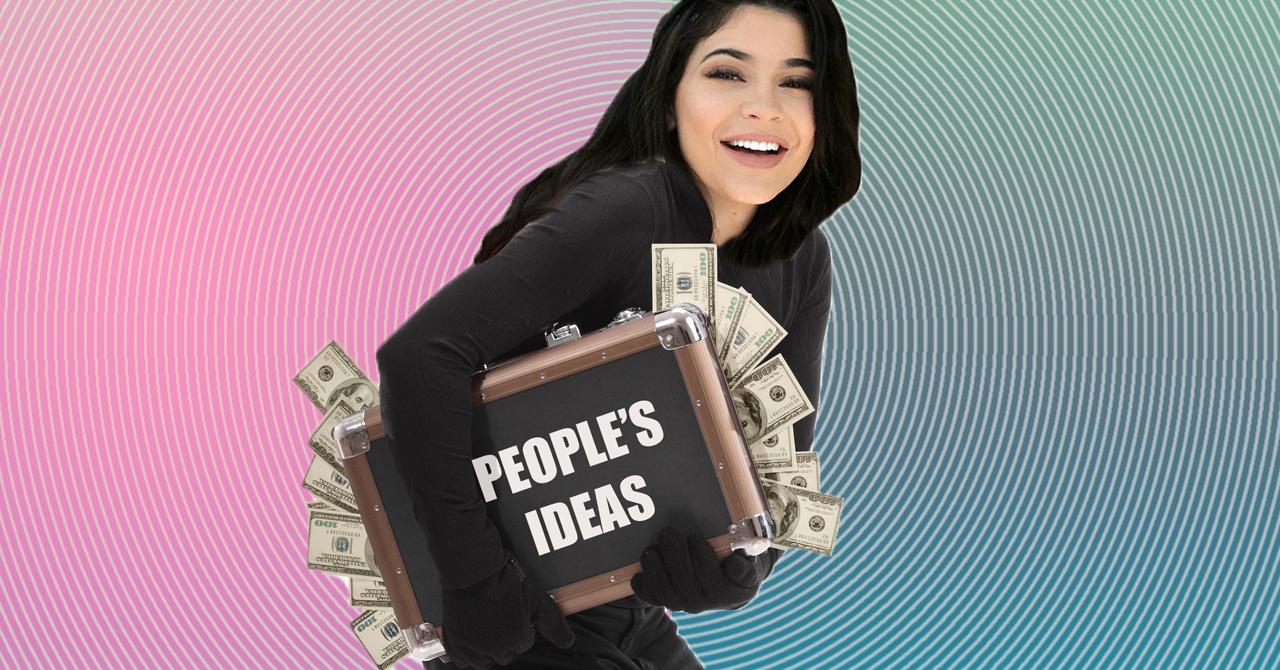 Kylie Jenner's Forbes cover where she was named a "self-made" billionaire rubbed a lot of people the wrong way. Although you have to give the 20-year-old credit for surpassing her big sister Kim Kardashian in popularity and net worth, Kylie's climb to fame has been plagued with controversies. Although she's praised for making matte lips, wigs, and camo two-pieces a thing, many of the trends she gets credit for were shamelessly stolen from other people.
Article continues below advertisement
But despite the accusations of intellectual theft, Kylie seems impenetrable to the criticism. Her beauty brand and other businesses continue to thrive and she still continues to make money off the backs of lesser-known artists and influencers who've "inspired" her. Below, all the times she's been accused of stealing:
Her Kylie Cosmetics "dripping lips" logo.
Article continues below advertisement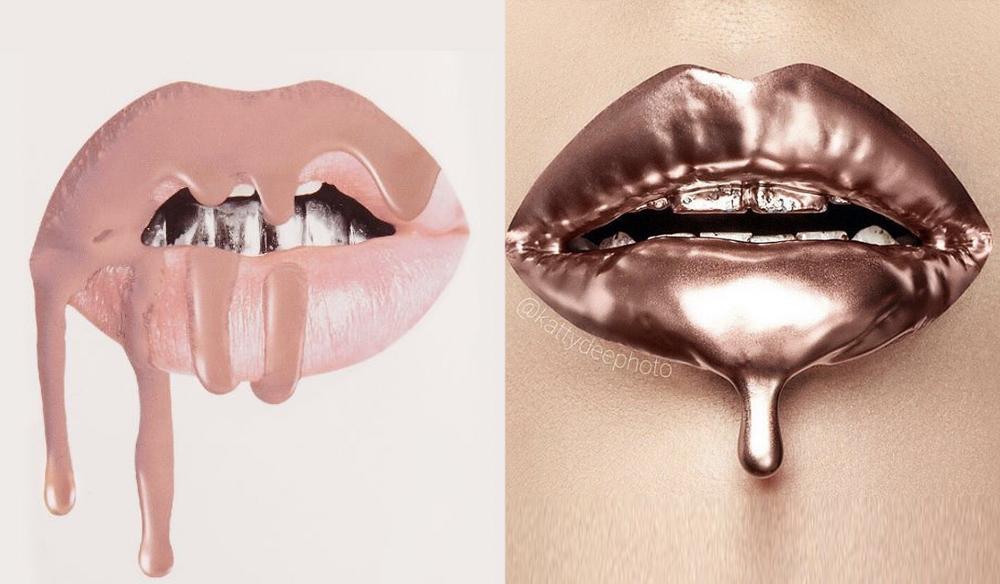 Yep, the iconic logo that cemented her brand's place within the makeup world was largely based off of makeup artist Vlada Haggerty's work. However, Kylie was smart and made her version just different enough that Vlada couldn't sue, but it was obvious where Kylie got her inspiration from. To prove how brazen she was about her intellectual thievery, she even directly lifted a picture from Vlada's Instagram and posted it on her own with no credit. The move prompted Harper's Bazaar to incorrectly believe Kylie was about to release a new rose gold lip kit.
The picture was later removed, but it wouldn't be the last time Kylie stole Vlada's work.
Article continues below advertisement
This Kylie Cosmetics promotional artwork.
Article continues below advertisement
As if being "inspired" by Vlada's dripping lips imagery wasn't enough, Kylie Cosmetics directly copied art from Vlada's Instagram page and used it for a promotional campaign. "Really @kyliecosmetics?" Vlada wrote on Instagram. "Haven't you gotten enough 'inspiration' from me already?"
Vlada sued, but the suit was eventually settled out of court.
Her camo clothing line.
Article continues below advertisement
When Kylie unveiled a new line of two-piece camo sets on her shop, people noticed right away that the styles looked like a direct copy of designs from indie clothing brand Plugged NYC. Designer Tizita Balemlay, the creative force behind the store, was livid and aired her grievances in several now-deleted Instagram posts. In them, she even posted receipts of emails between herself and Kylie's team, proving that Kylie had purchased several swimsuits from her line mere months before releasing her own version.
"At the end of the day, money is power and the Kardashians have both," Tizita told Refinery29. "It doesn't matter if she wore my stuff previously then literally shoots the same concept with the same shoes and all. But, this will all blow over tomorrow, and her sales will continue...Money rules the world, if you haven't noticed."
Article continues below advertisement
Her whole 2014-era style.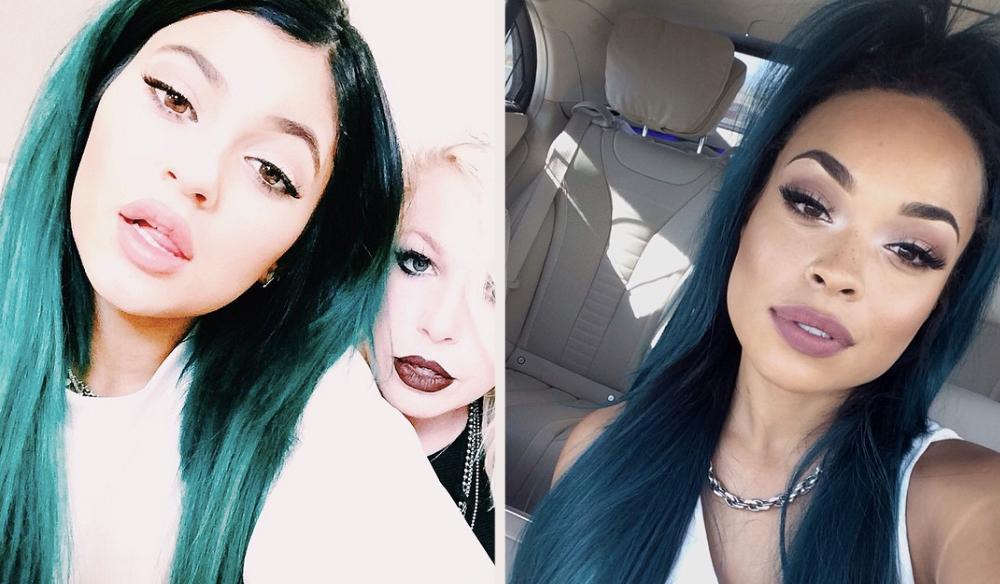 Article continues below advertisement
Kylie spent most of her adolescence in big sister Kendall's shadow. However, that all changed when she cut her hair, dyed it blue, and got lip injections. She had a whole new style, too, with matte lipstick, overly-sculpted eyebrows, and eyelash extensions. It was a style that would later become her trademark and cement her place in popular culture. However, there was a catch — another woman sort of already had the same style.
Boutique owner Heather Sanders had blue hair and matte lips before Kylie, and considering the two are close acquaintances, it makes sense that Kylie would be "inspired" by her. Of course, we know that Heather doesn't own the copyright to blue hair, but the similarities are a little too uncanny. To make matters worse, Kylie also copied Heather's long, blue hair extensions idea and sold them as part of her forgotten hair brand, Kylie Hair Kouture. "So Kylie Jenner totally stole Heather Sanders hairstyle she's had forever and decided to sell it??" a critic tweeted.
Yep, it appears that way.
These line of tacky band t-shirts.
Article continues below advertisement
Before Kylie had her own brands, she shared a clothing line with sister Kendall. Back in 2017, they came under fire for selling $125 band t-shirts of Metallica, Pink Floyd, and Tupac with their faces edited on top. "The most iconic album of all time and its legacy decimated in seconds by reality TV 'star' Kendall Jenner," a critic tweeted. "Stop them now." Their company was sued by Michael Miller, the photographer of the Tupac images, but both Kendall and Kylie maintained that the pictures were perfectly legal.
However, after backlash from people, including Sharon Osbourne and Biggie Small's mother, the shirts were taken down from their site. "These designs were not well thought out and we deeply apologize to anyone that has been upset and/or offended, especially to the families of the artists," Kylie wrote in a statement.
Article continues below advertisement
Her "flame" sweats.
Article continues below advertisement
In 2017, she was accused of copying again when she unveiled flame-designed matching sweats on her website. Many people immediately noticed that the clothing looked just like a version being sold by fashion brand Cake Asia. Both brands even used rapper Offset to promote the sweats on their Instagrams. Of course, Cake Asia hardly invented flames on sweatpants, but the timing of Kylie's collection was awfully suspect.
Her "Kyshadow" purple palette.
Article continues below advertisement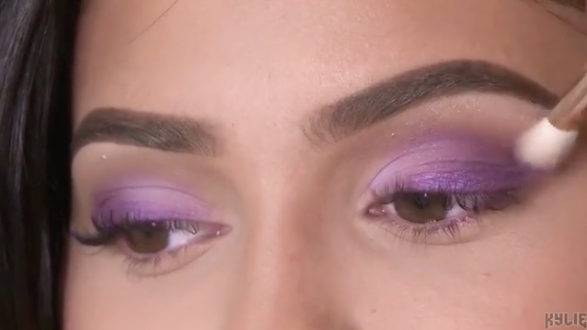 Last year when Kylie released her purple eyeshadow palette, her best friend Madison Beer was furious. Although Madison didn't call Kylie out by name, she implied on Twitter that a certain purple palette, which was supposed to be released as a collaboration, was stolen from her.
"When people fully steal your idea & what they come out with was supposed to be a collab… WACK," she tweeted, accompanied by a snake emoji. She then unfollowed Kylie and uploaded a picture of herself wearing the same purple eyeshadow. " I SEE YOU GIRL," the accompanied caption said.
Article continues below advertisement
Her "Cooking With Kylie" series.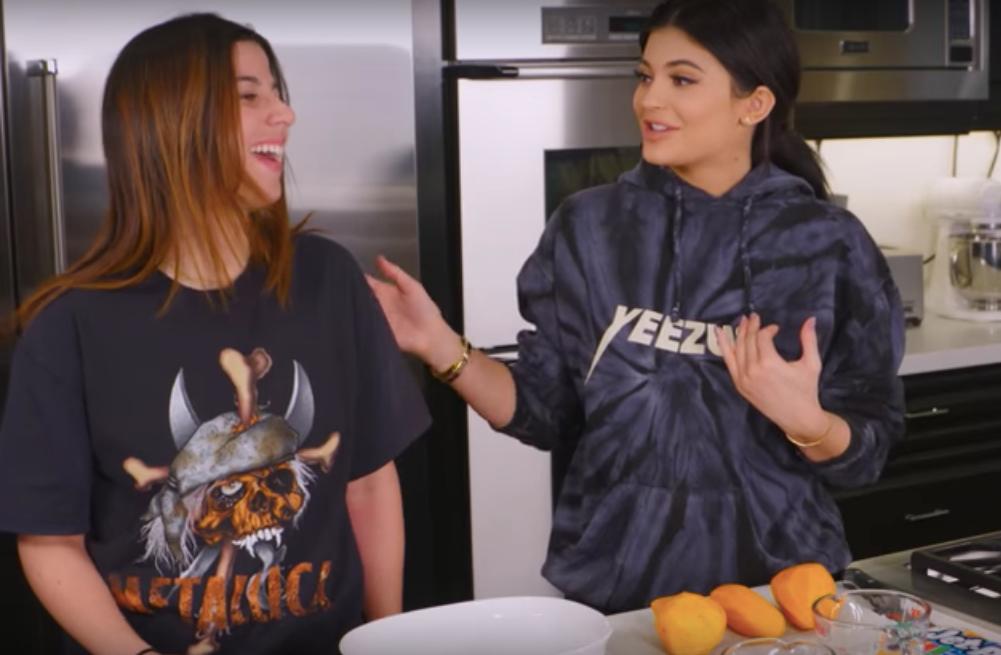 Article continues below advertisement
Back in 2016, during the height of Kylie's feud with Blac Chyna, she started releasing a cooking show on Instagram and her app called Cooking With Kylie. Chyna, who had a cooking show called Cooking With Chyna on her Snapchat, was none too pleased. "Bi--h Bye," Chyna wrote. "Follow @cookingwithchyna #InfatuatedWitChy."
Kylie's boyfriend at the time, Tyga, defended her. "In 2016, mother f--kers need to stop acting like they invented every mother f--king thing out here," the rapper said in a Snapchat video.
Her Life of Kylie logo.
Article continues below advertisement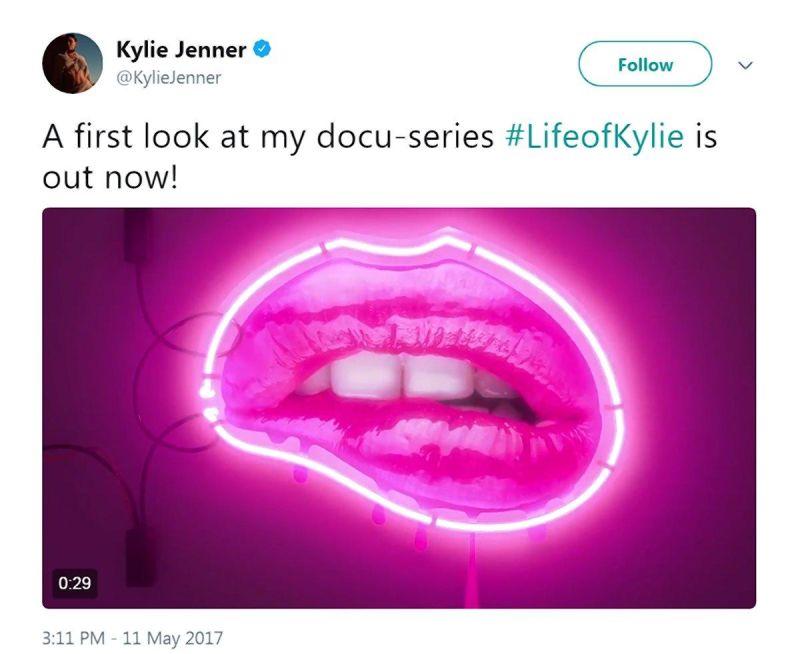 You'd think Kylie would learn her lesson by now about stealing inspired art for her many lip imageries, but she got caught again in 2017, this time for her Life of Kylie logo. Artist Sara Pope, who created a similar art piece back in 2015, sued Kylie for copying. You have to admit, Kylie's logo looks eerily similar to her's:
Article continues below advertisement
The suit was eventually settled out of court. I mean, I guess imitation is the sincerest form of flattery?