98-Year-Old Holocaust Survivor Lily Ebert Is Sharing Her Story Through TikTok
Lily Ebert, 98, was sent to the Auschwitz death camp during the Holocaust. Now she and grandson Dov Forman are telling her story on TikTok.
What was the Holocaust really like? Our high school history textbooks only told us so much. And while movies like ​​Schindler's List gave us a painfully brutal portrayal of the atrocities committed against Jewish people during World War II, nothing compares to the personal accounts of those who were actually there. Thanks to TikTok, one Holocaust survivor has been able to share her story with the world.
Article continues below advertisement
Keep scrolling to meet Lily Ebert, the 98-year-old woman who is captivating the internet with her real-life memories from the Holocaust.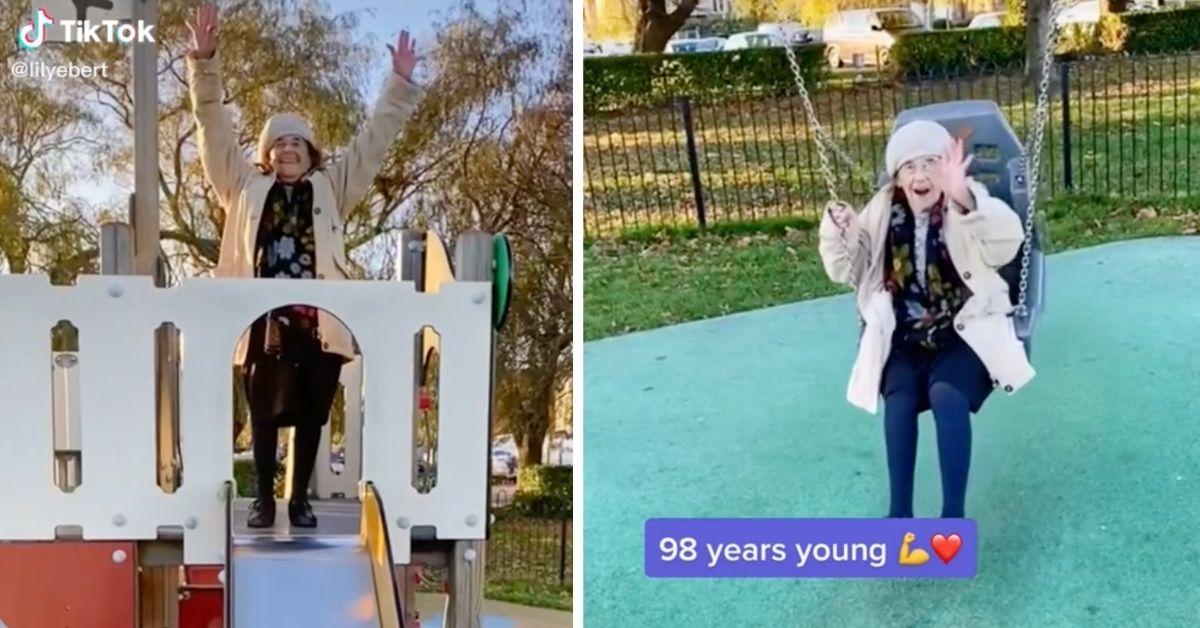 Article continues below advertisement
TikTok creator Lily Ebert is sharing her Holocaust experience on TikTok.
Lily Ebert and her 18-year-old great-grandson, Dov Forman, who both live in London, are collectively sharing the former's story as a Holocaust survivor.
"I said to my great-grandmother, 'If they can go viral for dancing, why can't we go viral for sharing these really important messages?'" Dov told CBS in an interview.
Back in 2020, they started her account ( @lilyebert) and have garnered more than one million followers and more than 23 million likes on the platform.
In her videos, Lily recalls some of her most horrifying memories. However, she also shares how wonderful her life became after she was freed by U.S. soldiers in 1945. Lily met her late husband and they started a family together.
"I want to tell you about my story, because in a few years time I won't be able to. It will become history," she said in one of her earliest TikToks.
Lily was just 20 years old when she was sent to the Nazi death camp Auschwitz. Four months later she was transferred to the Buchenwald death camp.
Article continues below advertisement
In one video, Lily opened up about the number she was given as a prisoner in Auschwitz. "They did not call us by our names, we were no longer humans. We were only a number and we were treated only like numbers," she said in the heartbreaking clip, which amassed more than 20 million views.
Article continues below advertisement
Lily's mother, brother, and sister were immediately murdered at Auschwitz.
Lily explained to CBS that when she and her family first arrived at the camp, the guards took away her mother, brother, and one of her three sisters. They were sent to be murdered at the gas chambers and she never saw them again.
Furthermore, when Auschwitz was finally liberated by American soldiers and they were freed from the camps, she recalled getting a German banknote from an American GI. The note had a message on it: "Good life, good luck for your future."
Many TikTok users were particularly intrigued by that part of her story.
Article continues below advertisement
"I posted it, and within eight hours I had, I think, 8,000 notifications and the tweets had 2 million views. And an hour later we had managed to find the soldier," Dov told the outlet. (While the soldier did pass away in 2013, they were able to set up a Zoom call with his son.)
In addition to the TikToks that Lily and Dov make, they also tell her story through the book Lily's Promise.
You can also learn more about Lily's experience during the CBS special Undeniable: The Truth to Remember, which airs on Saturday, Jan. 29, at 8 p.m. ET.