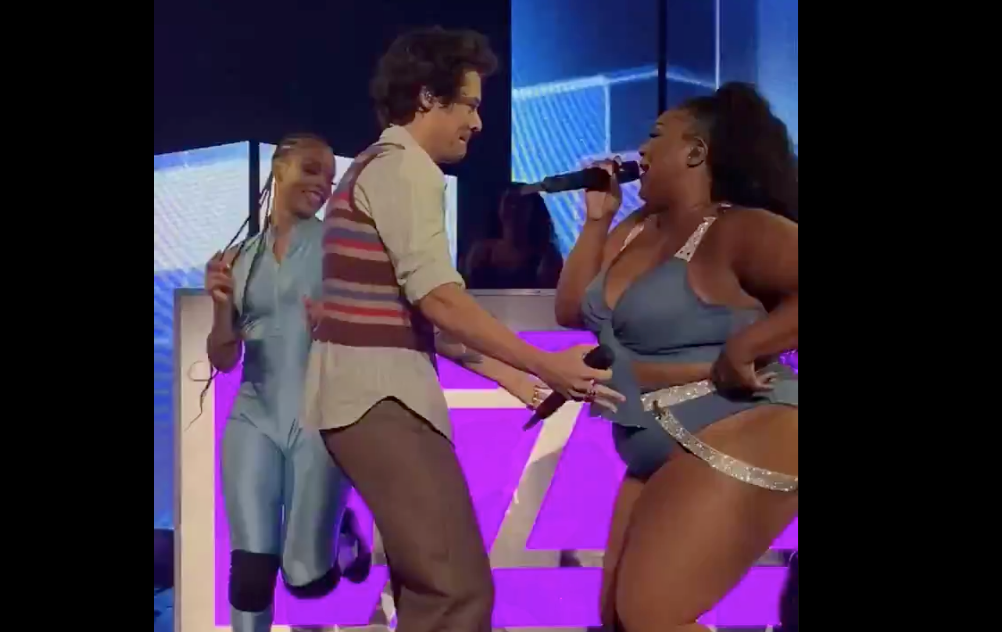 Lizzo Is Being Cancelled on Twitter Thanks to Misogyny and Racism
So, Lizzo is apparently in hot water with (mainly) One Directioners on Twitter, as they are calling to "cancel" her. Just as preface: We can probably add this cancel party to all the other silly cancel parties that involve petty fans making an issue out of a non-issue. If you're wondering what #LizzoIsOverParty is about, let's unpack it, shall we?
Article continues below advertisement
So, why is Lizzo cancelled?
A clip of Lizzo and Harry Styles is going around (it seems to be from January) and it shows Lizzo and Harry playing off of each other. What's angering some people is that Lizzo pretends to grab Harry's butt. People are "calling out" Lizzo for sexualizing Harry as well as her "non-consensual" behavior, but if you watch the clip, you'll see that Harry pretends to grab her right back. Basically, the routine was most likely rehearsed (as most performances are, as "candid" as they're made to seem), but nonetheless, there's drama.
Here's the clip in question:
Article continues below advertisement
There's also this video that people have a problem with because they think Lizzo eating a popsicle while jamming out to Harry is "predatory."
Article continues below advertisement
Luckily, most of Twitter has come to Lizzo's defense (not that she needs it or probably is even aware of the nonsense that's unfolding, because Lizzo has way better things to do). Most fans are pointing out that Lizzo hate is coming from a place of racism and misogyny. "Stop shaming black and big women for talking about sex," one Twitter user argued.
Article continues below advertisement
Lizzo has been very outspoken about her sexuality, which is honestly why we love her so much. Back in February, Lizzo joked that she "collaborated" with Harry Styles (i.e. slept with him). But in reality, Lizzo made it clear she just stans Harry, and it's a known fact that he feels the same way about her — the two are good, flirty friends.
Article continues below advertisement
"she speaks about sex openly and y'all think she committed a federal crime PLSSSS," a Twitter user wrote.
Article continues below advertisement
"can we stop shitting on black women (and women in general) for being open about sex," another Twitter user posted. Another wrote, "if harry had a problem with lizzo he would have [stopped] being friends with her. you misogynistic directioners just want another excuse to cancel a successful woman. stay mad, lizzo is beautiful."
Article continues below advertisement
"interesting how y'all cancelling this woman for idk what but have been hating her cause she's black and not the same size as you. idk it's a lil fishy to me but ok," another person tweeted.
Article continues below advertisement
The bottom line? Lizzo and Harry are good friends, and have been collaborating for quite some time, and it's dangerous to assume that Lizzo's intentions are predatory because the fact is that, if it were Taylor Swift making the same jokes, we wouldn't be dealing with this kind of blowback from the Harry Styles/One Direction community. "friendly reminder that he and lizzo are friends and y'all just hate black women. i just wanna know if y'all had this energy when camille was moaning his name on ig or if it only applies to black women," a Twitter user argued.
Yup, that's the basic summation of the "LizzoIsOverParty." Feel free to walk away from the internet for awhile. Blast some "Truth Hurts" and remember: Lizzo is a QUEEN.