"They Get Away with Mediocracy" — Coffee Lover Says Locally-Owned Cafes Are Typically Overrated
A man claimed that just because a coffee shop is locally-owned, it doesn't necessarily mean that it's good or better than a mainstream chain.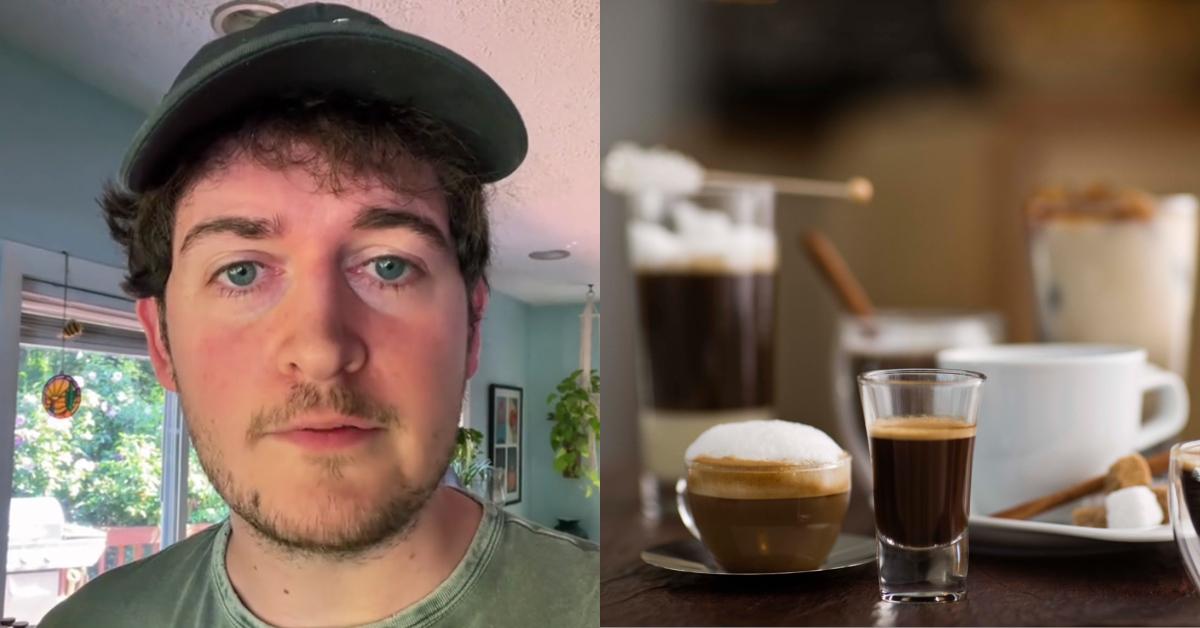 Locally-owned coffee chops are having the quality of their businesses destroyed because folks assume that they're better than "corporate" chains like Starbucks just because they're not...well...Starbucks.
Article continues below advertisement
At least that's what a TikToker and java lover named Dan (@avidcoffeedrinker) attests to in a viral clip where he states that local-coffee shops aren't forced to create better products for their customers simply because they're not put in a position where they have to.
Dan looks into the camera in his video and says: "I think it's time to stop pretending that locally owned coffee shops are better than chains just because they're locally owned."
Article continues below advertisement
His video wasn't uploaded to heap tons of praise on chain coffee shops or fast food locations either, he further explained: "Don't get me wrong, I recognize that Starbucks and Dunkin' and Caribou produce objectively low-quality products, but so do a whole lot of locally owned coffee shops."
Article continues below advertisement
Dan stated that just because a place is "bespoke" or locally-owned doesn't necessarily mean that the owners of said business are attempting to give the highest quality products + services to its customers, however.
Crappy coffee and the respective operations that serve said crappy coffee are often born out of the fact that the barrier for entry into this line of work is fairly low in food service, or at least seems this way, Dan attests.
Article continues below advertisement

"And there's a reason for that: coffee shops are like the entry point of entrepreneurship. If you are a bored CPA and you decide you wanted to make a change — I'm gonna open a coffee shop, because it looks easy on the surface and it is really easy."
Article continues below advertisement
However, it's only easy if you're good at what you do and have invested the necessary time and resources into ensuring that you can consistently offer a great product to your patrons, Dan states.
"If you know what you're doing and you have prior experience. But a lot of them, don't. They show up to their cafe, pour an under-extracted shot of espresso into a Red Bull, call themselves a visionary, go to their office and try and figure out a way to steal their employees' tips."
Article continues below advertisement

It's a "very common" phenomenon, Dan claims, while he goes on to say that just because a locally-owned cafe is "better than Starbucks" isn't really saying much because it's such a "low bar" to cross. It'd be like out-lifting a 7-year-old in a strongman competition.
Article continues below advertisement
Despite this "low bar," he says that it's "entirely insurmountable for a lot of cafes because we've gassed them up to just being oh of course your coffee's good, you're not Starbucks."
He says that this "it's a given mentality" and that giving a place the benefit of the doubt for being better than a mainstream coffee chain like Starbucks is ultimately what's harming the locally-owned cafe business as it doesn't put any pressure on said locally owned businesses to actually be better than Starbucks.
Article continues below advertisement

Basically, Dan states that these businesses aren't being asked to demonstrably prove why their products are better than the mainstream competition because a certain demographic of consumers would ultimately just assume they offer a superior product by virtue of not being "corporate."
Article continues below advertisement
And it seemed like there were a number of other folks who feel the same way, like one user who pointed out that the pastry selection at a lot of these locally owned cafes leaves much to be desired: "So many be selling Costco muffins for $8"
Someone else said that there's a certain amount of entitlement tied to locally-owned cafes from its employees, especially in regards to gratuities: "you pay $7 for a latte and then they expect a 30% tip"
Article continues below advertisement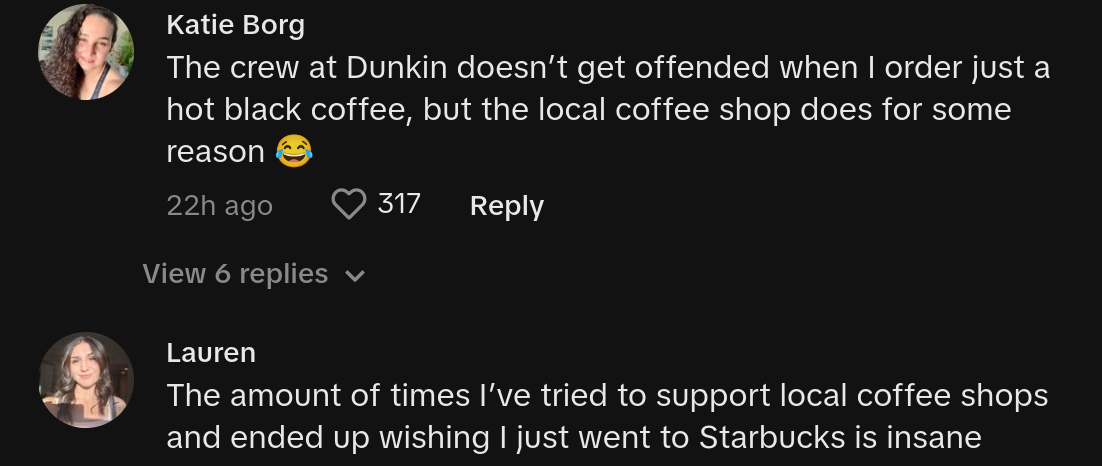 Another explained that they receive less judgment for the orders that they place at mainstream coffee chains as well, as opposed to frequenting a locally owned shop: "The crew at Dunkin doesn't get offended when I order just a hot black coffee, but the local coffee shop does for some reason"
Article continues below advertisement
And if you're the type of person who doesn't like corporate uniformity, then one TikToker said that this is exactly what you're getting with a mom and pop shop most of the time, because they're sourcing their products from the same place, oftentimes.
"Honestly an argument about mom & pop restaurants can be made as well. A LOT are ordering the exact same products from Sysco or buying them at Sam's"
Article continues below advertisement

What do you think? Do you like to shop local because you'd rather give your money to someone who is trying to run their own business, as long as they're doing at least as good as a major chain? Or have you honestly found local shops that do a genuinely good job? Or are you a Dunkin'/Starbucks/Please and Thank You ride or die?