What Happened to the Young Woman Who Went Missing in a Lyft?
There's been an update on the missing woman case involving a Lyft driver. Here's everything we know.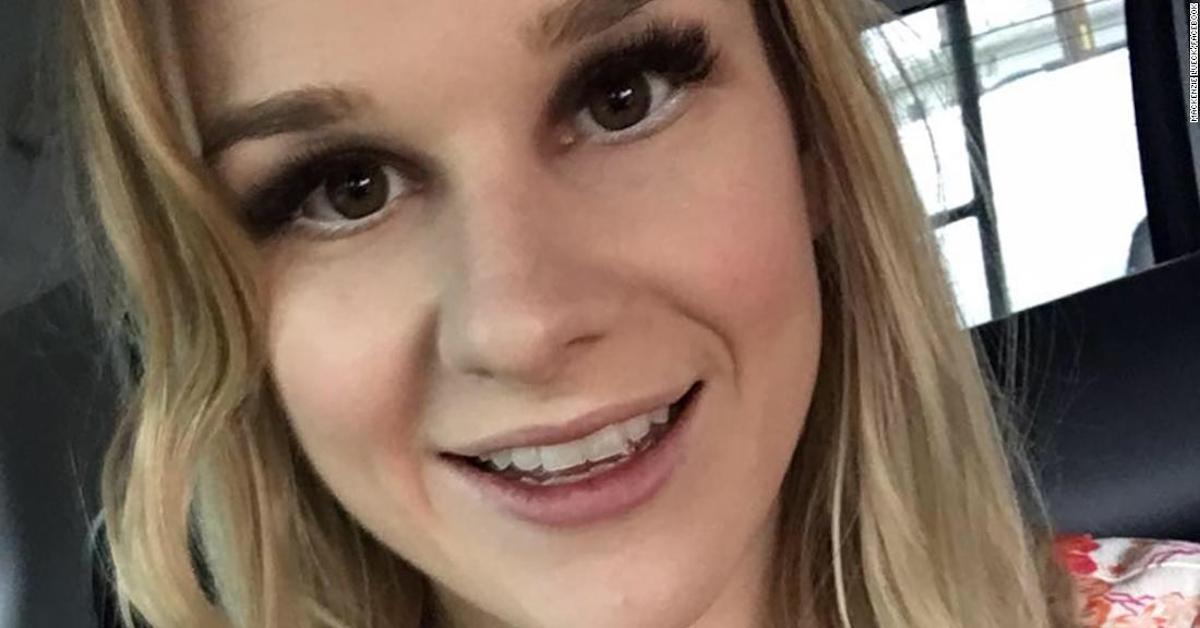 What happened to Mackenzie Lueck, the young woman who was picked up by a Lyft driver at Salt Lake City airport and disappeared? Investigators believe they have identified and apprehended a person of interest (POI) in the case and are in the process of gathering more evidence.
Lueck first disappeared on June 17 in North Salt Lake, Utah. She hitched a ride to the area and arrived early in the morning.
Article continues below advertisement
What's the latest on Mackenzie Lueck, the missing woman picked up by a Lyft driver?
Police first spoke with the Lyft driver who dropped Lueck off at the location as well as Lyft corporate. Both cooperated fully with the investigation. From their line of questioning, authorities were able to confirm that the address Lueck was brought to wasn't a residence. Lueck's phone hasn't been on since June 17. Although there initially wasn't any indication that she was harmed, the young student's friends feared the worst.
"She's extremely dedicated. She would never miss her midterms or anything like that," Lueck's friend and sorority sister, Ashley Fine said in an interview with KSL. The University of Utah senior is currently on track to graduate, and has missed several exams and assignments since her disappearance.
Lueck was visiting California to attend a family funeral, and returned back to Salt Lake on the morning of June 17. The last communication she had with her parents was at 1 a.m., when she texted them to let them know she landed safely.
Article continues below advertisement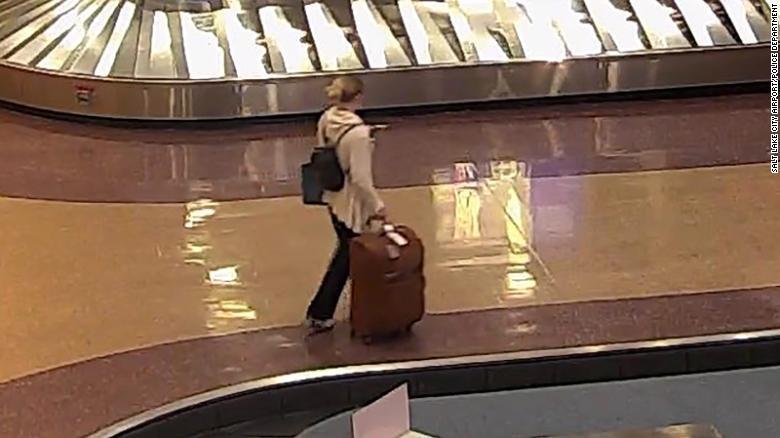 The investigation recently took a dark turn when police found what they believed to be a home that was connected to the disappearance of the young woman. Local investigators spoke with the owner of a residence in Fairpark and are currently looking for a mattress and box spring that was given away. There were also reports that the homeowner burned items in his backyard, according to eyewitness reports.
Article continues below advertisement
Authorities also stressed the "digital forensic" nature of this investigation. Tracking texting applications, cell phone call records, computers, URLs, and IP addresses has led police to ultimately apprehend an individual who they believed murdered Lueck and burned her body in an attempt to destroy the evidence.
Authorities first ruled out foul play, that is, until they discovered some of Lueck's tissue in the 31-year-old suspect's home.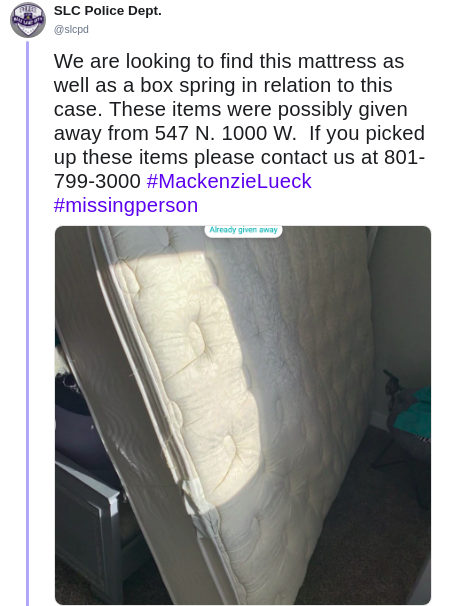 Article continues below advertisement
A SWAT team raided the home of a 31-year-old man who was charged with aggravated kidnapping, aggravated murder, desecration of a body, and obstruction of justice. He was found in a West Temple apartment complex, according to Salt Lake City Police Chief Mike Brown, who was visibly shaken when delivering the news of the arrest.
Chief Brown attributes how SLC detectives used persistent, solid work in combination with "cutting edge technology" to solve the case so quickly. Officers were able to ascertain that Lueck and the killer's phones were both in Hatch Park within a minute of one another, and that the last place her phone ever transmitted data was in Hatch Park.
Article continues below advertisement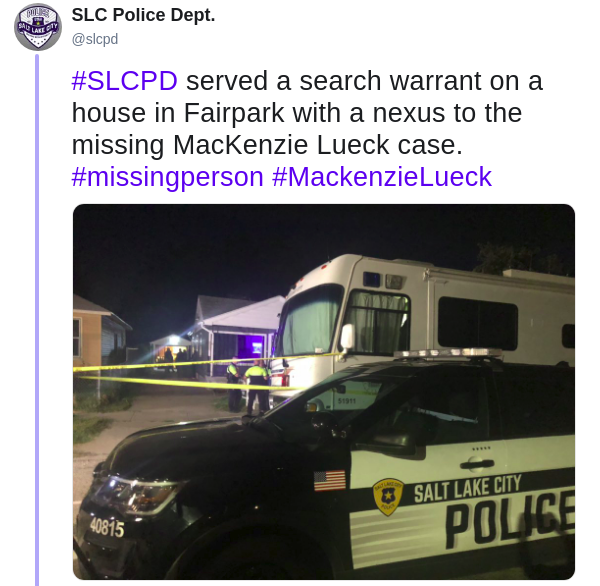 When police interviewed the killer, he said he only once texted Lueck on June 16 but never heard from her again. He also averred that he had no idea what she looked like and never once saw a photo of the young college student. However authorities were able to discover that he had several photos of Lueck, including one from a social media profile. Chief Brown did not say which site it was from, however.
Article continues below advertisement
Finding charred human tissue that matched Lueck's DNA is what ultimately prompted the arrest of the alleged killer. Chief Brown didn't offer any further details regarding the remains of Lueck.
A former roommate of the POI spoke to his character: Sakari Moore said they shared basic training in the army together. Lueck's alleged murderer held positions for big companies: Dell, Goldman Sachs, Microsoft, and Comcast. He is reportedly well-read, sweet, and was also a model for "fine art" photographs.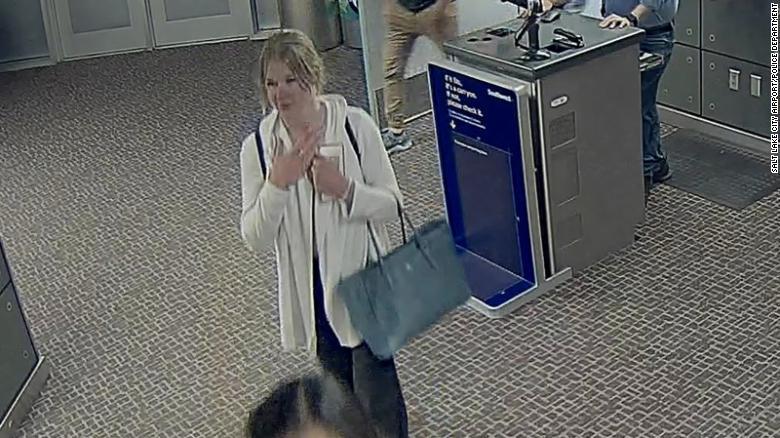 Article continues below advertisement
The only "blight" on his character that Moore could think of was the polarity of his emotions, specifically his "anger issues." Moore also said that his former roommate was extremely particular about "minute" details like the way furniture was arranged or the heating levels used in cooking. Moore continued that while the flip-flop nature of the man's emotions ultimately forced him to move out, he could never have imagined the man would do something so vile.
Moore also wondered whether or not one of his former friend's Airbnb guests could've had something to do with the disappearance of Lueck. According to Moore, his friend rarely screened guests and would often allow people who appeared homeless and wouldn't clean up after themselves: "I'm not sure what characters he's allowed to live in his house who many have done this thing."
Article continues below advertisement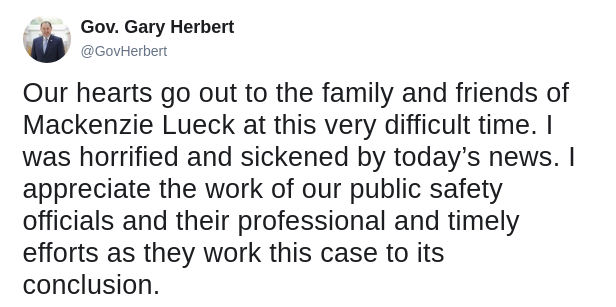 Utah Governor, Gary Herbert says that he was "horrified and sickened" after learning of Luecks murder and gave his condolences to the family. University's President, Ruth Watkins released this statement: "The death of MacKenzie Lueck is devastating news. On behalf of the university, I express our heartfelt sympathy to the family, friends, and classmates of MacKenzie during this very difficult time." (h/t cnn | the salt lake tribune)