Cue the Wedding Bells — Pro Tennis Player Madison Keys Is Engaged!
Professional tennis players Madison Keys and Bjorn Fratangelo are getting married! Here's what we know about the power couple's relationship.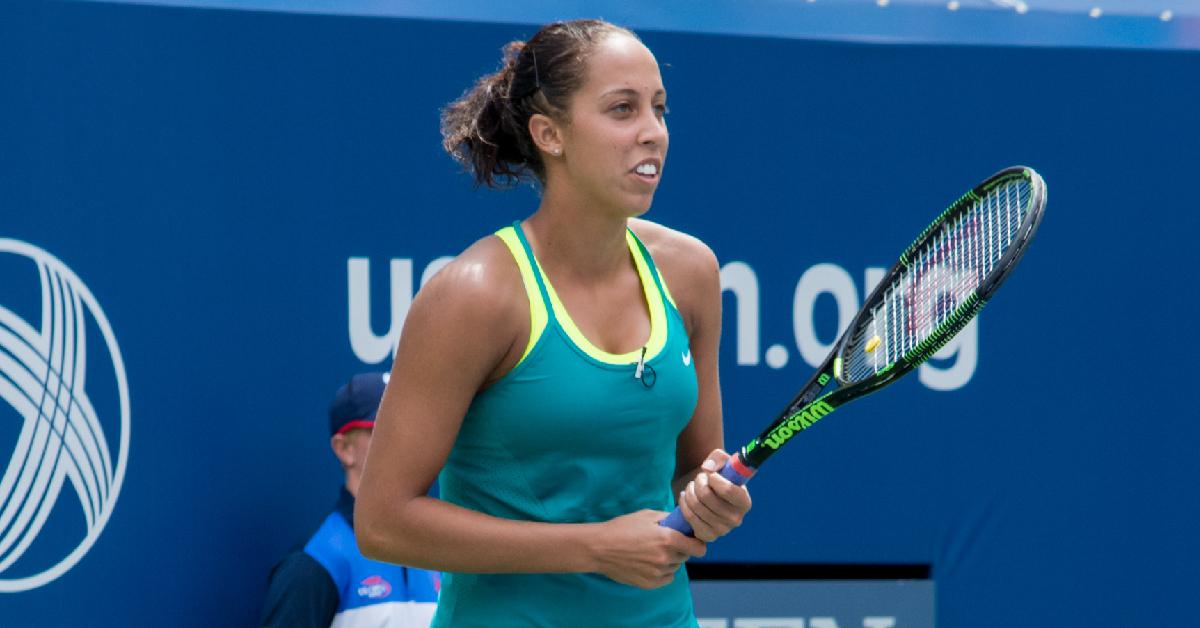 Congratulations are in order because professional tennis players Madison Keys and Bjorn Fratangelo are getting married! The athletic power couple announced their engagement on March 2, 2023, on social media.
Article continues below advertisement
Read on to learn more about their lovely relationship and wedding. Plus, stick around because we have everything you need to know about Madison's fiancé, Bjorn Fratangelo.
Article continues below advertisement
Madison Keys is getting married! Meet her fiancé, Bjorn Fratangelo.
According to the ATP Tour, the newly engaged couple met while training at the same facility in Boca Raton, Fla., and were part of the same group of close friends. They moved to Orlando within a month of each other and lived in the same apartment complex, leading them to hang out a lot more.
The two eventually started dating in 2017, and just days before Christmas, Madison made their relationship Instagram official, sharing a sweet photo of her and Bjorn with the caption, "Santa delivered this year." Ugh — how cute!
Article continues below advertisement
The couple keeps their relationship out of the spotlight, as they rarely post about each other on their respective social media pages (we respect it!) However, the few posts they have together are so darn adorable, like this one from 2018 Valentine's Day, where Bjorn called Madison his "favorite shoulder to lean on."
Article continues below advertisement
After six years of dating, Bjorn took the next step in their relationship and popped the question to Madison. The pair made a joint on Instagram, showing off Madison's gorgeous ring with the caption, "Forever 🤍."
Following her opening round victory at the Credit One Charleston Open in April 2023, Madison opened up about the sweet way Bjorn proposed to her. She told reporters, per TennisUpToDate.com, that he did it in their home.
Article continues below advertisement
"He actually did it at home. The day that I got back from Dubai, so I was not expecting it at all," the tennis star said. "I was sitting on the couch, and he was like, 'Hey, I have your birthday present.' He handed me something and then got down on one knee. Just sitting on the couch, so now, we have to keep the couch forever."
Article continues below advertisement
As for their wedding, Madison said that's a ways away: "As tennis players, we don't have a lot of time and weekends that could potentially work. So we're trying to nail down one very specific day and hope things work out."
We don't know about you, but we can't wait to see their wedding photos!
Bjorn is very supportive of Madison's career.
After spending most of his childhood in Pittsburgh, Bjorn and his family relocated to Naples, Fla. when he was in high school so he could play against a larger and more competitive pool of tennis players. The tennis star has yet to claim any significant titles, but he did convince Madison to play mixed doubles together in 2021.
Article continues below advertisement
Although the couple lost, they agreed it was fun to be on the court together.
"We had to do it once. If we never do it again, fine. I would like to, though," Bjorn told the ATP Tour. "It was a lot of fun, but it's no secret that maybe this year for her has been a bit of a struggle. [It was] just to have some fun on [the] court with me and play and try to get a win and if not, just have an hour of laughs and fun. It's good for everybody."
Article continues below advertisement
He added, "I think just to play with someone who you love and who you care about the most [is special]. I had a lot of fun out there with her. We were joking a lot on the changeovers. I thought we could have done pretty well, but we ran into a pretty good duo today. ... Maybe we'll play again."
Now, as Madison continues to thrive on the court, Bjorn is right by her side. After a win at Wimbledon 2023, a reporter asked Madison if she liked hearing her fiancé being "chatty" on the sideline.
"I think he's pretty chatty just because being a player. I think a lot of times when you look over, and you're not getting anything, you kind of want some back and forth," she replied. "I think he kind of airs on the other side. I personally like it, I like having really specific things to focus on before every single point."