Um, Does Something Smell Fishy? Man Claims He Is on a Cruise With No Other Passengers
A man named Blake Rosier shared a video filmed from a cruise ship, where he claims he is the only person there besides the crew. Is he lying?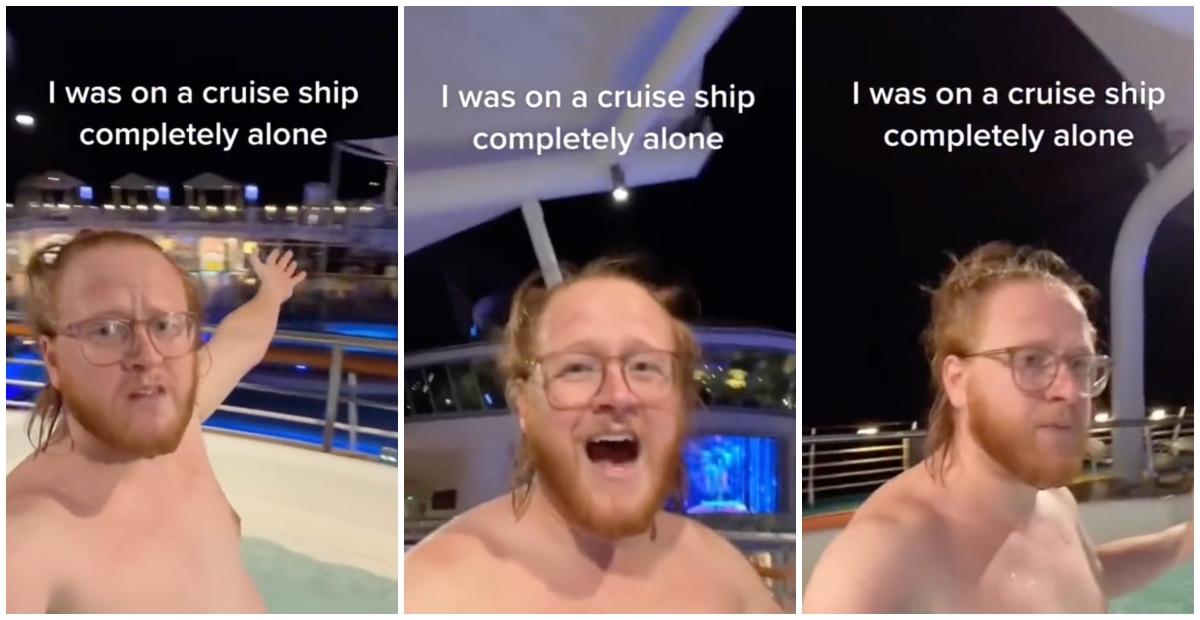 What does your dream vacation entail? Does it involve a lot of time to yourself? Because if so, you might want to vicariously live through one TikTok creator who claims he is the only person — in addition to the crew aboard — a cruise ship.
Article continues below advertisement
Now, while this sounds like an introvert's paradise, it also sounds a little too good to be true. Is he being honest or is he just bluffing? That's what TikTok is trying to get to the bottom of.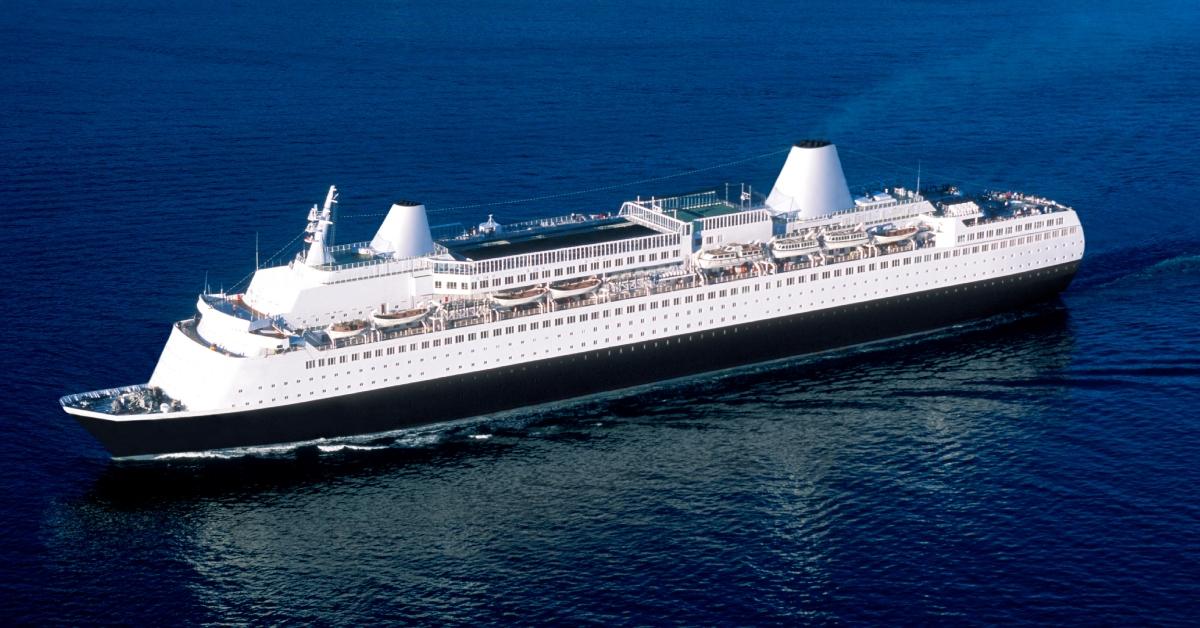 Article continues below advertisement
Man says he's the only passenger on a cruise ship, but not everyone believes him.
A man named Blake Rosier (@blakerosier24620) shared a video to TikTok in which he claimed he was the only person aboard a cruise ship. "I was on a cruise ship completely alone," reads the copy of the video.
He shares more details in the 30-second clip, where he is seen recording while standing in either a pool or hot tub.
"As some of you know, I am on this cruise ship completely alone. I am the only guest on this ship besides the crew, of course, that's been tending to me hand and foot. Literally, this cruise has been insane. I don't know how this happened, exactly," he said.
Article continues below advertisement
Motioning to a screen behind him, he continued: "They even have a movie playing for just me. All the shows are still going. The pools are open. Literally, it's just me here. It's truly insane and it's been amazing. I just had dinner in a huge dining hall with no one else."
As he ended the video, he claimed that he'd keep his followers updated.
Article continues below advertisement
In the comment section, people had a lot to say about Blake's alleged solo cruise.
"Man is vlogging from the Twilight Zone," wrote one user. Another person said: "That's the only appealing cruise I've ever seen."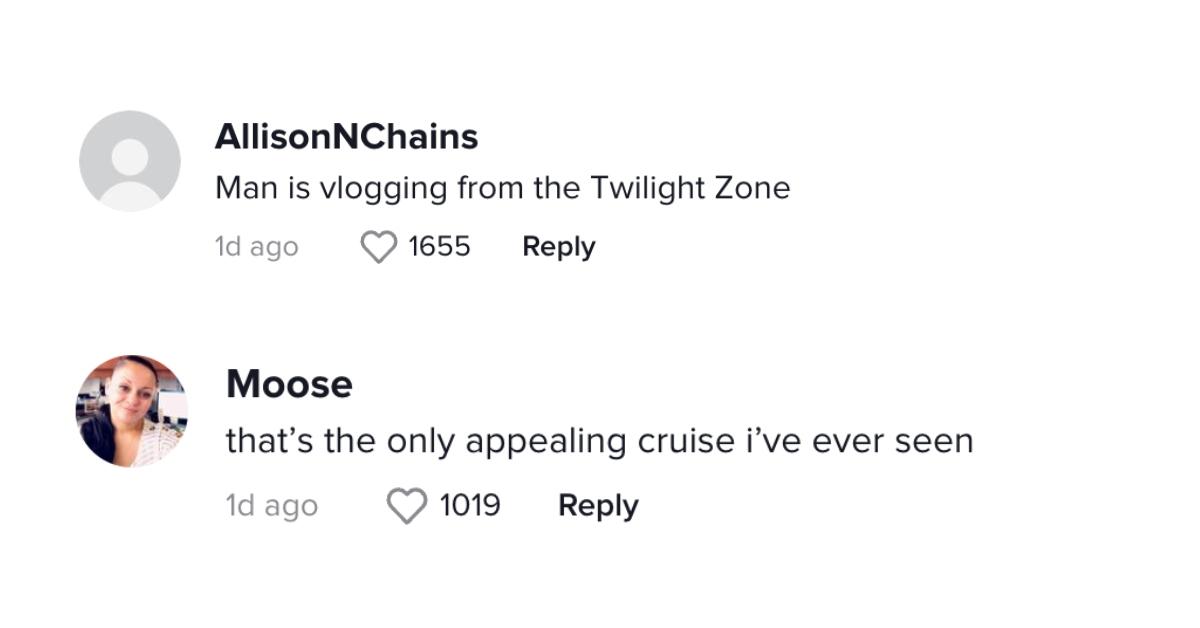 Article continues below advertisement
But others weren't so sure about Blake's story. In fact, one user accused him of staging the whole video, claiming it was probably 3 a.m. and everyone else was just sleeping.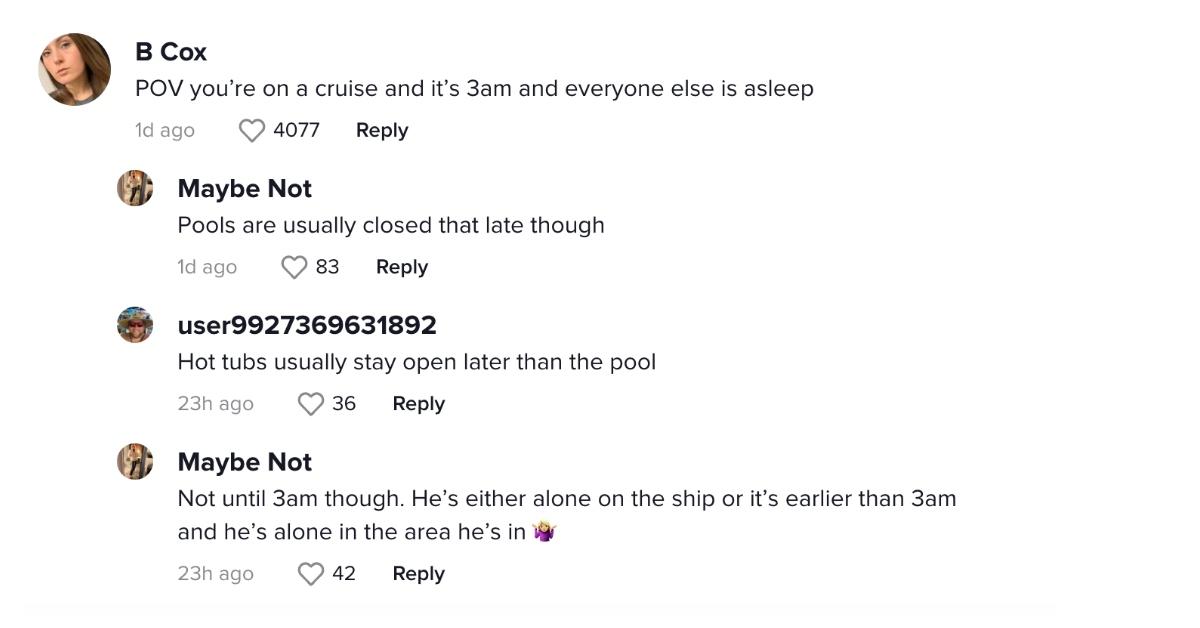 Article continues below advertisement
Although, not everyone agreed with that claim. One user reasoned that if it really was 3 a.m., the pool would have likely been long closed by then.
Another argued that Blake was in a hot tub and hot tubs usually close later than pools. However, one person chimed in to say that a hot tub would never be open until 3 a.m. "He's either alone on the ship or it's earlier than 3 a.m. and he's alone in the area he's in," their comment read.
So, is Blake Rosier really on a cruise by himself? He's an actor and comedian.
Unfortunately, Blake never posted another video about the cruise, so it looks like that one video is all we have to go off. But, get this — if you Google "Blake Rosier," you'll discover that Blake is sort of a public figure.
Article continues below advertisement
"Blake Rosier is a Los Angeles actor, comedian, and musician most recently seen in Loosely Exactly Nicole, Black Jesus and I Want My Phone Back," reads IMDb.
Article continues below advertisement
An actor and comedian? Fam, I think that's all we need to know to that this man is not being 100 percent honest with us.
While it's unclear what time of night it is and how he was able to successfully film a video with no one else present, there is a chance that the cruise ship was giving him special treatment because of who he is. Maybe he performed on a show and had special privileges, or maybe he paid extra to use the ship's amenities after hours.
It's unclear, but I think we can all agree that if just one person signed up for a cruise, the cruise line would definitely cancel it, as they would be losing way too much money if they didn't.